The Virgin Mary leaving / Cheung Yeung holiday run
Lam Tin
Hares - Lost in Translation, Hopeless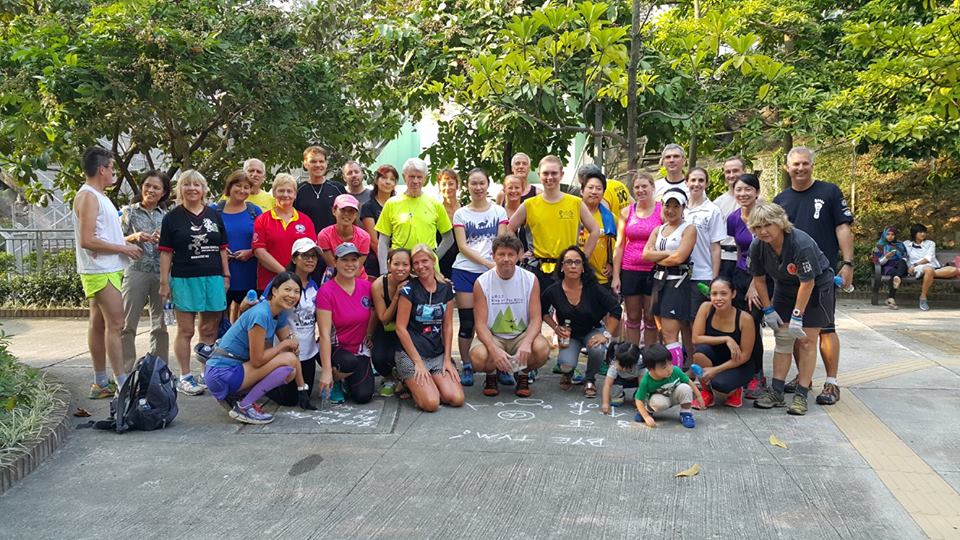 A rather festive holiday, family day, going away do, nice late summer weather day prevailed for #2030 and it's early 4pm start at Ping Tin Street Open Space Area in beautiful Lam Tin.
A good turn out of over 40 turned up to be treated to yet another Hopeless and Lost in Translation classic as original hare Suck My Pills had to bow out. Briefings were given, and off we went initially through the concrete playgrounds and streets of Lam Tin.
The most unusual site of the day was TVM actually on trail and not pointed to the nearest Mc Donald's. An interesting site was Octo firmly on trail but putting all of her attention and then some into locating a toilet. The cutest site was still unnamed Fumio's –I still like Mexican Chucky- two horrors on the trail.
I ran with Free Rider and Sparkling Wine as we negotiated are way through Tak Tin Street, Lin Tak Road, and onto the trails. A rather cunning front runner was nice enough at a check to rub out the arrow pointing in the right direction and send a bunch of us in the wrong direction. In didn't help that a local villager was also encouraging us to go the wrong way as well. But as always we eventually figured it out.
Trail went up to Ma Yau Tong Road and through the villages there eventually putting us on the Wilson Trail. The split had the Rambos climbing the hill so high high high but Free Rider and Sparkling Wine decided on a rather flat W trail so I had to climb it "all by myself"
Trail went all the way up the 300M Black's Hill and gave beautiful views of the Tseung Kwan O side of the hill. It reminded me of an earlier LSW run hared by Lost in Translation with absolutely no help from Hopeless in which we were all inundated by relentless thunderstorms but still managed to have the same nice view at night.
Coming down the hill I managed to have a really pleasant one and a half second conversation with the tardy Wai Chi Kok as she flew down the hill faster than something really fast.
Trail finished up through Lam Tin Park at what I would log as a perfect 6.67km trail.
The hares leaving nothing to chance on this festive holiday, hired a Cantonese Opera to serenade us as we came back into A. Nice touch!!
Thanks to the hares, Best of luck to TVM on her journey's and yes Octo did manage to find a posh toilet on trail.
To Indy for the DDs.
The Hares - The dynamic duo of Hopeless and Lost In Translation…… great run for all hashers!!
Hopeless / LIT - stepping up to the plate to organise this most excellent Cheung Yeung hHliday Farewell Run/circle/bash at short notice!!
The Virgin Mary - had actually asked Hopeless if he would organise a Farewell Run for her!!…..
TVM - off to the Bahamas, but not without wearing a Bahamas outfit for the circle!
TVM - leaving HK and LSW for one year (at least!!) in search of new frontiers…. new job!!…. new man!!!
Emmaroyds - Misdirecting Octo and moi Indy on the run…….. 'Quick, the pack are coming back……. run up this trail…you will be the FRB's….'! So pushed as we were we rushed up the trail for a long distance to hit……. a Check-back! Thanks !!
Sweaty - rushing past me as was late starting the run! You could hear him huffing and puffing from a distance……
Sweaty - 15 mins later….. more huffing and puffing from behind….. Sweaty had got lost on a false trail……. Good extra training for TW!
@nal Invitation - at R/W split wrote his time 22 mins 45 sec…… errr.... was that fast?
Up the R steps….. another latecomer goes past…….. Swing Low!!
Swing Low - informs me 'this is the trail with all the figures on it!!'…. Figures?… Go figure, as I found out later...
The hares - setting run to see the delights of pottery figures en trail!
W@nchai W@nker - another late comer……. '15 mins late!' he storms to me as he passes on the 'uphill figure' trail….
Wai Chee - much much later… with civilisation in sights… she rushes past!! '30 mins late I was', she pronounces!!.. and still she passes me doing trail in half my time!!
LIT - Very kindly tried to salvage my ego…… "Indy we gave her a shortcut!!'.. Good comment!!… next comment not so good…. 'And she is half your age!!!!!'......
The Virgin Mary /Dr Evil - I went past them near 'Home'….. with Dr Evil hobbling…
TVM - Congrats to her!! She actually finished the whole Wimp run……. with photos on trail to prove it!!!
Fumio plus kids - Did the whole Wimps trail…. Fab stuff!!
Rooted - only doing 2 kms... could not manage whole W trail…. unlike the 2 and 4 year olds……
Joshua - had thought that Rooted was 'very experienced ' due to her Hash T-Shirt, so followed her around her 2 km course!!!!…. rather than the 7 km true trail……..
Returnees - Lost In Space!!!!! returns from Taiwan….. Yehhhhh!!!
LIS - Now would you mind doing the write-up of today's run??
Other returnees - THE V MARY/ Willy Wonka / Cyclops / Gin & Vomit / Motormouth / Wai Chee / PIP / Butterfly / MOLE
Newbies - Sparkling Whiner / Freerider / Lost Sole / Zebra Crossing / Mariette / Emmaroyde / Bottleopener/ Shirley/ Joshua/ Sex Pack / Christine /Lauren
Virgin LSW - Steve Kite…. hash name…er Catamite?
Lost In Translation - A most excellent hash trash from last week's run…….. except for certain 'confidential comments……'!!
Hopeless/LIT - Finally the new lounge has arrived at the newly-named 'love shack'!
Hopeless - has put hash towels on lounge….. Why? So as not to 'MARK IT'!! Now what marks would they be???
Hopeless - has a 3rd name… besides Flagpole and Hopeless… affectionately known by LIT as 'Fanny Baws' !! But only the Scots understand it!! ....
All the Scots - LIT /Sweaty / Lauren / Gin & Vomit
WW - trying to get Hopeless renamed 'Banny Baws'? Fanny Baws?'..... whatever it didn't work cause LIT made him drink until he could say it like the Scots!!
Hopeless to @nal - last 2000th run celebration shirt - to give away? Cost -…. 8 DD's……
Hopeless to Burning Lust - a thimblefull DD for an impressive Moontrekker time.....
Sweaty - only one at run doing TW this year.......
Will Wonka - says to Dr Evil - 'I am just a prostitute!"
Octopussy - Anniversary 200 runs!!
TVM - Adios Amigo.....!!
The Hares - Thanks for another memorable LSW occasion.....