Stone Nullah Lane, Wanchai
Hares - Mea Culpa, Gobi Lo, Twinky Winky
As Hopeless and I arrive at A, surprisingly for a LSWH3 night there were already a number of hashers there.. early! Including 3rd hare Gobi Lo, icing the drinks and announces to us 'the trail has nothing to do with me, far too ambitious so don't blame me when you get back'. A few minutes later the other two hares arrive, Mea Gulpa and Winky Twinkie (or is it Twinkie Winky..? Later he tells me he goes by both as people keep getting it round the wrong way) MG all excited and raring for us to get going while WT is shaking his head behind her and tells me 'good luck out there btw, not my idea, MG just went "aff her heed' but thankfully we never had time to set a 3rd Rambo split, oh and I saw a huge snake'. Eeeeeek
Briefing given by Miss Excitable, we head off up the stairs, over the road to the first Check, FRB's all go left, Hopeless takes the difficult option of the steps, Dr Evil goes right finding trail on Wan Chai Gap Road. So up we go, all the way to Bowen Road where the trail goes left and where I hoped would be a flat stretch to run off the burning calves but, no, 100m along we head right up into the shiggy, up up and up we go with the aid of ropes and passing Jose cursing his (borrowed) torch.
End of shiggy (who am I kidding - more wishful thinking) onto Stubbs Road, dodging cars, we run against the traffic and with my new supa dupa head torch on, I near caused a car pileup. We turn left into Wanchai Gap, up Black's Link, where Macau Drunk, Dogsh!t and Wai-chee were scrambling around trying to find trail about 300m further on.
I spotted the flour to the right of where they were. So once again we go up and up crashing through bamboo, scrambling through dirt and rocks with WT's snake at the front of my mind (now now - I am talking about the one he saw setting trail, nothing else). A long, tough shiggy section until we hit almost the top of Mount Cameron, cut down onto Middle Gap Road, left, and into the country park. Then the nice flat part of trail before we find R2 split.
Surprisingly R2 had the first down hill (well for about 30 seconds) where at the bottom the headless chickens Teeny Weeny, Cheesy Flying Fox, Crash Test DUMMY and Macau Drunk were all over the shop trying to find trail. So back up to the last OnOn, still searching for trail, I check my watch - 3.77km in 52mins !!! Sorry Hares but I bailed at this point and returned to W/R split with Halfpenny on my tail.
Along the contour path, until the rejoin, with the familiar 'H' Arrow and 52 minute marker from Hopeless. Again a good flat run however with no markings I started to doubt that I was actually on trail so I about turn and go back to ensure I had not missed a cheeky wee trail off the path. Nothing found, I carry back on ....... until huge 'ON HOME VIA Wan Chai Gap Road', two visitors standing there, they ask me where is WC Gap Road? Wrong person to ask, not got a clue but thankfully Dr Evil was there to guide us the right way home.
All the way down the knee busting Wanchai Gap Road, both sections, across the road to the finish where Hopeless and Parky were already on the beer and MG desperate to find out how the Rambo trail was but was so disappointed when I told her I bailed as we couldn't find trail however good news the FRB's did find it as I could hear them calling in the distance.
Poor Elaine came in, cut to bits, just before we head off to the OnOn - a 100 degree hole in the wall Thai joint, on Amoy Street, where we enjoyed a variety of curries, rice and cheap 7-11 beer. Well done to the hares, tough but good trail and thankfully no R3 or some of us might still be out there.
DD's by Indy (and thank you Denvy for writing them up... oops !)
Hares - not enough shiggy
Hares - which run was better, last week or this week?
Gobi Lo - should have run last week's run with the rest of the pack so that she could have wrote about everyone else instead of just Lemondrop!
Wanchai Wanker - screaming and squirrelling around and shouting at Bobbledick during the run
Hare - for telling Indy not to do second Rambos
For those who found the second Rambos
Mea Gulpa - check back - next clue should not be 350m away!
Tinny - markings were generally fantastic but except for the check back
Dogshit - would you mind shutting up
Frank the Plank - for lying about doing Rambos Rambos
Sweaty Snail Gobbler - moaning about shoulder pain and this and that?!
Virgin Mary - welcome back! Haven't been to the hash for so long even Indy doesn't remember her hash name!
Evan - is Sex Gone Too Far's long lost brother?? - clue: Parky was in the US around the time Evan was born...
Margix - what was she doing at that time when Evan was born? Taking care of the kids...
Ellen - even the computer man doesn't even know her!?
Purple Shirt / Fetis Envy - Other hasher Half Penny has worked in his area before
Penny Hasher - long time friend from Singapore, and is a famous hasher. Also an aviation lawyer
Hopeless - I remember Half Penny when she was 7kg thinner
Parky - wants Rhubarb crumble tonight
Wai Chee - the one who could not tell University MTR from HKU University
Dogshit - after volunteering for his first hash he wasn't seen again!
Hopeless - thanks for making the bash group smaller (Chatroom and Toilet Spray has buggered off to the Queen Vic for Fish n Chips)
Hares - for the aircon-less restaurant
Hopeless and Lost in Translation - for upsetting MM by telling her not to set a run by herself
Evan - non-runner!
Lost in Translation - not doing the DD notes because she was told she will "f*ck them up". Her retort is that Indy is "all over it" (which needs translating!!
From the floor:
Parky - something about Mea coming out of the shower, heart boomed, clung to the wife...just grateful that he is here with all the hashers.
WW - mildew in shower, asked for posher toilets please
Evan - America is great because we have a rising porn star, the Hedehog. Hedgehog for president!
From Lost in Translation: Margix - Winky is American?!
Dogshit - All the British to stand up - new royal baby and that resulted in a monkey in Japan named after the new princess
The hares sang the song quickly before we were chased out of the non-restaurant by the restaurant staff.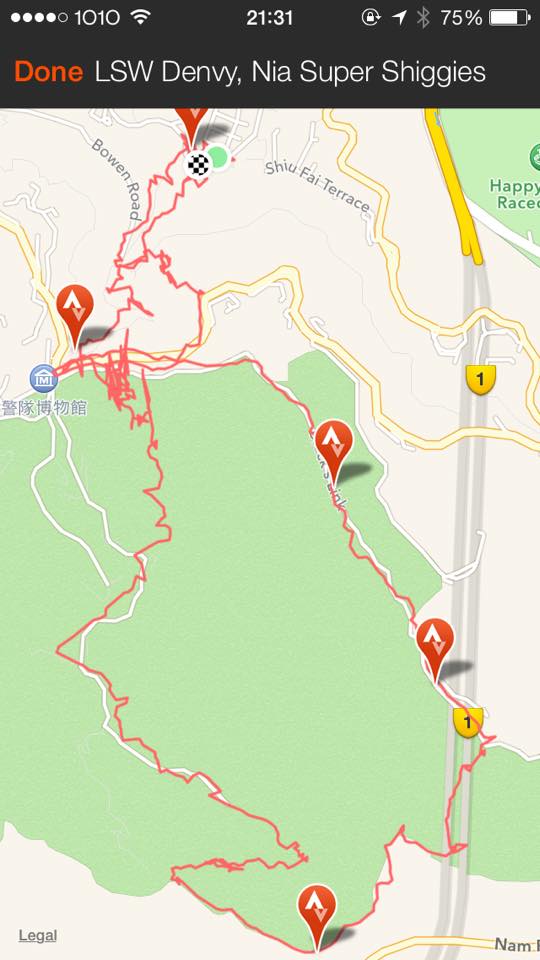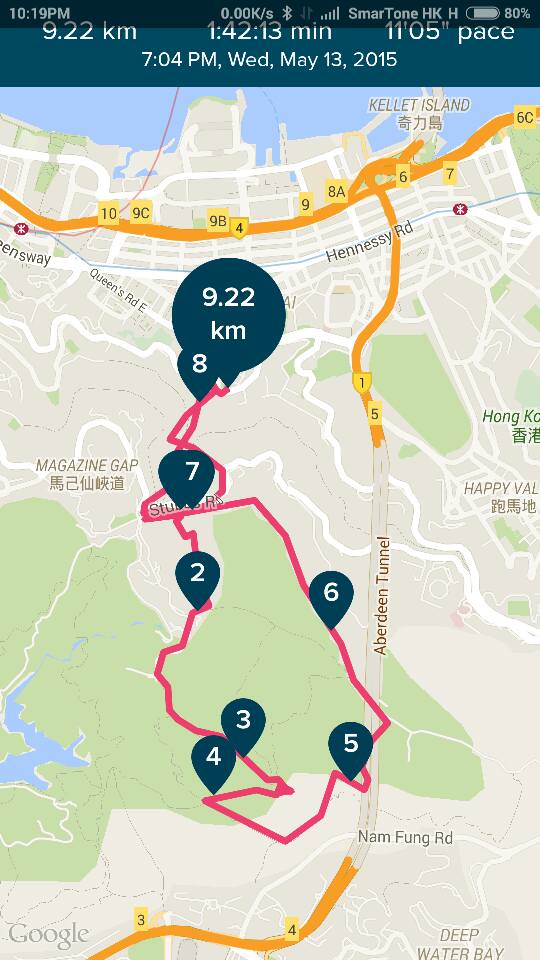 Stone Nullah Lane to Bamboo Grove
Up Wanchai Gap and left at Bowen Rd Park
Checkback on Bowen Rd and up the shiggy to Opus on Stubbs Rd
Right up Stubbs to Wanchai Gap. Mind the oncoming traffic.
Short run on Black's Link then right up the steps for Rambo I shiggy
Up the side of Mt Cameron then rock steps down to Middle Gap Rd near the path down to Cameron Rd
Along Middle Gap Rd onto Black's Link
Rambo II right at the steps where Black's link concrete path turns into rocky trail
Check-back at the pylon and right down to the catchwater
Left along the catchwater to the CB, then shiggy left for a long haul back up to Black's Link again
Rejoin and all round to Wanchai Gap again and on home
Noice