Hang Hau
Hares - Maggie Motormouth & Indy (and anyone else who went on the run)
Well Motormouth stepped up to the plate this week, 'volunteering' to set the 2003 run…..I did not realise at the time how significant the number 3 was!!! And having had an April Fool's run set by Gai Tai on April 1st, did not realise we would have 2 Fool runs in one month…...
Hopeless was slightly concerned as at a previous run which she hared (for a lesser hash!), MM had been so busy on the phone that she apparently had forgotten to lay trail for 2 km…..but this run was to be around Hang Hau, and as she admitted to me she would be using some of the trail (yes! the first 2 kms...) that Telecom had previously used….so armed with that knowledge Hopeless said 'I will bring a box of chalk, so trail can be marked if needs be!'!
Knowing it was going to be an interesting run? we were all looking forward to see what markings we would be following!! So off the pack goes…From Pu Shing park around the back of Hang Hau Old Village, cross the road, where we came across the first of MM's 'joke' markings…an "on Home' marked from the first check! Ha Ha!!…..Hmm, so then right up the road to go in to the tranquil trail/ steps/contour path leading to Clearwater Bay…..the 2nd MM 'joke markings was the only "closed Check" - with three options, NONE of the false trails marked or T'd off.
After we got to a plateau, is when the real fun started…the pack was milling around, confusion in abound... as the pack encountered the 3rd of MM's 'joke' markings, …..there was a R/W split….but no R trail to be found....
Rumours abounded that Hopeless had gone up the steps where the R marking pointed to….. but there were no Hopeless trail markings as would have been expected by him…..There was the Wimps trail that a quite a lot of the hashers did, but our musketeers, Dr Evil, Macau Drunk, Octo and yours truly Indy did not want to follow that….we were determined to find the R 'true trail'…..or so we thought……after all there had been a R arrow…...? and maybe again MM had been talking on the phone going up! up and up! and forgotten to lay flour?
At this stage, Dr Evil piped up and said that Telecom had set the run up all those steps, so up we went searching for trail…..None was espied!! Macau Drunk had chalk so made the command decision that he would chalk that trail in case others followed, and as he said…..'to make sure we were all in the same movie'! for any followers! Up Up and Up! At the very top of the steps, seeing the CWB petrol station and CWBS (ESF), I surprised them all (not known for being geographically aware at all times), by stating…'let's go down these steps…..then either back to Hang Hau…or onto the Hawaii Trail leading to Po Lam then back to A'…..At this point the Merry Musketeers of 4 (not the magical 3!) became 7 as we were joined by Sweaty, Any Fanny'll Do and the W@nker……
So down the steps……deciding they wanted a longer run than heading back now, we did not take Telecom's trail, and headed along the lovely Hawaii trail, which is always a great trail to run along…..
In Po Lam environs, the pack headed left and down to Po Lam Rd North……Not wanting to run on road we navigated our way around truck parks, found ourselves at a T at one stage (yes we still had our metaphorical Hash symbols to follow!) back to find a trail that went through…then onto Po Lam Road……At my school we headed left/right to run along the undulating concrete path that took us finally to join the MM trail, then the On Home sign….'joke' no 1... ..then it was back across the road to follow 'out' markings back to the park…..Our musketeers had had an enjoyable run of 8.2 kms…..
At the bins all were comparing their trails……The true MM trail apparently was only the W trail, which from the 'W/R split' sign, went straight back down hill on the trail rather than the steps…then back home….a total of 4.1 kms! Comes In My Tunnel had done the W trail down hill…at bottom decided not long enough so did the loop again…having got all looped out he headed home……and as for Hopeless, he had deviated to do his own run and had not laid trail cause 'I did not want to confuse the pack more than they were!!'
But all turned out 'well' on the 2nd April Fool's Day '3 joke' run…actually (and coincidentally!) run 2003...noone got lost.....there was more humour expressed than dummy spitting….and MM was well chuffed with her 3 'joke' markings!! The map(s)
From there it was onto the Thai restaurant at the old village…no more 'joke' opportunities as Hopeless took over food orders…..MM was a happy bunny to have 'survived' with no major dummy spits.. and all had an 'interesting' run….generally...
Down Down's by Indy
The hare - Motormouth...what did you all think of the run?? Too long, not enough 'jokes'....
MM - thanks for 'volunteering' to do run when hare needed...
MM - no R trail to be followed....
MM - would you like to write up your own run, so you can tell everyone how great it was??...and what was 'true trail'?
Best 'run' of the night....the 'Rambo' Hawaii trail musketeers.....Macau Drunk / Dr Evil / Octo / Sweaty / Any Fanny'll Do / Wanchai W@nker / Indy...8.2 kms
W 'true trail' (at bash) - Lost In Translation / Crackpot / O'Bollocks/ Lubricated T / Fumio / Swimsuit / Gin & Vomit /Dog S**t....4.1 kms...
Comes In My Tunnel - does W trail, not long enough, repeats loop up and down then looped out and On Home!
Hopeless - did his own run...
Hopeless - not marking the 'Telecom' path as promised...'to confuse? or not to confuse?'
New shoes - Fumio....quite happy to drink out of them!
Swimsuit - so eager to get to run that was running to start at 6.45!!
Octo / LT/ CIMT - not happy bunnies that run started at 7pm when run start takes 'long time' to get there....
MM - fortunately, there were the 'joke' markings to get pack back together...mostly..
Non Runners - Easy Over / Legally Blonde
Legally Blonde - non running as too busy with her new Engagement Ring being 'on parade'...
Holiday Romance ..again! - Hopeless / Lost In translation ... says he, 'What more could you want? sun, beer, a beautiful woman!'.....'sighs' heard around the tables....
Lubricated Trojan - looking very trendy in the latest maternity denim short skirt!
Wanchai W@nker - late to run...gets to Hang Hau MTR at 6pm pays taxi, to go home to Clearwater Bay to get gear to come back to HH instead of taking gear to work
MM - making some 'joke' that Park'n' Shop had not set the run properly on previous night's Ladies Hash.....MM will give lessons!!!!!!!!!!
Hangovers from Park'n'Shops run, with On On at Sweaty's.....Sweaty / Hopeless / LIT / MM
Run number 2015 - popular run number ...WW has nabbed it, but Legally B is interested to do her 'Engagement run'.....? any others in 2015??
Macau D - suggesting spirits brought in miniature vodka bottles....Lamma hashers always good with these suggestions!!!
Hopeless - food ordering
MM - thanks for a 'joke-ful' run and night!!!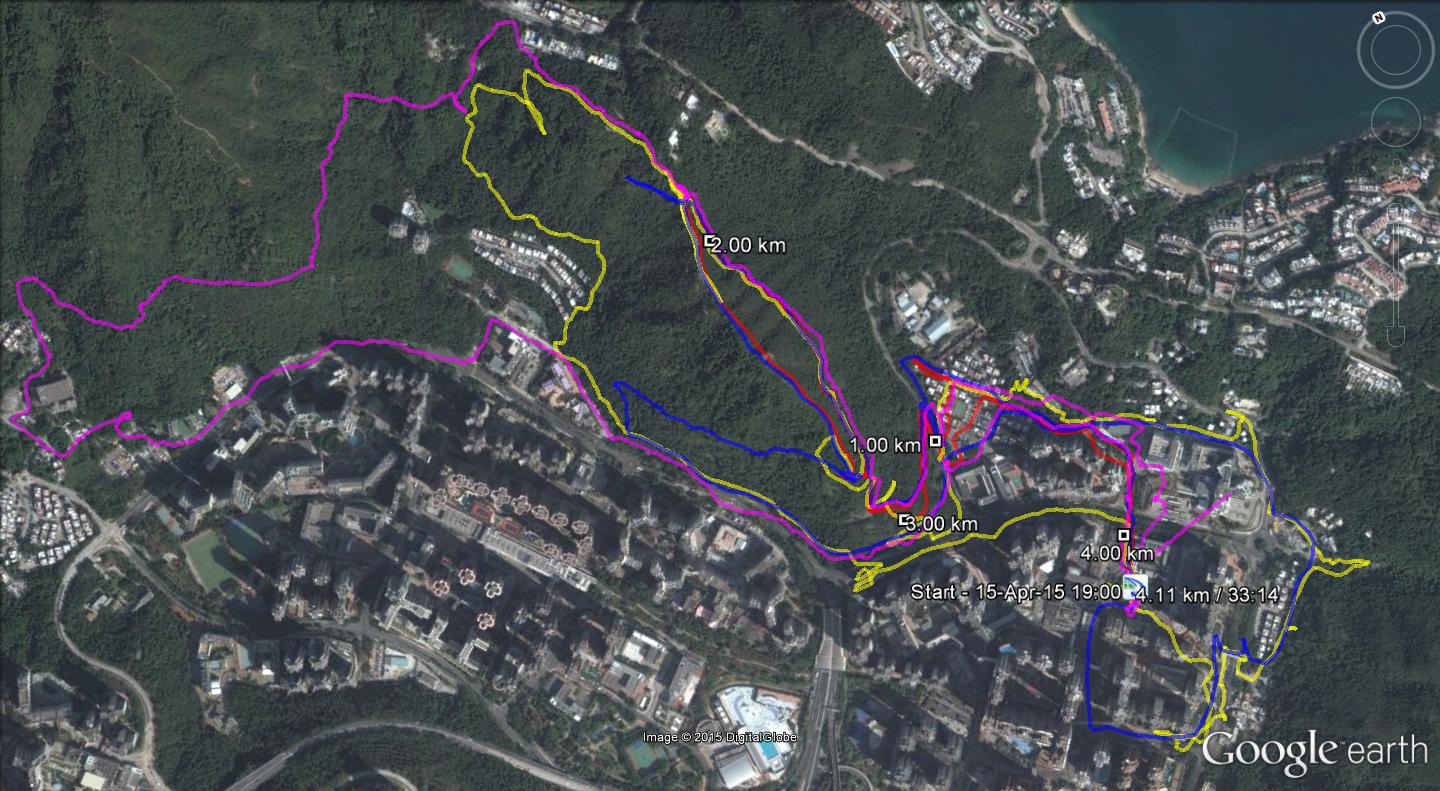 Red route.. the actual trail set by MM..... 2.5 hours to set 4km of trail, the first 1.4km was both the OUT and IN trail.... with the On Home marked off the first Check outside Hang Hau Village. (1st MM "joke").
The yellow route was Telecum's WH3 trail on which this was based
The W/R split marked (seen where most of the paths overlap at the 1km label) but there was no actual split or any further marking (2nd MM "joke") so everyone did their own thing
Hopeless' take on the run in blue
The Dr Evil "make up a Rambo run" in purple on to part of Telecum's WH3 trail, but further on to Po Lam and then back for a length of 8.29km, almost twice that of MM's original "3 jokes" 4.11km trail.
The only "closed Check" - with three options, NONE of the false trails marked or T'd off. (3rd MM "joke").
So, bit of a joke of a run, lucky that no newbies came and got lost. Most of the pack of 26 ended up doing their own run.
Thankfully the food and DD were well organised.