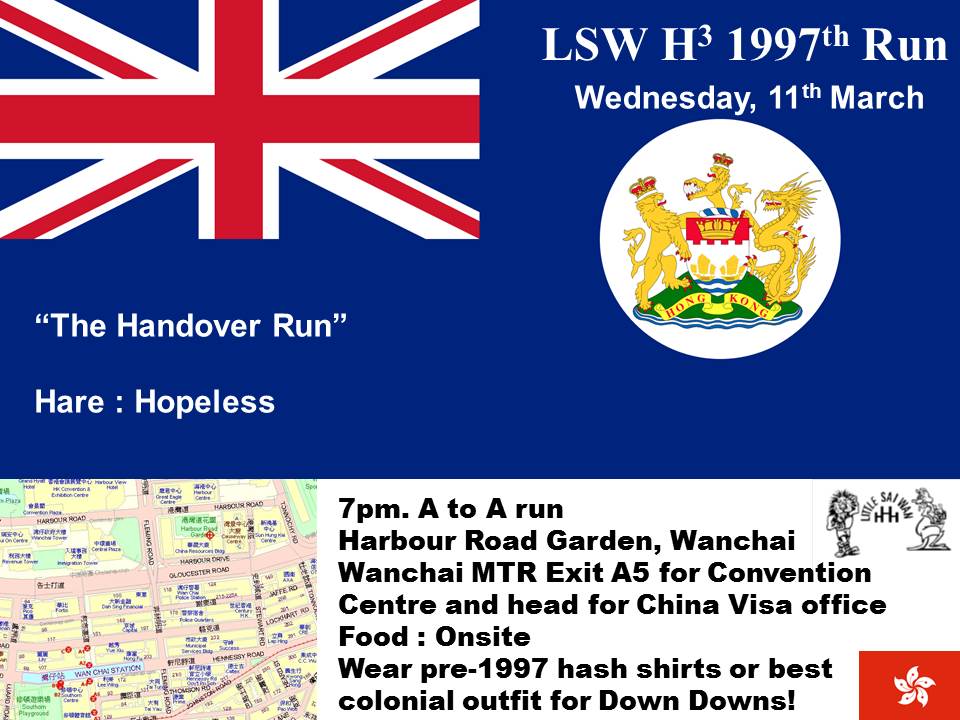 Well after Chatroom and Toilet Spray's LSW assault on High West the previous week, Staff Sergeant 'Taffy' Hopeless was delighted to have the opportunity to show the 'supposed' LSW elite summit climbing squad what the historical essence of Hong Kong was all about….....
Staff Sergeant 'Taffy' had, in the prior week, previous been 'overcome with emotion' when he read that the 1997 LSW date was there again for the taking, having been 'handed up' on a plate….For a nano-second there was a dilemma! Being an honourable compassionate soldier, should the Japanese tsunami be commemorated? or the Handover of the British Empire in Hong Kong to the Mao Tse Tungians be 'acknowledged'….It was an easy decision in the end...
As such, with tears in his weary eyes, he carefully unfurled the commemorative flag that honoured the once 'Royal Hong Kong' of pre-1 July 1997, and started to plan this next campaign …. The uniform he donned was, however, not that of the venerable elitist Welsh Guards, or even the monarchial Queen's Regiment, but the humble 1992 LSW shirt and the British boxer shorts….but proudly wearing his Handover Flag as a cape……..Before the Handover Hash was to begin though, SS 'Taffy' went to one of the last Royal bastions in Hong Kong to pay his respects ….the Royal Hong Kong Yacht Club..! for a quiet sherbet.. As the attendees all assembled at the Harbour Road Park, their presence (and nationalities) was quickly noted….the Scots were there in force to show their allegiance to this occasion..Lost In Translation/ Sweaty/ Swimsuit, the Irish represented by The Plank, the 2 Ozzies Octo and yours truly ( Indy), the English Motormouth came out of hibernation along with On the Edge and HP Salsa, the Canadian CUTR……and the Chinese SST to personally 'gloat' …..however, being a rainy night and not a 'High West ' challenge it obviously deterred some of the 'elite squadron' from donning their uniforms….
Taffy was not amused by this 'lack of respect'…and their names were quickly committed to memory…..You know who you are!!! It was wondered where Bubbleduck was? but predictably being retired with plenty of time he turned up 20 mins late...… The Pre-run speech was delivered by Taffy in true Military Style- 'You will be running past many significant monuments …here is the quiz…there will be prizes...have a look but you cannot take it with you?' 'So I am thinking to myself!……Indy, how can u do a quiz if you don't have the quiz with you?'…there seemed to be no answer to that?' Then the bugle was blown and off we scampered…….Firstly along the Wanchai waterfront of Queen Victoria's Harbour to admire her waters, the old junks with their red sails flying…and the picture postcard HK skyline. As we crossed Harbour Rd to enter another park, Motormouth and Swimsuit were espied? Were they running with wings, or had they short-cutted…..such a dastardly betrayal of British etiquette….! The next British commemorative site was along the newly reclaimed promenade and to the Golden Bauhinia near The Prince of Wales Building, HMS Tamar, where the Royal Empire Ships used to 'park'…At this point we left the peaceful harbour view to don our caps to City Hall, in our symbolic journey to search for the 2 prowling Lions that represented strength, resolve and success….in other words the corporate body of HSBC……(myself I always thought that the Lions were the symbol of Singapore…..?)…. At this stage I was admiring the sights with HP Salsa, and a virgin LSW 'Just Kate'..as we headed to Hong Kong Park to be joined by On the Edge running around headlessly ……We paid our respects to what was once Victoria Barracks (the whole park!) and the very British T museum in the park….
Then one of my favourite sections was to see the British Consulate-General Building, the Passport Section being the bane and curse of the British Empire who remain in HK…..(at that point I wondered whether Gai Tai was still behind those imperial doors fending off those endless complaints!!) Certainly not like the old days……!..The Brits 'whinging Poms?? Ask an Ozzie... I did not realise till later that being at the British Consulate-General I was then on 'hallowed turf' ..For who had spent many happy formative years? across the road from this site, at Pageat House, Army Officers' Quarters.....….dare I say, even began his hash- setting grail then…but Staff Sergeant 'Taffy' Hopeless… !! In fact , in hindsight, I am amazed there is no statue or plaque to commemorate this …as there is for Churchill!.. Leaving that site…we then turned R up the road …I saw a distinguished gentleman (not a hasher!) walking down this road in a tuxedo……just as if Taffy had planted him there …..up to Kennedy Road where Irish Plank was showing his true national colours….(no idea wtfhw!) closely followed by Ozzie Octo……Then we were down to the 'fluero lights' of Wanchai…past the Blue House where the 'hippie reading group' seemed to be in session…near to the Old Post Office….cross a few roads and then to A, where Taffy was crossing us of the list to ensure none had 'mutineered' …and then 'to swap stories about the good old days where the British Empire ruled Hong Kong fairly and Occupy Central was not a thought to ever be entertained….…..' We managed to clock in 8 kms on this 1997 symbolic 'Handover' trip down memory lane!!…Well done Staff Sergeant 'Taffy' Hopeless!!
Bash at the Brit pub and Down Down's by Indy -
The Hare - Staff Sergeant 'Taffy' Hopeless...Well done on an excellent and entertaining 1997 'Handover Run'..
SS Taffy - digging out the commemorative flag......in fact for even having one that he could find...!
SS Taffy - spending formative years at HK Military Officers Quarters....
The Brit Empire Reps - Taffy, Lost in Translation, Sweaty, Motormouth, Swimsuit, Indy
Boobleduck - late arrival at bash after eating his own homemade picnic in the park......so Brit!
MM - eating her dinner faster once BD arrived....draw your own conclusions!
LSW Virgin - Just Kate from US...in HK to write about the HK mountainous trails.....
Just Kate - so what did you think about tonight's 'mountainous' run??
Just Kate - enjoyed the Handover Run so much that she went round twice ..almost!!
Returnees - Easy Over /Swimsuit
Non Runner - Easy Over...busy working
The Scots - most represented 'nation' at the bash....
MM/Swimsuit - shortcutting
Sweaty - has few hash shirts...when he goes to the Philippines he sees all of Easy Over's extended family wearing them....
Boobleduck - says to Sweaty he could sell him a few......
Just Kate - being so American...when she saw the markings 'On Over', (across the road), she said ...'Oh is the run almost finished then?...er 'over'....
SS Taffy - setting a quiz trail when he said 'I never do trail quizzes!'
Handover quiz winners - Motormouth (no surprises there), the Lost In Translation (inside info!!)
Sweaty - for 'volunteering' to set 1998 run at late notice...'just don't tell Easy Over', says he...
Sweaty - as soon as sees EO...'We are setting next week's LSW run!!'
Easy Over - getting excited about basho food for next week.....Come along to will see what Peng Chau offers!
SS Taffy - 'At ease! You have done good!!'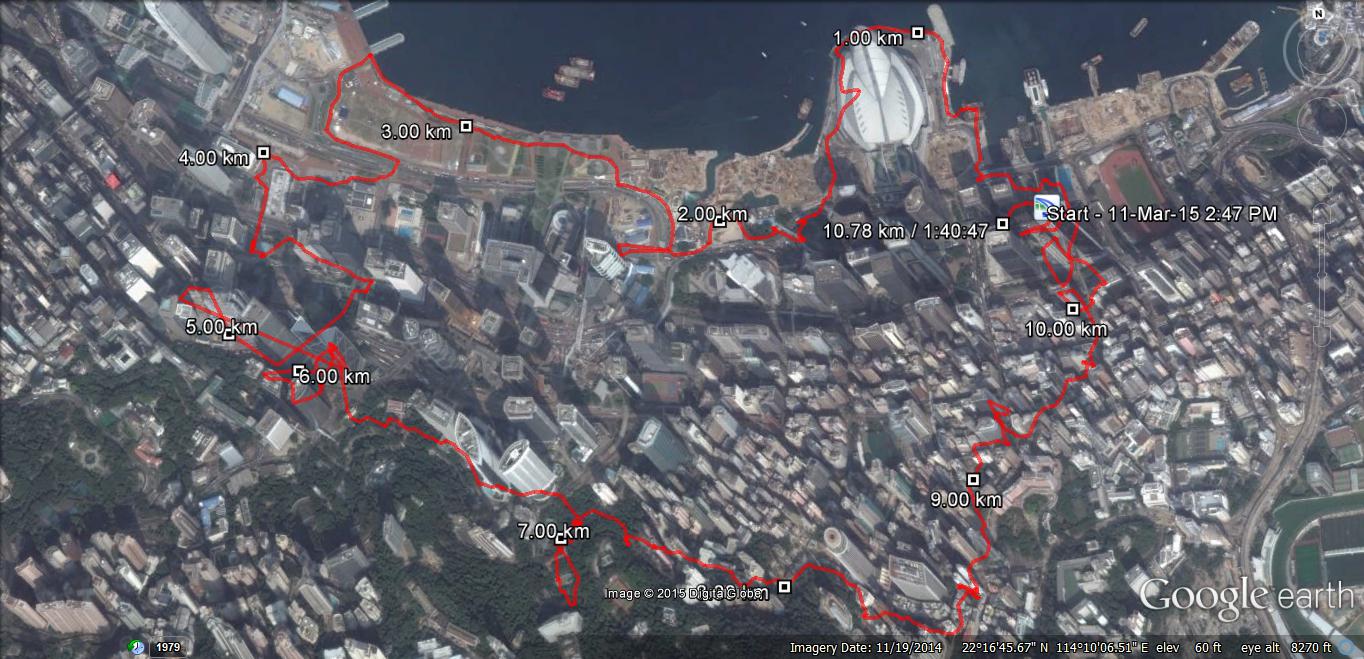 1a. What happened in this location and date?

1b. Name the golden object ?

2a. Colonial name of this building?

2b. What used to park outside this building ?

3a. Who designed this building ?

3b. Name the two bronze lions ?

4a. What was this park before it was a park ?

4b. A very British museum in this park ?

5a. Correct name of this building ?

5b. Who used to live across the road from this site ?

6. You?ll run past this on trail near the old Wanchai Post Office
Name the school

1a. Hong Kong Handover
Tuesday, 1 July 1997(00:00 HKT/16:00 GMT)
British sovereignty of Hong Kong was officially transferred from the United Kingdom to the People's Republic of China

1b. The Golden Bauhinia

2a. The Prince of Wales Building, HMS Tamar

2b. UK naval ships

3a. Sir Norman Foster

3b. Stephen & Stitt
Stephen was named after A G Stephen, former Manager Shanghai, and in 1923 the Chief Manager of HSBC
G H Stitt, the then Manager Shanghai

4a. Victoria (Vickie) Barracks, British Army garrison

4b. Tea Museum

5a. British Consulate-General Hong Kong or British Foreign Commonwealth Office (FCO)

5b. Hopeless! In Pageat House, Army officers quarters

6. Eton