1964 Lam Tin
Hares - Hopeless and Keg on Legs
The first part of the hash was the climb from the MTR - surely it can't be another escalator, yup another one and another one….. finally the road, it must be on the other side, keep going, on and up finally arriving at the playground. Hopeless must have exhausted himself setting his section of the trails as he was sitting down to greet the arrivals.
Lots of new faces and lots of wanta be real runners were there along with a virgin and a very long missing returnee. The prize however must go to Crash Test Dummy for his outfit complete with stockings and suspenders on his arms - a fashion statement or what?
Off the pack charged up a few steps over a football pitch only to get tangled in a scaffolding trap while those at the back simply cut the corner to hit the front. A bit of road running with some irate car drivers who think they own the road was followed by a T or CB at the end of a bridge (I didn't get there so wouldn't know) which brought the pack back in line. After that it was upwards via lots of steps to a point where Inflatadate said 'it has to be this way - the Wilson Trail' and it was. Things get a bit fuzzy from now on so if you remember a different run then you are probably correct.
Lots more up hill steps to a ridge and then down through 4-5 feet high shrubs and bushes where you couldn't really see the rough path below. One local guy was heard to call 'f***ing hell' as he fell for the third time, fortunately into the relatively soft bush (the vegetation one that is).
The following off pace group including your truly got a bit lost around some graves but finally hair-pinned back to re-join the trail. At some point on a return uphill section the Wimps broke off and the Rambos headed down or was it just left. We must have joined up with the Wimps because we hit a second split which wound round and round and round the hill.
Finally the lights of civilisation (if that term can actually be used for HK) came into view and so On Home must be soon. Wrong - we ran tantalisingly close to the tall blocks and then away from them, dropping but then hitting another few steps up and then back to within spitting distance of the flats only to head away from them again. This appeared to go on forever or was it just exhaustion setting in?
The busy road finally came into sight and then a slog to the finish. I arrived to find all the hash groupies sitting cross-legged, facing one another in a very neat circle and discussing the attributes of the race. This is a new hash pantomime activity for yours truly who grabbed a softie and collapsed on the nearest bench. Hopeless was obviously concerned at my condition and asked if it was all ok. I tried to answer but fatigue had even got to my tongue and all I could do was nod.
All arrived home safely with Lost in Space failing to hold onto last position as one of the locals didn't turn up. 'He's got an injury, does he have a phone' is he a good runner'. A shower courtesy of a magic key helped get rid of the old sweat but new clean sweat soon replaced it on this balmy night.
About 20 real hashers headed off for a dia pai dong with Wanchai Winker shouting 'mark the trail' while standing on a huge arrow with an 'F' on it. Sweaty and Keg stayed behind for the lost sole who eventually turned up safe and sound.
The DD's by Hopeless and one or two from the floor included but not limited to the following, as I couldn't remember any more than those on the list sent to me:
Hare.. Hopeless
200 runs Lost in Space. Octo 150
Bare ass.. Freewheel
W W*nker... complaint on trail... usually I am so fast going down
Death of the invite only hash... Slippery Edge
Gary G n Rosie... bored in Yuen Long. GG was exhausted as a non-runner going back and forwards to the beers.
Inflato... I got my staff to do the checks... 7.3km
Slippery Edge... going to Zurich just to get LSW shirt
Finally getting hash cash shirts... Lubricated and Come in my Tunnel
Returnees and Virgin……
Mystery Hare... Keg on Legs
Thermal.. next weeks hare on DB...
Well before midnight as is usual when Madam Indy is in charge the song was crucified by the chosen ones and then killed off by the remaining group. A few die-hards remained to finish off the stock of beers in the fridge before heading off home.
Good trail, well marked by Hopeless and Keg on Legs and ta to Virgin M for ordering the nosh.
Thermal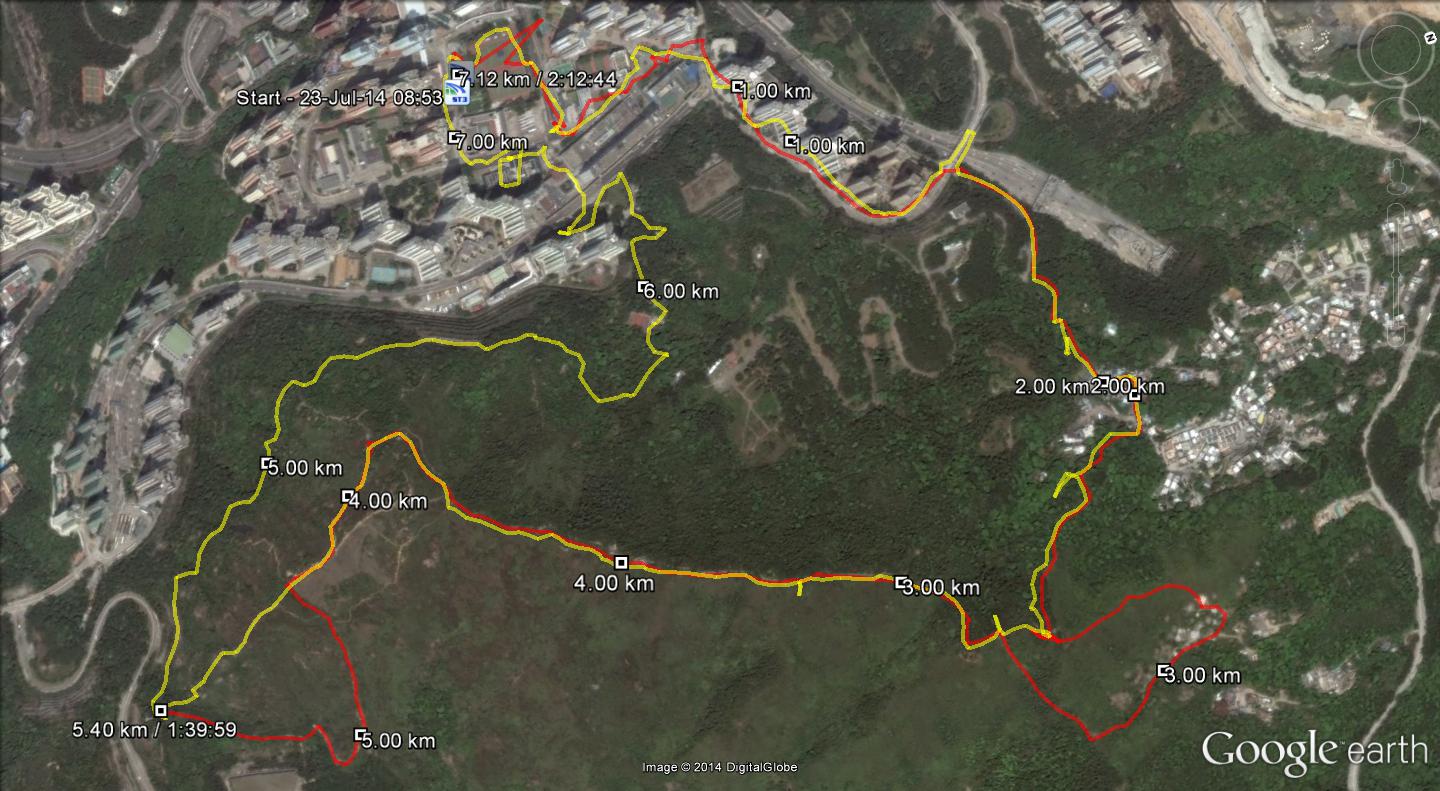 Slippery Edge's check free run