Hare - Yvonne Pisser
Advertised as an A to Beach run but could have also been an A to A to Beach. Or an A to Bratwurst run. Also advertised as a hash where you have never hashed before despite Wanchai Wanker proclaiming that he had set a run out of the same A.
So off we went through the village and over a stream before climbing the hill so high high high. Having received the special Wimps briefing, upon reaching the family BBQ area I made a left on Ma On Shan Tsuen Road and went all the way to the main road. The Rambo's made a right after a lot of mulling around at the family BBQ area. They then apparently went back to A carrying on in a different direction.
The Wimps and the Rambos joined up to follow trails along the Ma On Shan bypass road and through a tunnel which wasn't one of Cum in my Tunnel's tunnel. This took us through the villages of Cheung Muk Tau and Lok Wo Sha and into the Whitehead Beach. 8K for the Wimps and 14K for the Rambos.
Maybe one or two small dummy spits but we were quickly placated with wonderful barbequed bratwurst from Chef E Von Pisser. Sticky Sex Toy was heard to request a "big one".
The DDs by Indy -
E Von Pisser - very good run, no detected neckies, one check back was to long, even though 14K will only get credit for setting one run.
Sticky Sex Toy, Catch of the Day & Toilet Spray - What's bratwurst?
Bobble Dick - Thought they were frankfurters.
All Austrians - Last weeks run much shorter. No sweeper on this run.
The Wimps - Yours Truly, Fanny Sniffer & Dr. Evil
All Whiteheads - Bobble Dick for B being Whitehead Beach
Rearender - Thought Frank the Plank was also a Whitehead.
Other long runs… Bobble Dick, had runners coming in in almost 4 hours. John Doe, One that Nurse Fucker had a hard time with. Cum in my Tunnel, bad marking because he was setting while stoned. Sticky Sex Toy and Catch of the Day also with long runs.
Indy - self confesses to looking at B note while on trail.
Fanny Sniffer - Took pictures while on trail.
E Von Pisser - renaming Indy, "Indy Amin"
Bobble Dick - Doesn't consider Indy to be a dictator but thinks she hesitates too much.
E Von Pisser - pictures of goulash in the newsletter.
Shiggy GaGa & Rearender - helped the hare with bags at B
Toilet Spray - Couldn't handle the pressure of being Hash Cash
Shiggy GaGa - Going back to the UK to have the NHS sort out her leg.
Helena and Sophia - Possible candidates for a new Hash Cash.
Tight Lips - Leaving her job to become a tai-tai.
E Von Pisser - Burnt one of the bratwurst.
COTD, Dr. Evil - On the injury list
Sophia - Trail stolen by E Von Pisser
Yours truly - A to Beach concept stolen by E V P
Helena - Lost property (Australian Beer Condom)
Sophia - Happy Birthday!!
And now to the best part of the late evening where we no longer delay until next week the giving to two hapless hashers names they will hate for the rest of their hash existence.
And the names are……
Theo will be known from now on no longer as Theo but as "Ethiopian Hijacker". Dick and Dyke or Dick Van Dyke was a close second but E Von Pisser's enthusiastic support of Ethiopian Hijacker swayed the decision. Maybe Dick in the Dyke could be a future name. Not sure it could save the village from flooding the way a finger could.
Helena will be known from now on no longer as Helena but as "Lubricated Trojan". This is a historical name as she sent in a Lubricated Trojan horse to beat Troy some 3,000 years ago. Something like that anyway.
Next Weeks Run: A very huge Thank-You to Catch of the Day and Rear Ender for covering for me this week as I enjoy the thick Beijing Haze for the next nine days.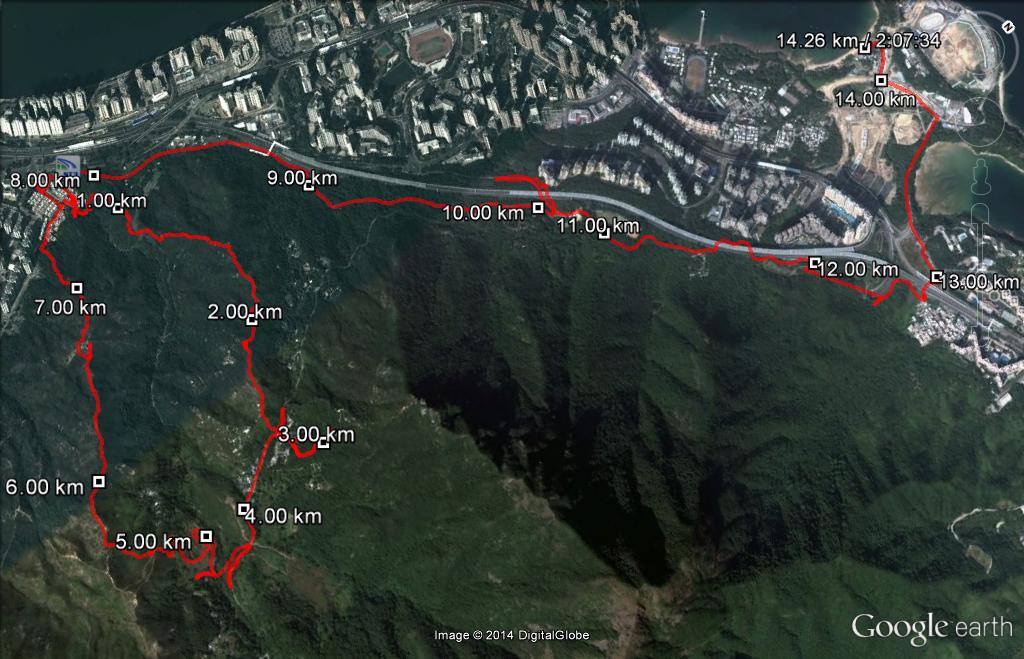 This run was effectively 2 runs..... an A to B that ended back at A (and the hare drove off and forgot to mark through the A and onto the B route so had to drive back to mark it. Luckily he had LOTS of time to do so!).
The "short" or Wimps cut straight down at the 3km marker where the pack had milled around for a considerable time to work out the Check or Checkback in Ma On Shan "Family Walk" area. 650m of elevation gain. 2 litres liquid loss!
Finish at Whitehead, near the old Vietnamese refugee detention centre, on the beach for, as advertised, BBQ Bratwurst. No Goulash this run...
Good, but testing, run.
ONON
HOPELESS