Hares - Just Add Alcohol & Crash Test Dummy
Travelling to the hash last night, I could not fail to remember what the Hare Crash had written about the previous week's travelling experience!!!
'I hate travelling to ShaTin in rush hour! It makes me feel trapped, shuffling along in sync like a zombie. I constantly search for ways to overtake slow moving "dumb phone" users, but it's a lost cause. Finally when I make it out of the mass transit system its 7:10 and I'm sure the pack will be gone with no hope of catching up. But no there is Gobi-Lo, and Cheesy Flying Fox. Yesss, the travel gods have smiled again making us all equally late.'
I could write my own similar version for this last week's hash along the lines of 'I hate travelling to Wong Nai Chung Gap especially in rush hour AND on the eve of Mid Autumn Festival.....And having taken the hare's advice I, accompanied by Discover Her Bay and Theo, decided to catch the number 5 minibus, as there were no taxis (best option they said!)! And we waited ...and we waited....for 30 mins before a number 5 minibus took pity on us and decided to take us to WNCG. But when we finally made it to the start, unlike Hare Crash's experience of the week before, the pack had all pi**ed off. No.. the travel gods did not smile on us......and neither had the Crash Hare. I hate travelling to WNCG ..esp in the rush hour!
And the irony!! One of the reasons that prompted me to turn up for the run and not go to a Drinkfest with Lost At Sea, was that being a hare this week I knew the write up was mine to do! And cause that is the solo responsibility of the next week's hare/s I did not want to delegate that or ask Ruggero to do it yet again.....!! (Is my halo shining??)
So where is the irony? Well being so late, I was aware I would have few faux pas' to comment on from fellow hashers on the run!...which left me with my 2 bus buddies idle gossip! But once at the Start, Theo pi**ed off up the road towards Parkview leaving us to wonder if we had offended! DHB actually said it was because he didn't want to get lumped with running with us, as he often has to slow done when with the g/f!! Oops!! So then there was Discover HB only to get some snippets from!! Well that company only lasted for about 20 mins as we lugged it up the first hill towards Jardin's Lookout....then having said that the hash is not competitive and we would stay together...(especially as there were supposedly wild boar around the area??? Que??) she then decided that facing wild boar on her own was infinitely more bearable than staying with this bore.....Ho Hum!!...so soon all I could see was her dust also....so then there was just moi....'all by myself'!!
Seeing the Rambo's cut-off to the right, I declined taking that as the Hare-ess, Just Add Alcohol, had told us that ...'too much shiggy! Too little time since you are so late!'...So as I happily bounced down the steep steps and then dragged myself up those horrid steps to Mount Barker I reflected how in the old days I would never have bypassed the Rambos! Indeedy I would have acted as Lost At Sea does! Wimps! Never!!
Now wondering what I was to write about with only the pleasure? of my own company and a pretty well-travelled King Of the Hills path that we were on for company...the trash gods did smile on me!!...Footsteps were heard getting closer ! I turned in case it was DHB's wild boar......but thankfully instead it was WTFIC!.....(In consideration of his 40th birthday 'status update' I will not link him to any boar comparison!). No mid-life crisis for him could be seen in his stride, and with barely a 'Hi Indy' off he went!
The trash gods kept smiling though as not long after I was joined by Octopussy ....normally all smiles and good humour! not this time though as she immediately launched into her story of WTFIC!! ....'Bl**dy Men'...her Aussie slang resonated! It seems the birthday boy had apparently had a torch blowout on the shiggy Rambo route, so the charitable Octo had stopped to assist even though up until then had been 'up there with the FRB's'! ...But the minutes dragged on and the remaining rambos passed the snail-like duo until they got to a brighter section where WTFIC could clearly see by the moon light, and then he pi**ed off leaving the Nightingale to eat his dust!! 'Gratitude' she said!
But it gave me the chance to hear all about Octo's recent holiday to Canada to meet 'the family' as we ran in to B ....not DFL as I suspected! If I had realised that Quiche was still out on the trail I would have stopped to have a few more laughs with him about the 'mudman's' cave antics on Hare Crash's memorable FCH haring in China the previous weekend!
So great run! Interesting company...or lack thereof!...and no crashing boars to be seen or heard this time !,...well not by me anyway! The map
Then over the road to the bash....
DOWN DOWN's by Indy
The Hares, Crash Test Dummy and Just Add Alcohol - Good run! Well done! Great turnout....
Hare Crash TD- Transport directions!! ...Minibus 5 no good...'Oh he says! Forgot to add that 4C also works!'...that would be the minibus that we ignored for 30 mins waiting for the 5!
Theo/Discover Her Bay/Indy - bus buddies on slow bus to nowhere...or so it seemed!
Just Add Alcohol - told Theo/Discover HB/Indy to hurry up as worried that Rambos would get to B before they did (it was 7.30pm at that stage!)
Theo - dumps bus buddies at start so not 'stuck'
WTFIC - torch blowout!
WTFIC - abusing poor Octo by leaving her for dust after doing her Flo Nightingale bit!
Octo - charity comes first! ....but afterwards 'Bl**dy Men'...
Virgins - Kwok...brought by Winky (HK)
Edward from US....brought by Winky
Cathy - brought by Hamish after FCH weekend run in China
Visitor - Gaspar ...brought by Randy
Returnees - Quiche/Yi bai kwai (Kegs on Legs)/WTFIC/Cyclops
Cyclops - has returned to HK for good!! Yeh!!
Mooncakes - Just Add Alcohol....fresh from her hotel!!
Mid Autumn Festival celebrations - SST/Octo/Mark Sex/Cathy/Kwok
Cute co-ordinating outfits - Hamish and Mark Sex
FCH China attendees - CTD (Cave Hare), Quiche, MD, Indy, Whistle Blower, Cathy, Hamish, COTD
Mark Sex = Got to Border but had not updated China Card so dumped.....stayed in HK
Hamish - deliberately sabotaged Mark Sex so could take care of Cathy instead
Quiche - after FCH cave incident looking like victim of mudslide....
Hare Crash also for setting that trail....
COTD DD to Quiche - Unhappy as He says 'The rupee is down'! Que? SST - bad back after FCH?
WW DD to Whistle B - 'Is this the more difficult trail?' despite being on the Rambos ....
WB DD - Cheers to Winky 'Didn't expect this after work...'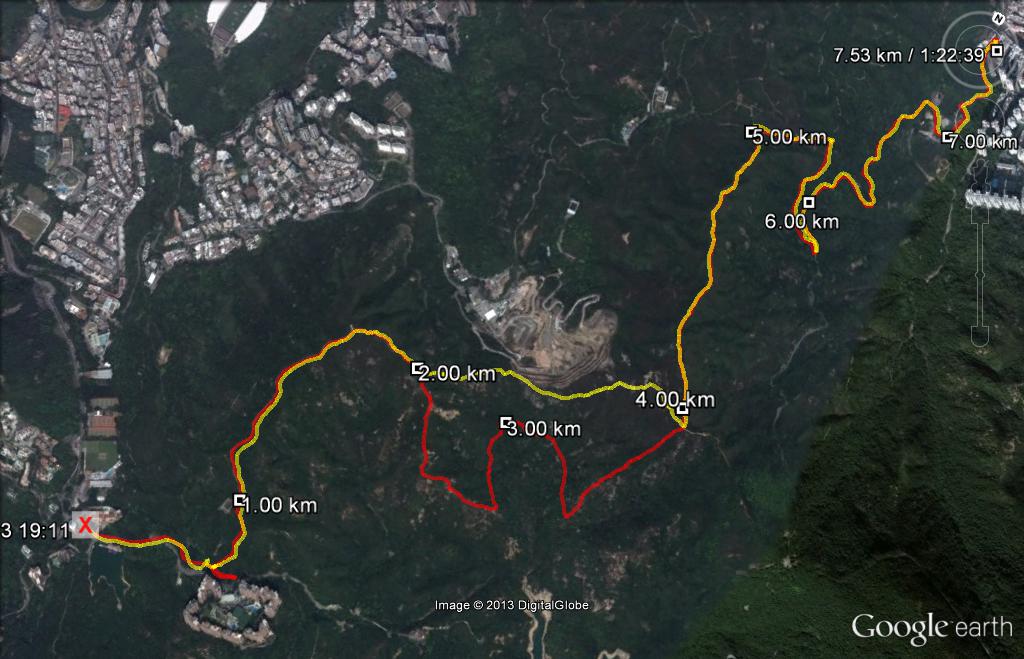 Crash/Alcohol trails..... Rambos red (7.53km), Wimps yellow (6.37km).
Nice recycle of a previous shiggy trail, a steep slippery downhill, followed by a "turn left" and contour, before the scramble back up to the W/R rejoin by Mount Butler.