Hare - FFM - at less than 2 days notice. Great run, bit of everything, pack together and all finished in time for a few beers before ONON.
Hares - Well marked... except.. Rambos accidentally short cut missing out the other well marked shiggy trail that FFM reckied 3 times..
Late - Wanchai Wanker + Bobble Dick
Hamish - "Stuff the sample, send it to me!" And for rushing back from Macau on the 4 pm ferry just to do LSW
Shiggy Gaga - missing out on the 2 kg of coins while on holiday
Shiggy Gaga - 2kg of coins in Hash Cash from Legally Blonde....
Wanker and Frank the Plank - Runner up medals for on site showers style (hose pipe in public)
Ruggero - Shower gold medal - with PHOTO (nsfw)
Returnees - Bobbledick back from international travels and SS Toy (Smurph2)... not together. Ed.
SST - "Smurf2" stunt double
Non Runners - Boilers / Rear Ender - and for smooching on the "Wedding Stage" in Restaurant....
Come in my Tunnel - Engaged. Finally !!!
TVM - late and holding up food...
Hamish - Maggie said not coming to run but he came anyway..... does not know where she is...
Ruggero - table advice on meaning of Fluffers + Buffars + Stuffers....."Polish the rocket" floored them all...
Gin + V - Not bought the map for next weeks run...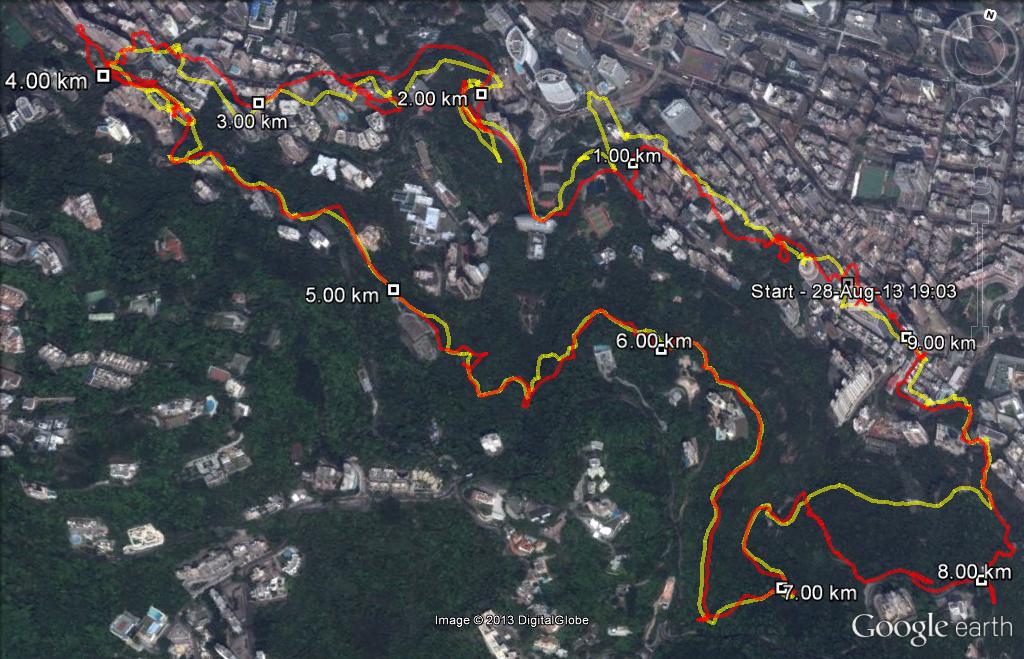 Alleys along QRE
Monmouth Path
Right along Kennedy
Up MacDonnell
Up tram path
Up Magazine Gap
Left past Magazine Gap reservoir
Onto Hollandse Laan
Down Wan Chai Gap
Wimps down to Bamboo Grove and on home
Rambos right along Bowen
Rambo-lites down Shu Fai Terrace path near Lover's Rock
Along Kennedy
On home via Stone Nullah Lane
Rambos-proper went up some shiggy from Bowen to Stubbs Rd
Down Stubbs then down some more shiggy back on to Bowen
On home via the Rambos-lite
Cheesy meantime missed those and went checking in Jardines Lookout