Up, Up and Away in a Beautiful Balloon, except there was no balloon. There was however the hot air, plenty of it, with a hint of a breeze at the [400m] mark above sea-level! The run started at Macau Ferry Terminal and basically wound its way up and up through Mid-Levels with some tricky checks and check backs to keep the pack together, until we reached the piano path Wimps and Rambos split. I'm afraid I Wimped out with Swine Sucker but still ended up going up to the Peak, then further up the Governors Walk to the very top and then down to Barge Poles Palacial Pad with Pool. As I had a conference call at 9.00 pm I quickly changed and jumped in. Delicious.
And then it was over to my co-hare Slippery Edge to interview the Rambos.
Only a crazy person would set a run starting in Central and finishing on the Peak, and an even crazier person would set it starting from the Waterfront and finishing on Mt Austin! So I was curious to find out people's reaction and whether the Hare's life had been spared. Knowing my co-hare was on a conference call from 9:00pm, I decided to stay on the no 15 bus, which was taking me homeward after a tense hockey match against the Hippos, and take-over the joint responsibility of doing the write-up. Macau Drunk had volunteered to do this for me, so just as well I made it there as he was nowhere to be seen, perhaps a fallen victim of the extreme altitude change experienced on the run.
As a local resident I was not overwhelmed by the opulence of the abode where the On On was and with beer in hand immediately set to the task of interviewing the Rambos.
- So Gobi Lo how was it? - Oh it was tough.... After coming off High West I couldn't believe the trail was going up again, you know, through the Pagoda at the top of Victoria Peak.....
- Shiggy GaGa, enough shiggy for you? - Don't know I did the Whimps......
- Park 'n' Shop, did you do the Rambos - We've been up here a lot recently, you know with the Ladies...... (Not sure if I'd equate them to similar experiences myself)
- Gai Tai, what did you think? -..............(panting noises only)
- Shake Your Booty, care to comment - Poor thing he hasn't got his breath back yet... but in his defense he did run 2km to get to the start on time.
- ADWD, how are you feeling after that? - Are you set for our lunch on Monday?.......... (obviously took the whole run in her stride)
- Smelly Twat, good run? - I chose a bad night to do the Rambos for the first time ever!
So overall no more complaining than usual, and future hares should not be deterred from setting a run which is on average UP!
Down Downs give by Hopeless
Teeny Weeny - Pissing Off Early and dressed in Orange (good colour!)
Sticky Sex Toy and Mea Culpa - coordinating Pink, Purple and Yellow CompressSport Socks and matching Tops, following Hopeless's Fashion idea - include photo from FB.
Hares - Chatroom Paedophile and Octopussy - From 0 to 520m altitude
All the Americans - July 4th Independence Day.
Whistle Blower - seeking asylum in 21 countries.
Barge Pole - Host of On On, note to new hashers, this is not the normal level of sophistication offered on a Hash
Sticky Sex Toy - Amazed at how quick it was to park the car this week at the On On, only took her 2 mins this time not 45 mins
Hares - for squeezing all the bags and stuff into such a small car
Octopussy - SST didn't want any ice melting in her car so Octo carried it all in her lap for the long drive up to the Peak
Chatroom P. - an American having to drive a manual car. Nearly rolled back into a Police car. To avoid fine, said that " a serious spider bite in vagina is being iced by my girlfriend and I'm taking her to the hospital"!
Backdraft - Has never done High West before on a Hash
Shiggy Ga Ga - First time seen doing the Wimps
Brazillian Backslap - Returnee, new hairstyle new diet (vegetarian), and lost purse on FH3, never returned to pay subs once purse found in office
Overdue Goo and Just Liz - Visitors from Guam
Swine Sucker - Lost Property, torch
Lost in Space - Self Cooking by the BBQ to insure his burger was cooked just right.
Bobble Dick - Latecomer, consuming half the food coming off the BBQ and doing the Wimps
Slippery Edge - Non-runner
Whistle Blower - wanting to pay Hash Cash with a credit card
Gai Tai - Unaltered after doing the Rambos
F3M - Conference Call during the On On
Toilet Spray - Only just out the shower
Hopeless - (from himself) for mixing up TS and Octo
Wanker - Hopeless saw no animals on trail until he got back and saw a big boar AKA LSW Wanker
Gary Glitter - Got excited when Hopeless told him there was a Spa including Happy Endings
Hares and Host - For the food
Just Alistair - Virgin, bad night to do the Rambos
Comes Up the Rear - 75 runs
Parky - 325 runs
F3M Down Downs Hopeless - Not wearing socks Shake Your Booty and a stand in for Rushi - Also on Conference Calls Barge Pole - No signal on the Peak for the Conference Calls Toilet Spray Down Downs July Birthdays CP - Summoned to Immigration
ADWD Down Downs Gary Glitter - Manual Stimulation in a Massage Parlor not classed as Prostitution
Backdraft Down Down CP - Burgers too small
Wanker Down Down Hopeless - whilst changing put clothes on the BBQ grill Hares - Standard of the Accommodation Song sang by the Hares, and next weeks Hares and Sticky Sex Toy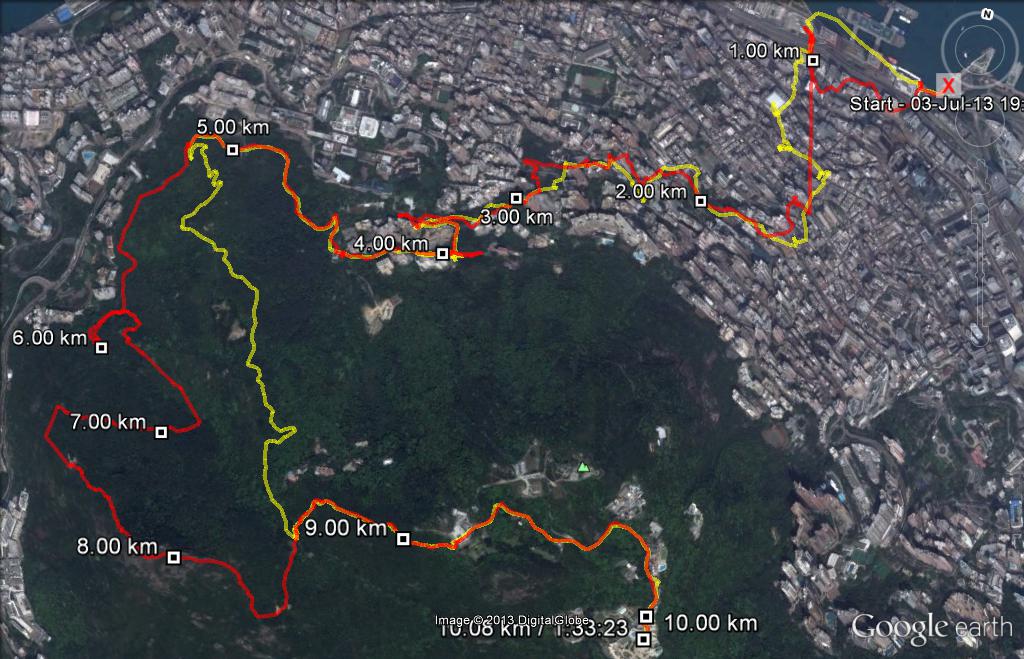 Last night's LSWH3 "Independence Day" run from ground zero to the predicted High West for the Rambos, and onto Mount Austin finish, courtesy of host Barge Pole. Well marked trail by hares Chatroom & Octopussy.
Red is Denvy, Rambo, yellow the poorly (excuse) Hopeless.
Denvy GPS craps out around 1km to find signal again to record her blatant shortcut via Lyttleton Road and Oaklands Avenue with Hopeless and Brazilian Buttslap blazing trail up the stone steps as FRBs, followed closely by TVM and Legally Blonde. Majority of the pack follows Ms Lo off trail, shocking behaviour.....
Oddly enough the Rambos elevation gain record says +741m, whereas the Wimps was +1,229m, go figure.
10.08km for the long and 8.33km for the short.
HOPELESS
PS - one pair of child's size Mizuno's (size 1 !!) left at the run site. Sticky says not hers, and Bobbledick couldn't do a Cinderella on them so claimants please let me know.