Hare - Dr Evil
Distances
wimps - 6.5k
rambos I - 8.5
rambos II - 9.5
rambos I + II - 11.5k
Circle
Indy's back in the driver seat
Slippery Edge joining in
Octo is the last in, along with Tomoko,
Flying fox for quick footedness
Denvy is a media whore
Virgin Mary is taxi wimp
Crash test and Parky are vying with Denvy for camera attention
TV T*ts for not doing the running television program
TV T*s and Agnes B (Sze)for doing the wimps trail and taking a taxi back (taxi share next time?)
Lost in Space for being an avid daytime television soap watcher
Dr Evil and Chris for switching run dates
Legally Blonde screaming after sighting a frog
Ivanna Nucock and Julie for non runners
Ivanna Nucock for winning so many races this year, Queen of the hills– special wish from Indy who sees in Olya a younger version of herself
Ivanna Nucock for taking on Mongolian run following weekend – again, is Indy getting sentimental?
Dr Evil for being benign
Hamish for shortcutting
Park-n-shop(Margaret) Parky for being marrried for 44 years
Park-n-shop using a term of endearment 'mummy'
Parky didn't take a GPS and was told to take one, which proves his wife doesn't want a 'Parkview' on Parky
Edward, guest runner and Snowden-the-leaker lookalike
Macau drunk for being married for 20 years
Lost in space 175 runs "plans on 500 in 2025"
Shiggygaga for being special
Comes in my tunnel for being a rambo and all round wonderful role model and token Austrian/German representative
Comes in my tunnel for bringing special German lady last time named Zoe
Julie for feeling like the years are slipping by faster than they used to
Crash test dummy for walking on a stretch of pathway he calls his "training ground"
Hamish for being so like a character from a classic black and white movie
Dr Evil announced he'd put in 18 kilometers in setting trail to everyone gathered in the Mt Parker Road rest area. The distance was what it took, he said, to lay trail for the year's longest, hottest, most humid and highest elevation gain and loss of any Wednesday night run. More challenging than the run itself was in fact the markings that Dr Evil set about explaining. Scrawled in chalk on the granite floor the instructions for the day's run included several options and even a mention of Team Green. The intention of the markings were to say to gathered runners that you have the option to choose what you'd like to do and are under no obligation to do anything more that you find comfortable, so really don't blame me for what happens. Having issued his implicit disclaimer, the hare pointed the way to the first marking.
The trail was complex and showed the many hours of effort that had gone into its planning.
The route climbed into the humid darkness and offered several head-faking checks. Connecting to Lady Clementine's walk and eventually higher to the circuit around the mid-sections hills, past the radar stations and eventually into several options, one of which was a stone stepped climb to Mt Parker itself. One guest runner remarked on the beauty of the city's neon skyline.
Eventually all trails led back down through a boulder strewn pathway that clings to the side of the hills above Quarry Bay. Eventually it passed through a final check and on down some tricky gangway-style stairs and in the grim back streets.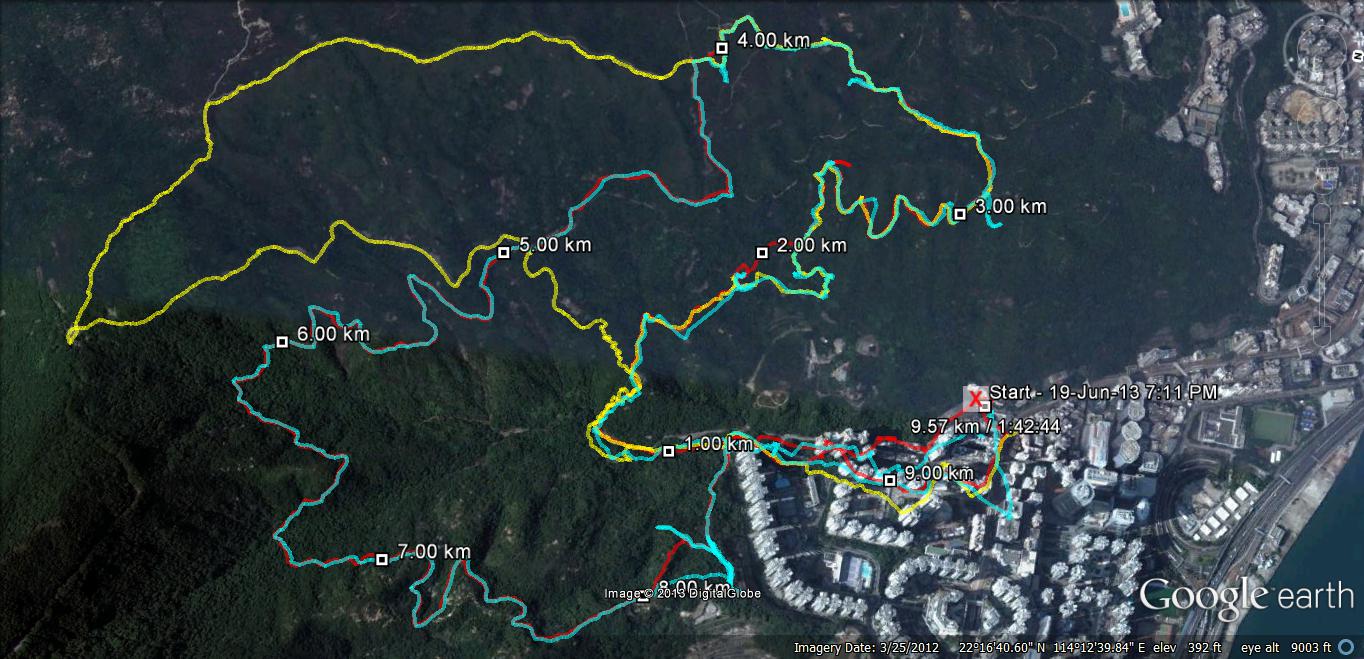 Start Quarry Bay Street off King's Rd at the bottom of Mt Parker Rd
Wimps 1 was the blue trail between the 4km mark below the Sir Cecil's RIde radio station and 5km mark crossing Mt Parker Rd.
Rambos 1 was the extra yellow loop between 4 and 5km, the leftmost point being Quarry Gap down from Mt Butler
Wimps 2 was the yellow trail from 5k back on in to the outward 1km
Rambos 2 was the blue loop from 5km back to the 1km with Gobi Lo going back and forth over the same line several times for emphasis, and Hopeless taking a little red line that looks remarkably like a shortcut.