LSW 1898 and 1899
24 – 27 May 2013
Purley, Nr Croydon, UK
Hares – Hash Horn and Dame Edna. Assisted by Pinky and Vulcan

The Pack
| | | | | |
| --- | --- | --- | --- | --- |
| Hash Cash | Cyclops | Mensa | Vulcan | The Minder |
| Big Bitch | Headlamp | Shanghai | Droptop | Captain Kirk |
| Hash Horn | Little Einstein | Jackie May | Ricemouth | Maggie Parker |
| Dame Edna | Deep Shit | Taipo | Legs | My Sister |
| Michelle | Freddie | Twinkle Toes | Flying Scotsman | Wodwick |
| Mark | Pinky | Speedy | Kath | Siobhan Clancy |
| Ian | Hundmeister | Stickman | Daddy | Greta Rickell |
| Becks | Annoyance | Barearse | The Bank (Sunday) | Thingy in your bottom (Sat.) |
| Posh | Smash n Grab | Special Branch | Zanussi | Hash Perve (Sunday) |
| Youngest Link | Hopeless | Peterfile | Offside | Scidmark (Sunday) |
| Charlotte the Harlot | F3M | Nutcut | Legolas | Allie (Sunday) |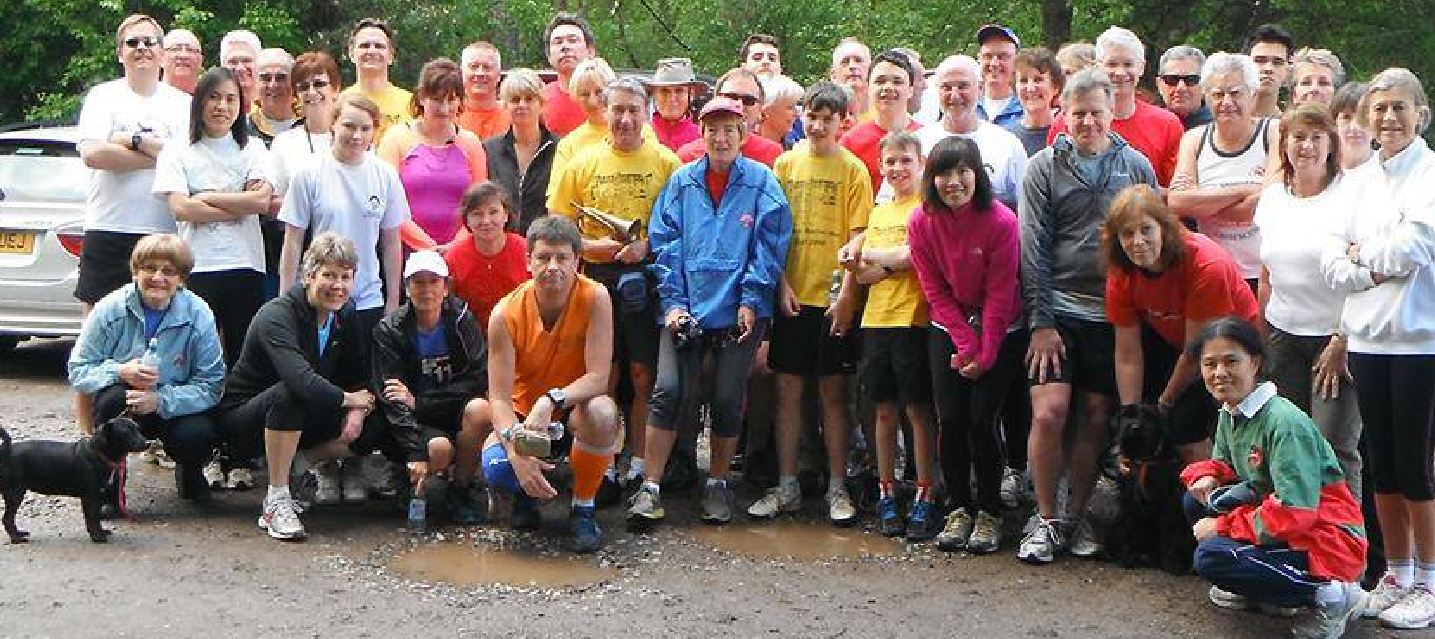 On Friday afternoon as I stood on the platform at Gatwick Station with the rain coming down and the wind howling straight through me, I wondered whether a Reunion at the end of May in the UK was a good idea. Perhaps July or August might have been warmer than 8C. Fortunately for us the rain god was with us and once on the train to Purley Oaks the rain stopped. The weather over the weekend improved in direct correlation to the amount of beer and wine we drank, so Sunday was a beautiful day.
Most hashers arrived in Purley sometime on Friday evening, their arrival time being based on how congested the M25 was when they hit it. The Friday night On On was at the Toby Jug with an 'all you could eat' Carvery. Very cheap, however the bar closed at 11pm so it was an early night.
Run No 1898 - Saturday 25 May
Hares: Pinky Comer and Vulcan
A huddle of 50+ hashes, of varying ages and degrees of body warmth, met at Addington Hill car park, Croydon, at 2pm for an A to A run. After instructions from Vulcan, the pack set off, and possibly to get everyone in a HK state of mind passed around a Chinese restaurant to savour the familiar aromas. The pack at this stage kept together - there's warmth in numbers, crossing tramlines, with a mixture of woodland paths and some road running. Big Bitch and a fellow hasher were seen disappearing into the bushes at one point - probably best not to ask!
By the time we reached the London Loop the pack had split up a bit, which sent a few of us a bit 'loopy' looking for the trail - but it didn't take long to get back on track.
Overheard at one point - 'oh, I've just got my new shoes muddy' - not a well advised comment to make on a hash run!
On to the Rambo/Wimps split at which point I took the Wimps option, but I'm reliably informed the Rambo's trail was a 2k loop that included lots of steps and a spectacular view - apparently Hopeless loved it so much he had to be stopped from doing it twice.
The run continued with a pleasant mixture of woodland paths, park and road, crossing the tramlines again and On Home to the starting point where the welcome sight of full bins awaited. A very well marked run, with good checking keeping us all together for the most part. The addition of half headed arrows prompted a bit of head scratching. Don't remember those on LSWH3 before!
After some time at the bins, it became apparent that there was a missing hasher, namely Kimi. A search party was duly despatched, fortunately with a fairly rapid happy outcome - well done to all the rescuers. Kimi was about to embark on a second round of the Rambo's loop when she was found, apparently not over anxious and still smiling.
All in all what I call a great hash (with apologies to those who haven't seen Patricia Hodge in Miranda!)
With everyone accounted for it was ON ON to Dame Edna and Hash Horn's pad, for a fantastic BBQ, followed by Down Downs despatched by Big Bitch and Hopeless, and all in glorious sunshine for a very pleasant change. Huge thanks to all those who organised the day. The food was fantastic and beer came in more varieties than Tesco's stock.
On On
Twinkle Toes
Big Bitch opened up the Down Downs
First up Hopeless for manipulating the 1900 run to the previous Weds instead of today
Spies for starting LSWH3 - Flying Scotsman and Taipo
Old Returnees - Capt Kirk, My Sister, Wodwick
Stuck in M25 55 mile jam - The Harlot, Becks & Posh Hopeless, Rice Mouth & Legs,
Hash Cash - building the M25
Pinky - not at Friday food as "working"
Deep Shit - working too
Travelodge - hash snobs - East Croyden hotel not South - Nutcut and Special Branch in "The Aerodrome Hotel"
Peterfile - stuffing up hotel booking, Special Branch stayed Aerodrome Hotel while Peterfile had to go home in a hurry and left jacket in the pub, so a cold journey home
Fish n Chips last night - Stickman, Bearass, Vulcan and Drop Top
Stickman - taking Bearass to China and she doesn't like China
Vulcan - "have we been to Spain?" - yup 1st reunion!
Facial changes (and grey) - Taipo and Special Branch
Hash Cash no beard so The Minder thought it was a new husband
Mensa and Pinky - "is the 2000th run in HK?"
New Shoes - Hopeless and Wilma - drunk out of
First Timers on a reunion - Higgy, Capt Kirk, Offside, Zanussi, Legolass, Wilma, Belinda and Wodwick
Athletes of LSW - Higgy F3M and Hopeless
Vulcan - not rubbing out the RW split so Headlamp ran Rambos twice
Headlamp - getting lost and running the Rambo loop twice
The Hares - Pinky and Vulcan
Thanks to Mark and Ian for BBQ
Down Downs by Hopeless
Keen - Nutcut arrived a day early
Returned HK first aid - Flying Scotsman
F3M - morning at Clapham Junction - shopping with a friend then running to the pick up
Taipo and Twinkle Toes - 44 years wedding anniversary
Bought a pig - Special Branch
Callum - "can't jump coz of my knees". Timmy Comer shortcutted by jumping the wall
Legolass - golf insensitivity - calling "onon" by the tee and scary an old gent as he was about to drive the 9th hole
Offside - twig on a Check so heads off in the wrong direction
Freddie - first lady Rambos - have a duck
Higgy - 14km headless chicken and first back
Vulcan - didn't mark off W/R trail so Kimi went round twice - didn't brief only one split
Little Einstein - 4 pees on the search for Mum as too much beer at The Bins
Charlotte - left the dog in one car and tried to leave in another
71.8% of HKers do not want to live next to a foreigner - Freddie for moving out of HK
Dave - thought he was Ugly Dave - actually hash name is "Daddy"
Hash anniversary - Dame Edna - 325 runs
Hash Song sung by the Hares et al
Run No 1899 - Sunday 26 May
Sunday started with a trip down memory lane for some in the form of a visit to a massive Chinese supermarket and dim sum restaurant. The crowd meeting in the Happy Valley carpark (true) in the afternoon was swelled by visiting LSWH3 runners, some of whom ran with us.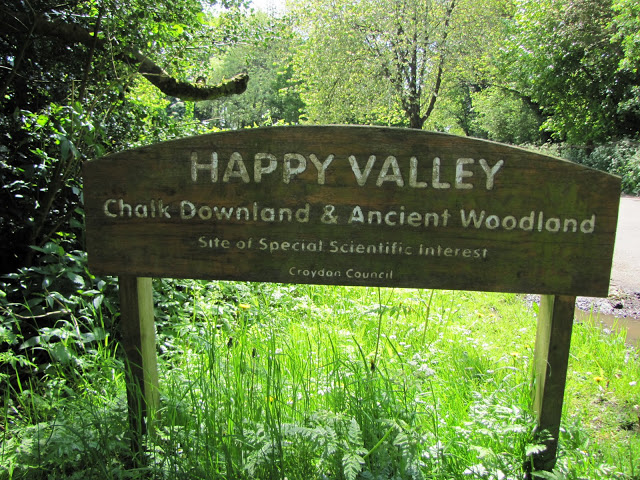 The route again avoided roads and was very picturesque. Starting in Old Coulsdon we ran/walked through Coulsdon Common crossing the road to Kenley Common. The old airdrome here is home to a gliding club which was taking advantage of the fine weather this afternoon. Shortcutting across the airfield was not possible. Being the hare, Hash Horn did not run, but lent the bugle to the next generation to the consternation of Sasha and Roxy. Dame Edna and Hash Horn again made their garden available for down downs and this time after about 25 km altogether, hashers were happy to loll on the grass in the sunshine quaffing beers. Hopeless reeled off the misdemeanours and anniversaries helped by Hash Cash pouring the beers. On On to the tennis club for an Indian meal and entertainment provided by Daddy and his ukulele. Thanks to the hares for a wonderful weekend and to Nutcut for taking up the challenge of next year's reunion in Zurich.
On On
Mensa and Shanghai
Sunday Down Downs by Hopeless
Nutcut - abdicated DD duty
Hash Horn - Tesco for breakfast - 25min walk
Those that did bfast and chinese dim sum today and probably struggling on trail today... Shanghai and Mensa
New socks - but found them - The Bank
466 bus - Nutcut x 2
Late notice coming - Skidmark, Ally and Hash Perve
Big Bitch - standing on Wimps trying to get people to go with her but almost all pack went long
Legolass and My Sister - front running
Marking all the Checks - Speedy - duck awarded
Stickman being a stick at one of the Checks
Offside - found two Checks with sticks and disbelieved
Little Einstein - not calling and first in - tee shirt awarded
Daddy running backwards to check if wife on run, caring and daft at the same time
Special Branch boasting he wasn't last
1400 shirts - Skidmark - "so you've done 1400 runs, wow!"
Vulcan - stubby holder demo - turned over and spilled yesterday infront of The Harlot
Skidmark and Ally - cycling 8 miles back after hash and beer
Hanneys - shipping son to HK for free accommodation for Uni exam reward
Very trusting but Peterfile doesn't trust the hash as wearing his lost jacket all day
Tardis - lowest hotel bill - The Harlot
Daddy and The Bank - rumoured to be "christening" the van tonight although a curry may get in the way
Talking of humping, lose weight Harlot - broken the green chair
F3M - putting a HK$5 coin in Ian's sponsorship jar
Anniversary - Becks 75, 150 Special Branch - 175 Twinkle Toes, The Minder 200
Next years hare - Nutcut - Zurich
2015 - HK - Peterfile will do an announcement from the paper... Big Bitch and Hopeless hares, maybe 7's weekend period not May
2016 - Cyclops - UK
Campervan fan - Daddy and The Bank
F3M - leaving 6am tomorrow so Hopeless has to get up too and be the chauffeur
A couple of DD's from Big Bitch
Hash Cash - aiding the old lady in the car park by fixing her undercarriage
Jacky May - overdressed
Hares - great weekend
The Hares sang the Hash song
A very big Thank You to Hash Horn and Dame Edna for organising a fabulous weekend and On On to Zurich and next year's Hare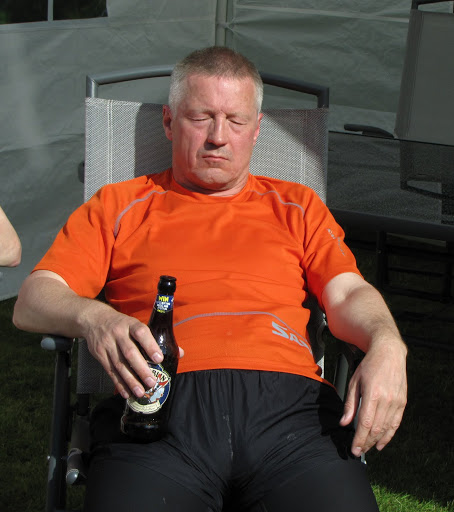 On On
BB
Big Bitch's album
The organiser's logistics
Reunion Run Hareline

DATE

RUN

VENUE

HARE

DESCRIPTION

2014

Zurich

Nutcut

25 March 2015

1999

Hong Kong

Big Bitch & Hash Cash

LSW 1,900th run

1 April 2015

2000

Hong Kong

Hopeless

LSW 2,000th run

2016

UK

Cyclops

2017

Spain

Big Bitch & Hash Cash

10th Reunion