Belcher Bay Park
The Hare - Gai Tai
Your scribe arrived late as made the disaster of catching tram from Causeway Bay to Belcher Park and took over an hour. I should have known better as following directions from a virgin hare, hence when I arrived all the pack were well gone so got the personal briefing. "Wimps/Rambo split off in the direction of Kennedy Town, no Shiggy, up some paths" and really that's about it! So off I went the loneliness of the long distance runner, maybe in the vain hope of catching the pack, but that didn't happen.
By now the rain was constant and markings fading fast, especially in Kennedy Town. The trail went out of the park, past the swimming pool and right onto Belchers Street and I recall a check or two thrown down for good measure - none marked off that I could see, but local knowledge of living in the area telling me the trail going up towards Pokfulam area. On I trailed up Smithfield past Chiu Yuen Cemetery and on the way copped a couple check backs/false trails, again didn't see any marking off and made a "Hopeless complaint" at the end of the run only to be told by the man him self "oh we did mark them off and must have been the rain". At the top of the Cemetery Road I squared up with a couple of ravaged dogs and not sure who was scared the most, but I had my water bottle at the ready in case evasive action was necessary, but encounter ended peacefully.
On Mount Davis Road the split appeared with Rambos over the road and down the track to Victoria Road, past Sandy Bay Rd at West Island School, then a right after Duchess of Kent Hospital, back up steps to Victoria Road and on to the Mount Davis Road, heading back towards Kennedy Town, past the youth hostel, steps down Island West Transfer Station on down Victoria Road to the New Praya and on in. Seems like the Rambos had a good trail, thing is I didn't run it! Not sure what mishaps or terrain encountered as my source did not go into detail. As for me being the late comer I opted for the wimps trail which took me down Mount Davis Road on then fork right up on to Mount Davis Path. By now the rain was coming down heavy, some spectacular thunder and lightening, and frankly I was starting to spook myself up on the trail alone, dodging anything metal in fear of being frazzled alive by a bolt of lightening. In true hash fashion I trekked on continuing along the Mount Davis Path, not sure if it picked the Rambo trail as by now all markings completely washed away. Down some slippery steps on to the Victoria Road, just opposite Kennedy Town Temporary Recreation Ground and then straight on in for me at about and hour. Rambo about 8k and just over an hour.
Not sure what happened to Doctor Evil and Slippery Edge as they arrived back late at over 90 minutes and something then muttered about cemetery and graves and the need to pay their respects. A good run for virgin hare, 20 + hashers and no one lost or any outburst/dummy spits. A few beers were had at he bins but it was time to get off for the bash as raining hard and on on to the Thai in the Belchers
Good selection of food ordered consumed by 11 hashers
Down downs by Hopeless and now totally paper free:
The Hare - Gai Tai
Late - Gary Glitter and Wanchai Wanker, not sure who was the later but WW finished before GG
Very late - Slippery Edge and Come in My Tunnel
Way late back from run - Slippery Edge and Dr. Evil, both into cemeteries and the after life
Not calling at West Island School - Ruggero - why change a habit of a lifetime
False confidence - Tinny following Hopeless on a Check - should know better and lesson for all to learn here
Full trail - Ruggero, knows the area as his children all go to school there and attends the sports days
Setting the trail with a suit case - Gai Tai - and F3M for believing the story
Mount Fuji Racer - Nic (belated mention and modest about the event)
Virgin and short cutter - Claire (Shake Your Booty) insider knowledge from the old man
No hash gear - FM3, GG, Nic CIMT, & Ruggero (LSW 1900 shirts coming)
Women really need a duck - was that spelt right?? - See the huge yellow duck in HK Harbour City . For those ladies who can not get to see it Hopeless handed out little yellow squeaky ducks. Liked so much by all that even the men ended up with them
Moonraker entrants - Hopeless, Nic & F3M - Auditioning for James Bond movie?
Gai Tai - working now so possible name change
Facebook King - Forcing Hopeless to set up a Facebook Group for LSW - Nic
Anniversary - Wanchai Wanker - 175 runs
Ruggero - web site has offensive material so F3M cannot access at work
Hash song sung by GG, WW, Nic? and ???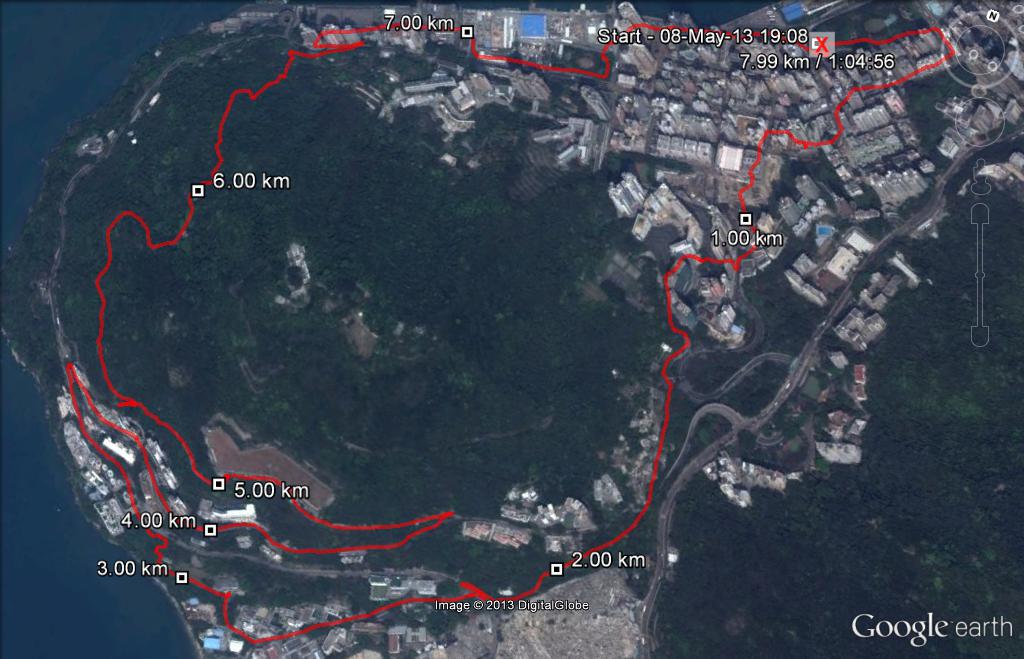 Belcher Bay Park
Out at the new pool
Right along Belchers St
Left up Smithfield
Up Chiu Yuen Cemetery Rd
Across Mt Davis Rd
Down the track to Victoria Rd
Down Sandy Bay Rd at West island School
Right after the Duchess of Kent Hospital
Steps back up onto Victoria Rd
Left to the turning circle
Up Mt Davis Rd
Left up the reservoir road
Past the reservoir down to Mt Davis Path
Contour up Mt Davis Path towards the youth hostel
Left before the youth hostel
Down the steps to the Island West Transfer Station
Down the steps to the Kennedy Town Temporary Recreation Ground
Left at the Cadogan Street Temporary Garden
Right along New Praya
Left into Shing Sai Rd
Back into the park at the new pool