Yung Shue Wan
Bigger than any anniversary run.. fatter than the fattest hasher and more popular than Hopeless's 2 millionth run celebration t shirts, Ruggero and Barbie's Wednesday, Year of the Snake, Lamma Hash, was indeed a winner. 71 hashiendos, more than a brace of kids and a pack of itinerant dogs, ran a combined wimps and rambos festival of hashing, through the sardine-packed streets of Yung Shui Wan and into a 10km pace over a Lamma, basting in an Indian summer and a welcome zephyr.
For the crew of the Sousa Moi, Wednesday loomed early. Hebe Haven to Lamma: a day sail by any standard, with a prompt, planned departure by 0900L...( or if you speak the language of the bridge..0100 zulu..). But the definition of prompt has fractious edges in the language of the Indy Anus...we slipped at 1113 local Saikung time. Departure protocols were ticked and the skipper settled into the business of making way. Port Shelter came and went, the wind stayed in its adiabatic cot and the Yanmar earned its rhythmic keep...steady at 7 knots.
A paraglider hugged the Dragon's back and with Sok Kwu Wan stretching its horizon ahead, we readied for dropping the hook in the busy terminus of Lamma's ferry-heavy bay. Indy, prepped and ready for hash, desperately pulled at reins out of her control. The dinghy ashore, crewed with Any Dog'll Do and Where's Max...on his very first actual run..struggled top heavy with the frustration of delay. Start was due for 1515 and it looked, yet again, that we were to be the back running bastards with an ETA of 1530.
Expecting an empty verandah at Ruggero's and with sea legs still precluding our hashing gait, we were met with a wall of hash-enthused Sai Wanners, non Sai Wanners and even a London hasher. The dogs, the kids and the dogs again. A miasma of contemporary and less so...hashers from Lantau, the dark side and even planet Kowloon. Telecum was there, bristelling with head-mounted technology, magnetic leg bearings and multiple GPS. Higgie emulated with something from Sony and Hopeless organised his organisation.
Some midshipman made a call to order and Rugerro, in an unusual stream of monologue, delivered his finest hash speech to date: a full pathology of LSW checks, their origins, meaning and metalanguage. Motormouth took notes, Bob le Dick almost feinted and we all hoped for an intermission....but then, soon enough, the cry of On On brought the pack to heels and we were off.
Like Beagles on the scent, a tsunami of hashers tore down the south face of Yung Shui Wan, through its bustling CBD and into the Lunar celebrants walking off their New Year blues. This was 'hashing touch rugby' with an invisible ball, dodge man and sidestep avoidance. The FRB's managed and we followed. Margie and Parky, stoic and deliberate, dialogued their way through the wimps, a bit of the rambo's then into a cross rambo finish. Others followed..a tribe of confused back runners.
But the meat in this rather tasty hash sandwich, was the haul up to the Lamma propellor ...Hong Kong's solitary and isolated wind turbine and its spectacular views of the East Lamma Channel. Someone in Guangzou turned the smog switch off and Po Toi competed with Cheung Chau for our lenses. Heads spun the full circle then continued towards the On home via ice creams, muzzled dogs and a woman from the cast of Kung Fu Hustle.
Where's Max, only seven and on his first ever hash run, test-driving a pair of Crocs, took the prize for the loudest hash crash. Lamma heard the banshee scream as a cut finger brought Indy to heel and into the world of medicine. Hopeless took the shots and somewhere on Facebook, two hours of extremely fine hashing, took its place.
Ruggero's deck, come changing room, bar, creche and turkish smoking room, assembled the circle, after a bellyfull of lamb, snags, pizza et al...the creation of Chef Barbie..a Master Chef if ever there was.
And so, in the usual spirit of Indy's circle munching-circus-managing, down downs declined towards nonsense as spirits rose towards no sense. Quiche ran his bar with Langkwai Fongesque diligence, half banter and half an eye on the cash flow and even the kids received a gallon or two of down downs. As the night crawled towards the last ferry, Boilers spoke of swimming home and Comes Up The Rear.. sporting a port side arm breakage, spoke in Croatian Arabic...this was hash nonsense at its finest!
In the end, it was over. Ruggero broke his fat Cuban and we cried over Darwin. We had all fallen in Love with Lamma..again and for the crew of the Sousa Moi, the language of San Miguel mixed with Vodka, became their only compass..thankyou serendipity for your kindness. 71 hashing souls, assorted dogs and kids. Thank you. Thank you Ruggero and Barbie...and thank you Lamma...
Huzzah!!
Lost at Sea
DOWN DOWN'S by INDY
The Hares - Ruggero and Barbie ...excellent run!
Ruggero - Run to start at 3.15....not back from setting until 3.30 (much appreciated by any latecomers such as Lost At Sea and yours truly!)
Ruggero - Such detailed run directions so no one could possibly get lost!
Who got lost then? - Catch of the Day's latest 'catch' visiting from London Hash!
London hashers - Nic and Boff ! (Though the latter not remembering that he came from that city until much later !)
Catch of the Day - not looking after her 'catch'!
The Hares - Huge turnout!! 71 hashers and horrors (not counting the dogs!)
Barbie - Brilliant hostess, being able to cater for the swelling/swollen numbers....!
Chinese New Year - all the Chinese...The Virgin Mary / Moaning Bitch / TV Tits / Catch of the Day / Agnes B
Returnees - More of them than regular LSW hashers....Sugarboy / Little Scamp (daughter of Parkie and Park'nShop) / Sucksswallows /Moaning Bitch / TV Tits / Butterfly / Wrong Channel / Swine Sucker / The Virgin Mary / Parkie / Park'nShop / Quiche / Rearender / Boilers / Natalie / Randy Von F
Virgin LSW - Agnes B ....'one of HK's finest'/ policewoman
Agnes - 'undercover cop' from Clearwater Bay looking for terrorists! All CWB /Saikung residents on in! Hopeless / 'Herr P*sser' / TV Tits / Wrong Channel / Lost At Sea / Bobble*ick
Bobble*ick - voted by Agnes as the 'wanted terrorist' who has been lurking around campsites and getting into residents WIFI!
Non Runner - SCMP journalist looking for front page stories about hash!
Horrors - bred from SS, LAS, Randy von, the hares, Slippery Edge and countless other Lamma urchins!
Dogs - Any Dog'll Do, dogs of Nic/Moaning Bitch/SCMP reporter....
Slippery Edge - Listened to Ruggero's instructions and thus advised Natalie/Indy plus sons to do 2nd Rambo trail
Where's Max - screaming hash crash on Slippery's trail ...LAS to drink for him
Natalie - Hash Crashes whilst telling Jules to watch his step...
Hopeless - wearing his 'Miss GM LH4 golden girl homemade hash shirt' from previous night
LH4 hashers for organising Hopeless's shirt - Park'nShop/Shiggie Ga Ga/Motormouth/Slippery Edge
Lost At Sea - intrepid dinghy ride for Any Dog'll Do, Where's Max and yours truly...
Boilers - back on his old much-beloved Lamma turf hashing past the old 'shack' ...
Parkn'Shop - not worrying about whether Parkie was ok on trail!
FFFM - offering lollies to all the horrors!
The Hares - great run /great night / great hospitality
The map below !
The photos from Hopeless !!
And from Handheld Higgie Films - the movie !!!
Lost property
Agnes B sunglasses and case
Running pants (Adidas I think)
Floppy Hat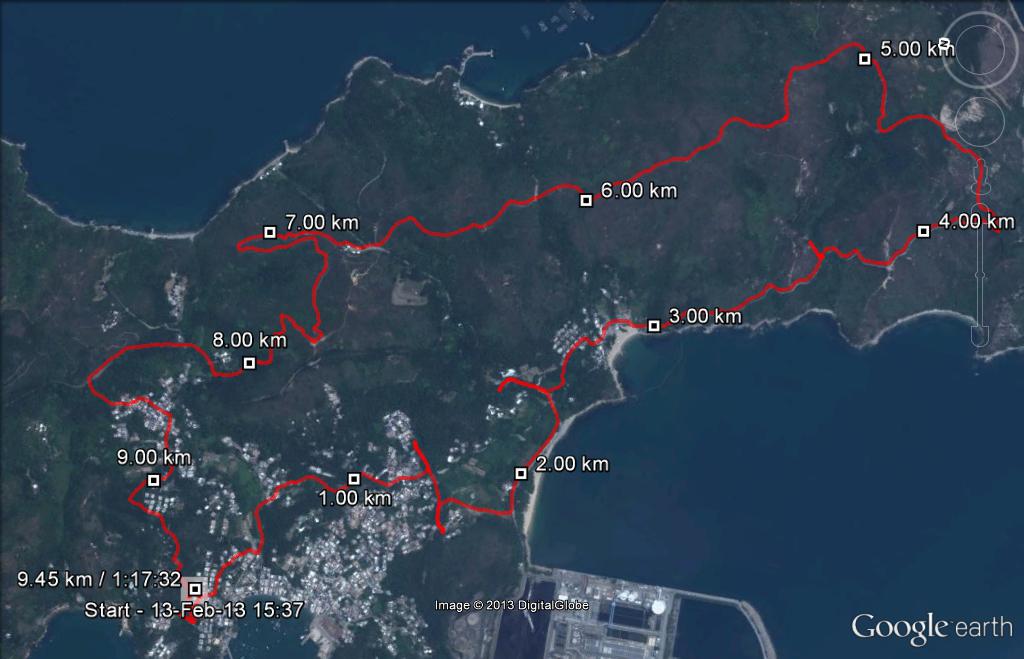 Excellent double Rambo trail on Lamma yesterday and even more excellent hosting and food from Roger & Linda!
Thanks to both for a great day out on a clear and sunny day.
ONON
HOPELESS