Lam Tin, A to B
Happy Birthday to Bobbledick and another very nice run.
Instructions to A up three set of escalators, or is it four? Go over a unnecessary footbridge and A will be an unassuming sitting out area with no where to change. So it's 7pm and where oh where is our hare? Here he is with 10 waters for a pack of 20 or so. Don't start on time because many people are scrambling to the remote location including one F3M who was verbally abusing 3 or 4 sets of escalators worth of hapless locals who couldn't get out of her way fast enough while they texted and played games on their smartphones. On the opposite side of the proverbial spectrum we had Cums up the Rear, who nonchalantly arrived 25 minutes late without a care in the world wearing a funky ladies hat he bought in Toronto. If only we could all smoke what he's smoking the world would be such a calmer peaceful place.
A Bobbledick run is one of those runs that people deliberately stay away from. But Bobbledicks attendance this evening was helped by some virgins and visitors who didn't know any better. F3M always concerned about the schedule asked if Freewheel was here and was happy he wasn't as he is the only one who "stupidly does the Rambo's" and might delay dinner. Well I sometimes stupidly do the Rambo's too. So the briefing was given and the wimps got a special briefing because there was a 2K stretch of unmarked trail. Better give us the B then.
Off we went, up Ping Tin St. Left on On Tin St. and into Lam Tin Park. Off to the North into an area of unmarked streets with vacant lots had the packed glued together as confusion reigned as the trail jumped off street into lots and back again several times. Finally we got to Wilson Trail section 3 and Ma Yau Tong Road. On this section Wanchai Wanker dragged Indy and Virgin Peter up and down the road several times as he couldn't find trail. Fortunately for them Yours Truly found trail and we were back on The Wilson Trail passing over the unseen Tseung Kwan O tunnel.
Staying on The Wilson, we headed for Au Tau Village but made a right on a really nice shiggy trail that took us to the Hawaiian Trail, which was featured in WALOB II. Right turn on The Hawaiian toward Tseung Kwan O Upper Village but then a left on an unnamed trail, which kept us in the hills north of Tseng Kwan O.
Apparently there was some confusion as to where the split actually was but it took the Rambo's to Rise Park and then up and down Razor Hill. Wimps continued on a relatively but not completely flat trail marked by Hopeless who filled in the 2K for us. W and R met just before Clear Water Bay Road.
Should have been a nice on in from there but no. Another Shiggy Trail following a perimeter fence took us the long way into HKUST. My watch showed a lucky 8.88km for the W. I was so happy I finished in front of Gobi Lo, just. But she took time to take photos on the top of Razor Hill and ugh, oh she did the R and I did the W. F3M came in madder than a hornet. Seemed she "stupidly did the Rambo's" and was suckered into it by our very own Hopeless. I asked her what was wrong and she showed me a vertical angle of about 75° followed by an angle of 80°. "Oh" I said. Time for a nice cold beer, NOT! Same as last time no ice can be had at HKUST. BobbleDick tried to cover up by rushing everyone to the restaurant.
Maybe a bit long but nice and I may decide to pinch some bits of it for WALOB III "Return of the Good Feelings" later this year.
The Down-Downs
Hopeless:
The Hare - Wonderful but not altogether hash
The Hare - four sets of escalators, not three
F3M - Anger Management Issues
Cums Up The Rear - What's up with the hat?
Slippery Edge - held up the hash with late arrival
The Hare - Turned up to A after 7pm with no water
Shiggy GaGa - Goes down on Thermal Dick on trail
The Hare - Bizarre Split
F3M - Angry about doing R. Hopeless will hear about it later!
Lost in Space - Was not DFL
Thermal Dick - Was DFL
Slippery Edge - Lost property, hat
Slippery Edge - More lost property, head torch
Macau Drunk - Lost property intercepted from Hopeless' bag
Virgin Peter - Being a virgin
Cums up the Rear - Being Bill of Bill and Ben
The Hare - Slow learning curve - all the same mistakes as last time
F3M - Lost property looks like from the old boyfriend GB
The Hare - Happy Birthday
Wanchai Wanker - Nice smelling showered hasher
Virgin Peter - No shower, no change of clothes, no torch, etc. etc.
Slippery Edge - Also no shower
Lost in Space - Spending CNY on a beautiful Philippine island on the bosses dime
F3M:
Macau Drunk - Returnee and falling further behind Hopeless in total runs done
The Hare - A remarkable 784 runs
Virgin Peter - 1 run
Slippery Edge - Better with her head jobs than her hand jobs
Cums up the Rear - Very nonchalant turning up late to an A to B run
Hopeless - Calling F3M a "half" meaning heavy
Hopeless:
Lost in Space - Dutifully doing this weeks write up
The Hare - Late sending in last weeks write up
-A vote for CNY run location between Lamma and Hang Hau with Lamma winning
The Hare - Another "Bobbledick" classic
-The song sung as a duet by 'The Hare and MotorMouth'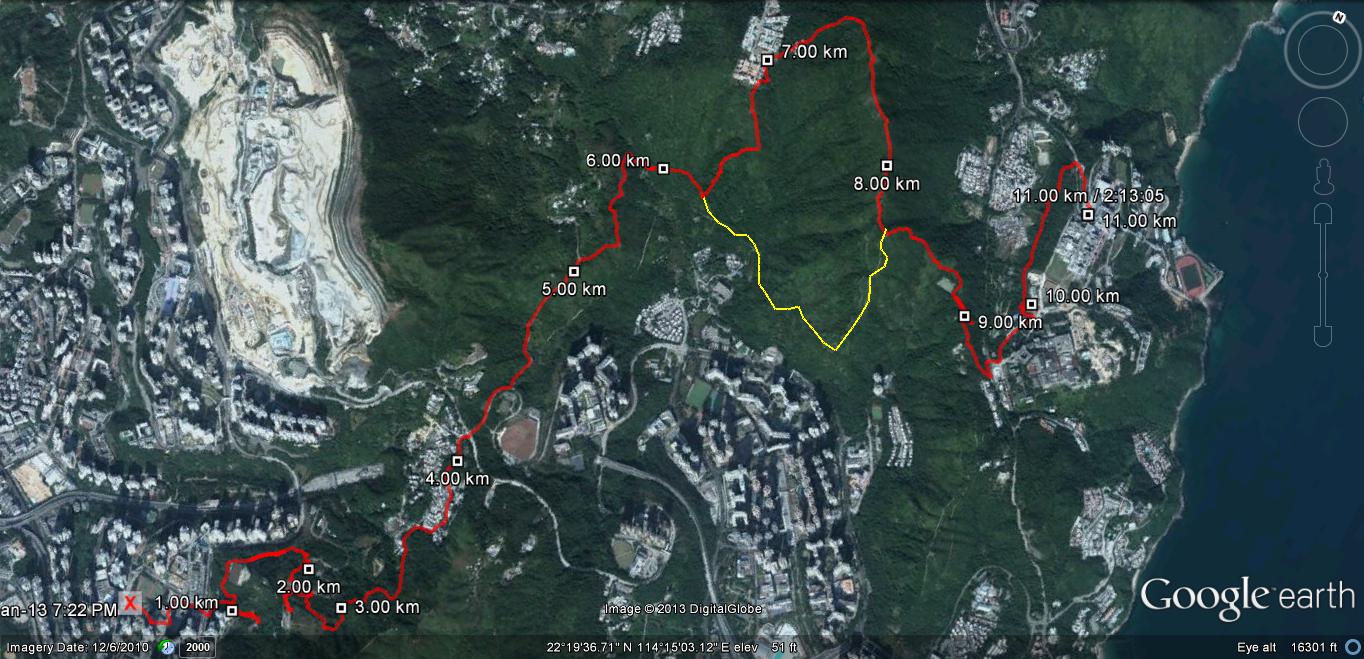 "A big boy made me do it then ran away.....!".
F3M's track of the Rambos from Lam Tin to HKUST courtesy of Bobbledick.
Yellow is Hopeless and Herr Pisser's trail blazing and 8 sticks of chalk marking of the Wimps. Wimps around 600-800m shorter and 420m lower. Both trails longer than the hare's estimated "8km".
66 years old and still setting "interesting" trails. Some new shiggy and routes, actually was quite interesting but a tad long. Hang Hau Village finish would have been perfect.
But well done Bob!
ONON
HOPELESS