Wong Nai Chung Gap to Braemar Hill
"Tempo Run"
I've been really enjoying the LSW runs recently, and TIMB's run proved to be no exception to the exceptionally good run or run's we've had recently. Does that make sense, well you know what I mean... Starting at the "oft frequented" sitting out area at Wong Ngai Chung, the hashers dribbled in with tales of traffic woes form Central and Causeway Bay. A selection of parka's and puffer jackets were shed in the near freezing temperatures approaching 13įC, well it was windy! The proposed 7.15 start came and went, until at 7.20 - 7.25 a shambolic start of half frozen early comers, and half ready latecomers grumbled off into the night, with instructions to "go to Parkview". An abundance of FRB's, made quick work of the early checks (trying their best to warm up from the near sub zero temperatures remember). In classic TIMB's style, the checks were more nominal than practical in terms of their detainment value. Therefore a rapid and enjoyable run down to Tai Tam upper reservoir ensued, with the WR split poised at the far end of the dam. The hare sent the Rambo's on down the service road for a reverse KOTH loop. Comes U the Rear passed me, then fell in the river, ha ha! Then it was up up and away rejoining the wimps for the climb up to Boa Vista. The enthusiastic ONON's of Cheesy flying Fox echoed in the far, FAR, FARRRR!!! distance ahead, Comes U the Rear, Gobelo (despite being near death with her cold) and Ivana Nukok , all powered up Mt Butler in an impressive display of LSW's prowess as the "running hash". Interesting point of Hash history here. I was told (any opinions expressed do not necessarily represent the views of LSW hash) that the LSW was actually founded in Sai Wan Ho in 1986, apparently by the spooks based down in Cape-D Aguilar, who had nothing to do but sit on their "station" all day, needed some exercise before drinking heavily and divulging all their secrets. But back to the run. The beauty of TIMB's run, it should be noted, was that the wimps won the hash, with Hopeless taking line honours (saving himself for the Free China Hash on Saturday, didnít even Drink, down down for that next week). Late comer Indy-A was found gossiping (about wedding's and who was drunk etc etc ad infinitum) with Ivana Nukok at Jardines Lookout, and latecomer / walker Dr. Evil and a few others turned up on the contour trail below the wireless station. So nice to be passing Dr. Evil for a change (Dr's orders are 6months rest, if he lives that long). Again lovely trail, it is so nice to have a long cruising run in, at the on-home, without pointless late checks. Future hares take note. So a good downhill run into Braemar Hill it was, very satisfying prior to that first beer! (any opinions expressed do not necessarily represent the views of LSW hash).
Public service announcement - open last weeks link!
On on - a fine spread of Chinese food, it really was a good feast! Even COTD and super fussy Toilet Spray, got very excited about the clay pot BBQ of dried duck and Chinese sausage. Down down's by Indy, short and succinct as always...
Hare - good run, best run set so far
Indy-A - "she's a sniffer"
Google Earth - ?
Latecomers - Indy-A
Wimps - Dr.Evil, Jorgen
Extreme Cheese - way way way ahead (thanks for the checks)
Comes U the rear - comes up the front now!
Gobilo - for drinking and catching a cold (but still being fast)
Ollya - ?
Come into the tunnel - leaving his pal Jorgen to do the W, and did the R
Indy-A - for "going well (downhill)"
COTD - Bag lady counts as 0.5 so she is at 99.5 LSW runs (12,12,12 will be her 100th)
Jorgen - 1st run and something about length?
Octapussy - supposed to go home to watch TV, but came back (nothing on presumably)
Dr.Evil - 3hr 20min
Gary Glitter- using the black (serving) chopsticks
Next weeks run...1875 Catch of the Day's 100th Run and 12,12,12 (a Molotov mix)?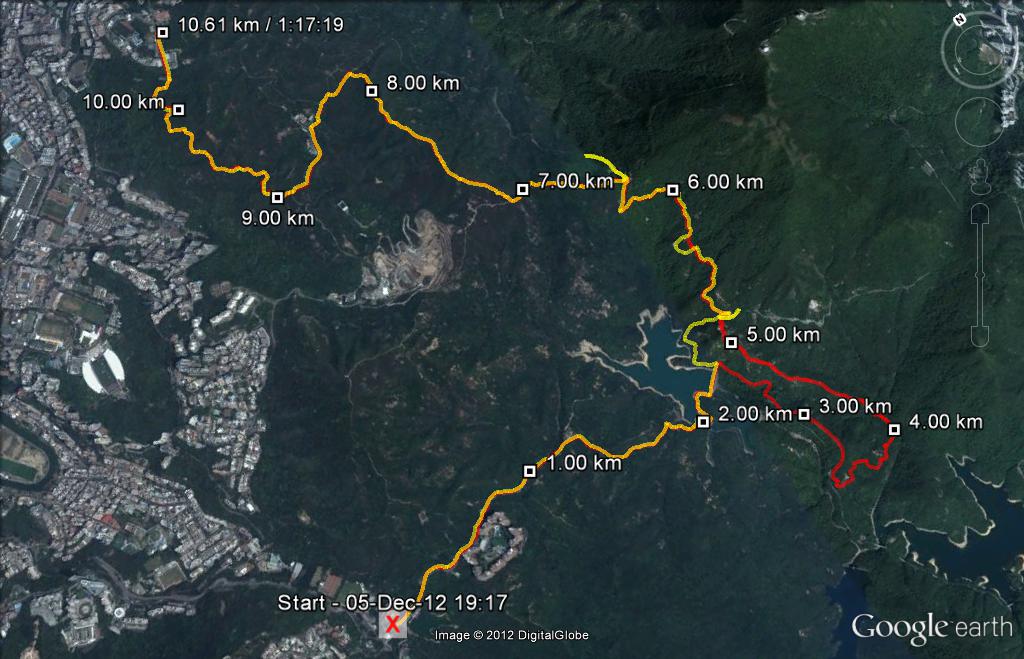 Nice trail from Higgy last night in the "fresh" conditions as an early winter bites......
Red - Denvy & Rambos, 10.61km.
Yellow - Hopeless & Wimps, 8.95km.
Basho at the nearby (Glasshouse) restaurant.
ONON
HOPELESS