Yau Tong to Hang Hau
Hare : Tight Lips aka Gin n Vomit.
So Monday morning, still no news from the hare apart from "I haven't decided yet". Visions of a Countryside map or Google Earth on an iPad sprang to mind/memory/history….. Was this to be another epic TL/GnV trail recce'd "virtually". Then news…. "A to B from Yau Tong".
Having local knowledge, that led me to think - lone hare, no bag lady (Motormouth) around, no other signs of help - so the best option for the drinks is - a 7-11. At Hang Hau village most likely. (Allows hare short journey home after the food). That guess might just be enough for me to keep the torchlight's in sight of the Team Green team of the likes of Denvy, Higgy, Crash Test Dummy and Breon.
The hare strolled into the start location "the usual park" from Yau Tong - Sam Ka Tsuen Recreational Ground. The two visitors from Guam who had pinged me earlier in the week were early arrivals before the main batch walked into the pagoda around 7pm. So a late start was on the cards….. we are creeping towards a 19:10-19:15 starts nowadays……
Returnees Big Bitch and Hash Cash (retired, replaced) arrived with little fan fare but a lot of hand shaking and "French greetings" as other stalwarts of LSWH3 appeared too such as Bobbledick, Gary Glitter, F3M, and then the arrival of "the madam of the week"…. bride to be, last run being "happily single" IndyAnus. No worries about walking up the aisle on crutches then….. as the drizzle had started to intensify.
More visitors - Careless and his wife, Walkie Talky, from Aberdeen, Scottish version, helped swell the pack size to 29 bags to squeeze into a taxi. Once storage was accomplished, off we went down the hill towards Lei Yue Mun and the left turn up towards Lei Yue Mun Road.
The hare did warn us that due to the weather forecast "many of the markings are on vertical surfaces", so at the junction of LYM Road and Ko Chiu Road confusion reigned as the pack ran out of markings on lampposts. I used up 1km of distance on my GPS checking out my "backdoor route to the Wilson Trail" only to find zero markings and Careless and Denvy coming up in the opposite direction towards Yau Tong Estate. As we jay-walked over the roundabout a joyous, almost orgasmic scream was heard from the direction of the road up to the cemetery. "On On", "I found it!", "It was me!" - a rather jubilant F3M had found chalk heading up the road!
An obviously annoyed Team Green stormed past the main pack, testosterone pulsing through their thin blooded veins, nostrils flaring, arms pumping, sweat hardly appearing…… running through the Check back spotted and called out by Hopeless (in a rather less self-satisfied, and far more dignified voice!).
Bobbledick led the pack up the stairs under the archway, Gary Glitter in pursuit, with another jubilant lady in close proximity who had managed to get infront of me. Actually I was wondering how we managed to pick up a schoolgirl on the hash when I realised the lady in question was Sticky (Stinky) Sex(y) Toy running in her Skort. (For the uninitiated: http://en.wikipedia.org/wiki/Skort).
Having already groped my finely tuned and sporty beer tummy as we put the bags into the taxi, SST was still grinning as she passed me at the top of the stairs for the third time that evening. Don't let the bad facial growth and the rounding fool anyone, Hopeless stormed through two Checks later while the FRB's were wandering around trying to go up higher off the Wilson Trail concrete path.
Crash Test Dummy careered past me and down the steps back to the main road with Denvy and Breon in hot pursuit, all on an endorphinic highs, corticosteroid levels reaching Olympic drug testing boundaries. All very impressive as they ran onto the obvious Check Back down the road. Local knowledge meant I went across the road and onto the small path leading up the hill on the opposite side of the road. Intrigued by this move away from the Pan-Hellenic athletes, Chatroom Pedophile and Gary Glitter followed Hopeless uphill, to be rewarded with blobs of fresh flour on the path heading towards Po Lam.
At this point it should be said Comes Up The Rear did just that….. slipstreaming me, running on "silent and deep", followed by Swings Both Ways, and, that was the last I saw of those two until we had finished the first course in the restaurant. Naturally the TG "pack" raced past on their way to DOMS…… Delayed Onset Muscle Soreness, the following day.
The rest of the run was fairly routine contour to Good Hope Hospital, past it and down the lethal slippery slope service road to Po Hong Road. Straight across the road, and by that stage I was on about my 12th stick of chalk adding markings to complement the hare's so those behind could follow through onto the finish. Dr. Evil caught up at this point and between the two of us we deciphered the "vertical markings" into horizontal markings on the floor to consume 18 sticks of chalk by the time we got back into "B" at the 7-11.
The rest of the hashers trickled in, with various degrees of difficulty finding their way down the slippery road and to the finish. With the drizzle intensifying and the temperature dropping we quickly moved to the restaurant where our bags were laid out on chairs, nice and dry.
Hopeless
Down Downs courtesy of Indy, last outing as an unmarried woman:
The Hare - Tight Lips (Gin n Vomit)
Co-hare - there wasn't one so TL again
Co-hare - who bailed out then sprained her ankle on trail - Walkie Talkie (Aberdeen version)
Newsletter - Tight Lips for not attending and writing up last week's newsletter
Hopeless - for doing so
Hopeless - for doing this week's too as Inflato is MIA
Too many steps - Careless puffing on trail
First Check neckie - FRBs in for a DD (actually they'd all gone home except Higgy)
F3M - solved the first Check.
Visitors with no torch - Alex with Theo
Visitors - Careless and Walkie Talkie from Aberdeen; Tampon and Public Enema II from Guam
Tampon for thinking he had met Indy in Guam - but she's never been to Guam
But LH4 have so LH4 members in for a DD - Michelle & Hopeless
Public Enema II - buying an ACNH3 shirt and actually making it look good
Naming by (temporary RA) Hopeless - Public Enema II to "Yogi Bear" as she is actually a park warden!
Indy then did a rundown of InterHash events and DD for anyone who had been on various InterHash's around the world. Seems Tampon & Indy met at one of these events.
Visitors / Returnees - Big Bitch & Hash Cash (retired)
F3M - stressed on trail - told Gary Glitter "Don't you dare!"
Gary Glitter - replies "and don't you dare fall into me either!"
Wanchai W@nker - wingeing about property prices while on trail, again
Late arrivals - Come Into My Tunnel & friend from Canada, plus Toilet Spray (left with boyfriend to go "make bread" by this stage)
Movember - Hopeless and poor imitator Bobbledick
Any GMs for a DD? F3M (WH3), LSWanker (SKSH3); and Hopeless (HKFH3, LH4 for a day in 2013, and not quite GM of LSWH3, depending upon who you talk to....)
F3M DD for (old) Hash Cash for coming back to try to claim back #1 position on the Hall of Fame list from Bobbledick
Anniversary - Hash Cash (retired) 775 runs
The old f@rts sang the song.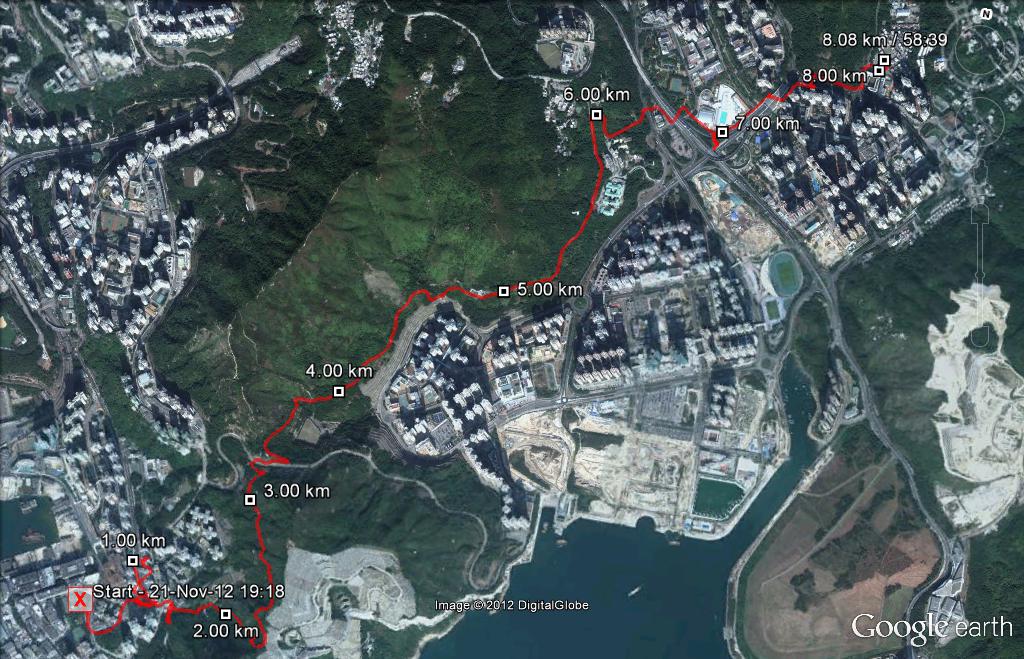 Last night's Hopeless trail from Tight Lips' A to B hash Yau Tong to Hang Hau Village. Late arriving but big pack enjoyed a run in the drizzle and some (very) slippery paths on a route that followed part of The Wilson Trail.
Lots of food at the Bash to wrap up a good evening.
ONON
HOPELESS