Wong Nai Chung to Aberdeen waterfront
Hares: Cyclops (& helper Bondi Barbie)
Pack size of 30 gathered for this "complimentary" run. Did the hare really mean free towels or the whole shebang? With the impending Trailwalker coming in two days' time, notable FRBS were presumably at home resting, or stuffing themselves with pasta or else "getting in that last 40km run" rather than hash. Shame on you - great trail, cool weather, no Motormouth and "free stuff", all contributing to a great hash night!
Even with a broken arm Pole Dancer was prepared to hit the trail for an LSWH3 classic night out.
Which it was, Cyclops setting trail, getting aid from Bondi Barbie, and an extended run briefing to explain potential confusion on trail due to "multiple hash markings around". Some of which were actually from the same hare but on Sunday's WH3 run.
So, cross the road from Wong Nai Chung Gap sitting area to drop our bags, to be transported to "B" at 19:15 precisely… and off we went straight up Black's Link. Despite Stinky Sexy Toy insisting someone check down the hill, the entire pack went straight up Black's Link, anticipating a run all the way up to the barrier. Which is exactly what it did.
Now - I had run Sunday's trail so had an inkling of where it might be or what trickery the hare may deploy so I was happy to sit back and let the likes of Telecum, ADWD, Crash Test Dummy and Tequila Fcukwit - do all the Checks and CBs. That was pretty much the case once we got out of the first set of shiggy which was off Middle Gap Road (the steep concrete downhill).
We hit the contour trail heading towards Aberdeen and Sunday's trail. Some subtle changes saw a couple more sections of shiggy as "shortcuts" between up and lower paths before a final set of shiggy to bring us out on the riverbed.
The Checkback before that shiggy was missed by the racing CTD, ADWD and Comes Up The Rear, leaving Telecum to lead in Hopeless and Tequila Fcukwit over the bridge opposite the Aberdeen Squash Centre, around the back of it and into the finish on the waterfront. The pack started to trickle in, and once "everyone was back" the hare and TVM went off to The Praya to negotiate a sampan to pick us up and boat us over to The Aberdeen Boat Club. Once they arrived, on the sampan, and we all picked our bags up we suddenly realized one bag was left…. Someone was still out there! Upon opening the bag it was discovered the late arriving Anthony Wood (by the name card in the satchel) aka "Tom Turk", was out there somewhere. So the pack, less Hopeless, Body Swerve, Telecum, Lost In Space and Dr. Evil went off to the ABC while the others waited.
On the return of TVM on the sampan, TT still was not back so Telecum and Body Swerve readied torches and phones and shot off back on the trail to find the missing hasher. Hopeless manned the bags and LIS and DE enjoyed a spacious and casual chug back to ABC.
Of course, 10 minutes after the sampan had left - a message. "Tom Turk's at the ABC, with a beer in his hand!". B*gger! Ring the two search and rescue squad, call them back, leg it over the road and find a taxi and then to the ABC to hand over Tom Turk his bag and grab a shower before attacking the large buffet spread laid out for LSWH3.
So another chapter in LSWH3 history - free food and a (not) lost hasher!
Down downs were delivered by Hopeless
Hare - and missing "helper" Bondi Barbie - great trail, and "complimentary bash", i.e. "free beer for all the hashers" !
Tom Turk - lost, Telecum and Body Swerve went out to find him with Hopeless at B with the bags while TT sat by the pool supping his beer!
Swings Both Ways - wrong park at A, "Mr. No Mates" sat alone for 20 minutes…..
Slippery Edge - on time today after holding up the entire pack the night before on LH4
Sticky Sex Toy - researching "swings both ways" on Wikipedia this week
Lost In Space and Dr. Evil - and The Virgin Mary - luxury romantic sampan ride for three, abandoning Hopeless on the quayside
Hare - trail recycle from WH3 causing some confusion with the "racers"
Suckers - Telecum, CTD and ADWD, doing all the Checks and CBs while the smart guy, Tequila Fcukwit, stayed with Hopeless who had run the WH3 trail the Sunday before
Freeloaders - Bobbledick and TVM - only coming/staying "because it's free, man!"
Crash - ADWD and CTD - CTD abandons ADWD once he sees the twitching fingers confirming ADWD is still breathing. "Got to win the hash!"
Non runners - ADWD visitor (Jo?), TVM and Cockwatcher
Wanchai W@nker - allowed out to play with his mates only if Cockwatcher can come to the bash
Returnees - Frank The Plank, Tom Turk and Come Into My Tunnel
Anniversaries - 75 CIMT and Bobbledick 775
Bobbledick - taking over the #1 spot on the "Hall Of Fame" for LSWH3
Bobbledick - munching on his FOURTH piece of cheesecake during the Down Downs
Movember - Hopeless and Poncho Villa, aka José Doroteo Arango Arámbula (or TFW) participating (badly) See: http://hk.movember.com/
Muffember - Pole Dancer proposes a female equivalent - and has apparently already been working on it this month…. Nobody volunteers to check it out
T-shirts - Slippery Edge and Pole Dancer - same LH4 shirts but PD's is on back to front
Bobbledick - has nowhere to live so now is in a tent on the top of Ma On Shan
Bobbledick - for offering to rent out said tent for fees during the coming Trailwaker!
New LH4 GM - Hopeless - now only a few hashes left in HK where he hasn't been the GM!
F3M - admits eyes are not bigger than belly
Higgy - Hash cash night off
Hare - "complimentary" really did mean a FREE RUN & FOOD for all the hashers!
ADWD Down Down: 8,000 pactacas free money to Macau residents so Swings Both Ways in. Mistake - only Lost In Space qualifies so a beer for him too!
Hare, and share marketeers sang the song.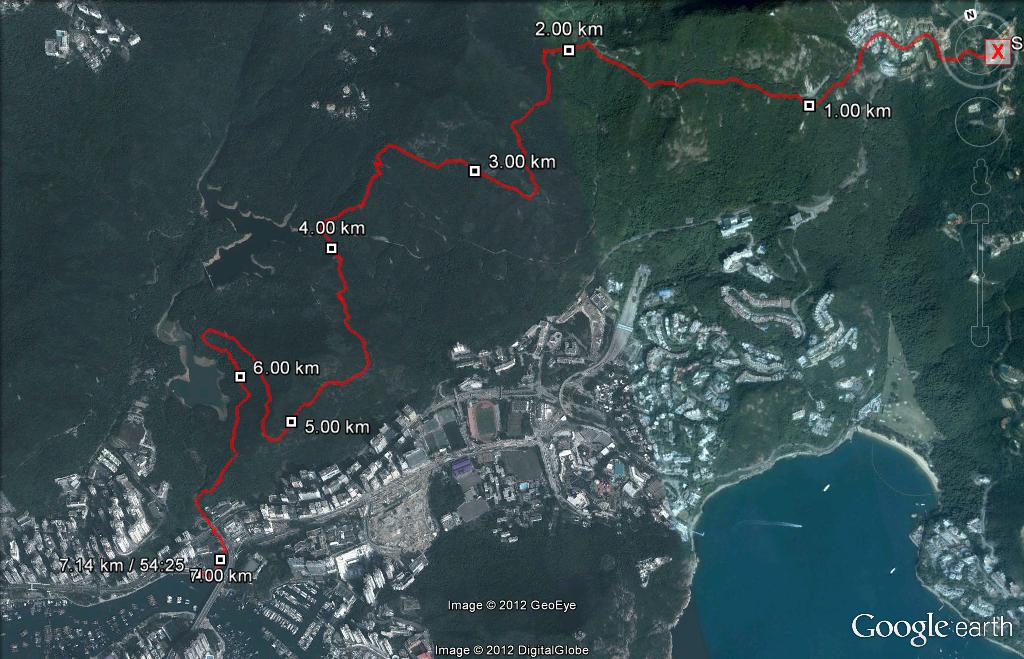 Last night's excellent hash from Cyclops. Use of some old LSW shiggy trail as well as country paths to take the pack to the waterfront by the Aberdeen Squash Centre. Sampan to ABC and fully "complimentary bash" at the hare's expense that was fully appreciated by all, especially Bobbledick who probably does not need to eat again until next Wednesday.....
ONON
HOPELESS