Hang Hau
Hang Hau..oh glorious urban dwellship of manmade park, empty heads and high rise fastness. This was to be a run built of speed, micro shiggy and one hell of a long brief. Infact, so long a brief that I thought Ivana Nuc*ck had already completed the super rambo by the time Telecum had finished the briefing...
This, I believe was Telecum's first hare event for LSW, assisted by co-hare Umi...hence the 'brief'. ......Never has the length of a hash briefing surpassed that of the infamous Dambusters brief ...reminiscent in a strong lunar glow of a halloween night and the strong smell of endorphin. Yes, it was long and yes it was complex. Was there infact a super rambo? was there indeed a super wimps?
Lost in Space shuffled on uneasy legs whilst Goby Lo massaged hers, ready for the sprint of a mini trailwalker and a debrief from the ever tenacious Dr Evil. ..And then the official 'brief' was over ... the buzz of post brief broke out, "where the f**k ARE we going"..."was that a 16Km rambo, he said? or just a simple 9?" Confusion reigned as we kept muttering and running towards the ON OFF/ON and hit the flat like the pack we really were.... Macau Drunk, with his trusty three tonne magelite sniffed the scent and Sticky Sex Toy, nostrils flared, followed in trail.
FRB's and the rest of the sheep jostled for positions and directions, bunched in pack like a feeding frenzy. Check backs on new pavement. Green pavement to boot. Clean..really clean green pavement had the mid runners spinning like gyros until Bob le Dick took the first of many short cuts and serendipity locked his missile onto the trail proper...we were off at last, leaving the tide of locals to their Tai chi, ridiculously small wheeled bike and corkscrew navigation.
Cheesy Flying Fox, wearing his trademark, very realistic, hairy chest t shirt cut through the boundary layer of the night...an American girl from the US consulate..or so she said..ahem..followed in light, CIA blue..who said fashion was in decay for the hash with the anthem? Indy looked like Michael Jackson with her sailing gloves, as part of her cross sport multi culturalism and Wanchai w@nker, winking his red strobe, gave us the kiss of Judas and proclaimed on hoof, that capitalism was now dead....as he whinged yet again about HK property prices and their hopeful nose dive to Greece...
This was a run made for halloween...doom, altho Doom was missing, (where the f**k does he go on wednesday nights ...?), gloom and a bombers moon.
A spitfire chased a burning Heinkell through the silhouette of tree tops, popping off a nine yard salvo behind its growling merlin, as men and women ran with headless vigour into torch beam trails and the lupine night of the last day of October.
The pack remained fast, fuelled by zero gradient and excellent carburation, street lights and the newness of Tseun Kwan O...until..until, the hill came to Mohammad.... More accurately, we hit the Clearwater Bay ridge, the matriarch of Razor hill and Ma on Shan and the hideous descent to Silver Strand beach.
It bore a minor shiggy section, a drain, a confused check and muffled yell from Gobi Lo to me.."Lost At Sea ..this is your neck of the woods..where the f**k are we..?". Instinct kicked in, and my acute sense of situational awareness, knowledge of terrain and a natural compass...sent the pack the wrong way! Nontheless, core skill sets from Michelle and Sticky Sex Toy soon brought the ON ON to call and the more hedonistic disappeared towards the beach and then the inevitable climb back. This was altitude at its best. If only we could free fall up to the summit,.. with the long and hideously mundane , broken only by Wanchai Wanker's discourse on free economy and how to internate in mandarin..
Another headless check exercise later and the trail was chalked to go..on home and back to the embrace of Hang Hau's sodium comfort, cold beers and Telecums bald edged smile. Bow bells mate..BOW Bells!!!
The HARE!!!
Your Stand-in Scribe....Lost At Sea.
DD's from Indy.....
The Hare - Telecum ....virgin LSW hare and did it 'all by himself'....
The Hares - with the assistance of co-hare bag lady Umi
Telecum - such a detailed 'brief' ...complete with new directions/markings! 'The Rambos can decide to come back to A following arrow that says SCB, or follow other arrow to 'Second stage'''???
Telecum - sets runs for all! Wimps/Rambos/Rambos-Wimps!!
Lost At Sea - 'volunteered' to do the Run Report (in the absence of Hopeless)
Lost At Sea - paying scant attention to run directions in briefing....
SCB's - The FRB's who took the pack the wrong way and avoided the dog village....CFF, Gobi Lo, Ivana Nuc*ck...
Bob Le Dick/Indy - The only ones to run the one True Trail through 'Dog Village'
Bob Le Dick - No idea about mod tech! When I said I would take photo to prove the check marked wrong by FRB's he said to me 'Indy, how could u carry a camera on u?....' Err...Ever heard of an i-phone??
Wimps - Dr Evil ....injury...
Lost In Space - very happy about Telecum's write-about about his run!...WALOB 2
Telecum - great write-up despite not knowing it was hare's duty
Wanchai W@nker - missed the infamous Walob run
Late Comers - Higgie/Comes Up the Rear
Non Runners - Inflato/YM
LSW Virgin - Everything Butt - visiting from US Consulate DC Washington
Everything Butt - runs with no less than 'The White House HHH'
DD to ....All those who run with the Buckingham Palace HHH???
Lost In Space - falling down the concrete incline into the gutter.....
WW - HK property market expert....??
Inflato /Yummy Mummy - both Tai Tai's off to see James Bond's latest at 10 am the next day....
Inflato - thinking he is James Bond 'I was born ready....???'
Tight Lips - not doing run and turning up at Bash....
Telecum - a London Bowbell boy!!.........WTF??
Macau Drunk - saying everyone knows the Bowbell story?? (Ed : they do now!!!)
DD to all Cockneys - Telecum, Ivana.....aka Comes with Cockney!!
Cockney descendants - Inflato/Indy
The Hares - Great run...Great bash....Great night....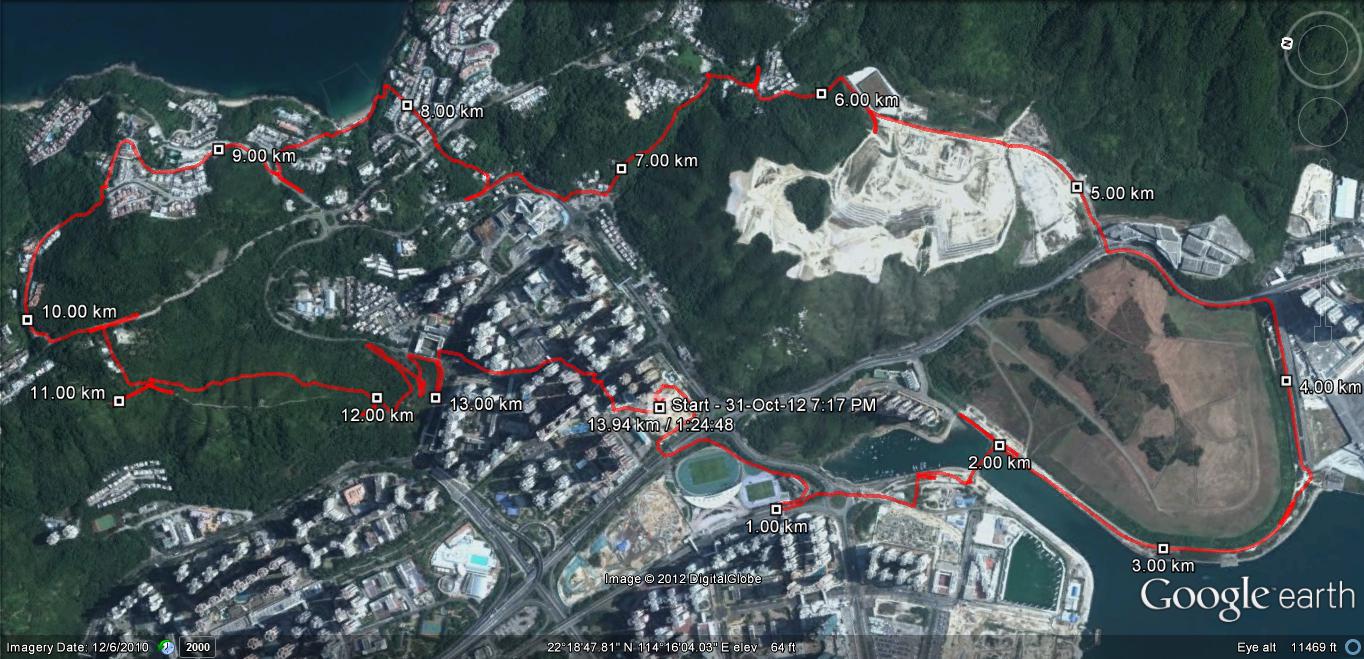 Hang Hau Man Kuk Lane Park is actually quite nice for a Hong Kong public space. With great showers.
13.94km & 84mins (and I suspect we missed the loop off to the right to LOHAS park at the 3.5km mark before it rejoined at the 4.5 km mark)
After the sports ground and 'velodrome' at the start, lots of chicanery going down off-ramps from the running trail to have to loop back and up onto the trail again - in one case via the lift.
Long flat trail past the quarry/whatever then shiggy and over Clerawater Bay road down to Silver Strand. Big loop back over Clearwater bay Road then trail back down into Hang Hau

Great run