Chatroom Paedophile should be happy that Shitler isn't doing the write up as I can only imagine what bad things he would write. I thought for a moment that he was trying to upstage my "load of bollocks" hash with one of his own. It certainly appeared to be on Gobi Lo's mind when I showed her the "B" and she made many noises of disapproval before going home and driving to "B". The briefing had the W at 8km and the R at 12km. So of course I took the W but was a bit puzzled when my piece of sh-- Garmin watch pooped out at 8.5km on the side of a mountain not even remotely close to anything. CP had been telling me about his Suunto GPS watch but since it seemed so far off the briefed 8kms I wonder if they're any good either.
The route, form what I can tell, Lower Albert Road to Albany Road, Hornsel Road, up some irrigation dithches to a path leading to Old Peak Road. Then Wimps take Tregunter Path, May Road, Magazine Gap Road and Dutch Trail to Wanchai Gap. R rejoins W at Wanchai Gap and takes Middle Gap Road till it turns into trail going around Violet hill over the Aberdeen Tunnel towards Black's Link.
Then trail down to Nam Fung Road over to Deep Water Bay Road and the shiggy bit on every FFFM run down past the golf course to Deep Water Bay. I believe 12km for wimps and some rambos recording up to 17km.
But I must say I was very impressed with Toilet Spray as I was of course "all by myself" on the catchwater on the shiggy bit down to the golf course and as she caught and passed me she was shouting out trail, on-on, flower etc. despite nobody else being anywhere near her. Somehow I managed not to be last as Indy, Freewheel and maybe someone else came in after me.
On-On at the outdoor pizza place which was very nice as the temps have cooled down to a very comfortable level but sadly had Gobi-Lo feeling a bit of a chill. The chill was good for one hasher Crash Test Dummy as he got to hear the two female Japanese hashers squeal in the shower as the cold water hit their skin. CP couldn't seem to order enough pizza though as this little tiny Vietnamese - Austrian hasher - so tiny that she dissapears when she turns sideways- managed to hoover up all the pizzas faster than they could make it to the table.
DDs by IndyAmah;
Thermal Dick who adds Tobasco sauce with beer
The Hare - long run
Tomoko "just add alcohol" - STFU
Quyen - STFU, bothering b/f who is on the phone with his other g/f.
The Hare - many lost people and victim
Freewheel - inadvertinly took R trail
HS and TS - took a road 2km in the wrong direction
Dr. Evil and LIS - true wimpsran seperate so LIS didn't receive ongoing trail commentary from Dr. Evil
Crash Test Dummy - Coudn't find the trail
Quyen - a bloody jealous female (b/f on phone again)
Nic - a jealous man
LIS - being the scribe
Dr. Evil, Thingy in my Bottom, CP, Ivanna Nucock, Gobi Lo - Trailwalkers
CP - tonights run merely a preamble for Trailwalker
HS, Indy - totally lost
HS - returnee
HS, CP - neighbors
Quyen, CIMT, Graz - forced to listen to Indy's German
SST - demanded the deletion of a photo in which she is appearing to give another woman a blow-job
at this point CP pours cold water on the whole thing by pointing out that this anatomically impossible. you never know...
Catch of the Day - succomed to pressure and took down the photos
Tight Lips - left 16,000HKD worth of equipment at Hebe Haven and had it dissapear.-Sorry about that
From the Floor
LIS to Indy - not just taking DD notes but also an English writing examination
Ivanna Nucock to Gobi Lo - Driving Lemondrop to B
CP to Gobi Lo - found out where B was then decided to drive
Indy to Ivanna Nucock and Thermal Dick - Haircuts
Indy to CP - Finding virgin trail in her old neighborhood
Indy to Cums up the Rear- hashing without Octopussy
Indy to Thermal Dick - being the amah
Indy to Theo - talking during the circle
SST - 100 runs
Gobi Lo - not recognised when she got 100 runs
Quyen - 3rd run
Hash Song
SST, Ivanna Nucock, Hickey Slut, CP with TS
and amazingly enough it finished right on schedule!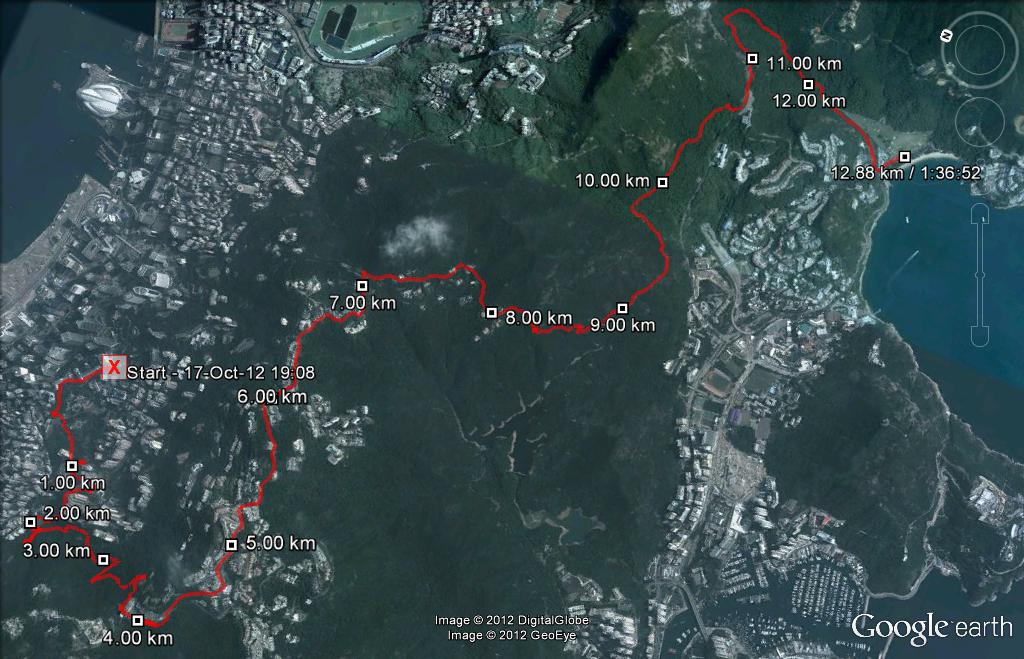 HK Squash Centre. 29 people. Along Lower Albert Rd rather than up the tramway. Up Albert Path and steps up to Albany Rd. Up Old Peak Rd and right along Hornsey then onto trail above Glenealy School. Check at the reservoir/playing field going up to the contour path then left to Tregunter Path split. Rambos up Old Peak Rd, left at the galleria and along Peak Rd, left into Plunketts Rd and left up Plantation Rd. Right into Severn Rd then right turn down the path to the Peak Rd. petrol station. Down Peak Rd. and right into Coombe to the rejoin at Wanchai Gap. Right, along Middle Gap Rd. and left into HK Trail stage 4. All the way to Black's Link then along towards Wong Nai Chuing Gap. Right turn at the pylon and down the steps to Nam Fung Rd. Left onto Deepwater Bay Rd then across the road to the water catchment trail and down home behind the HK Golf Club to Deepwater Bay beach.
Cracking.