Hares: Sticky Sex Toy, Yummy Mummy, Inflato and Gunpowder Plod
So we were told months in advance to come for this particular hash because SST is turning - hold your breath - a grand old age of 40. As if I will buy that, SST. Nice try.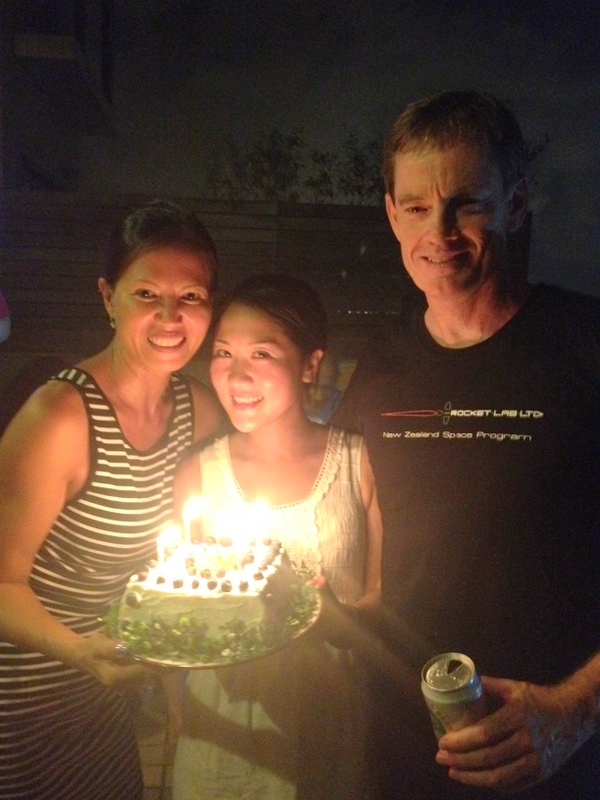 Anyway it seemed the trick worked as a large pack of runners gathered at the sit-out area at Muk Lun Street. We tried to understand SST's very long hash instructions but our attention wavered when we saw her attempts to draw a birthday cake with chalk. It looked more like a muffin. But if we were to see this muffin on trail, it means "on on" - hm.
With that, the pack headed up the steep Sha Tin Pass Road with ADWD leading the way. Retirement sure suits her fine! Mr Wong followed closely behind until a check at the split threw all the FRBs off. Turns out that true trail went behind the steam and up into the shiggy. It was here I encountered a tall Canadian hasher who asked me for my name, then only to ask if he could share my torch with him. (Looks like Octopussy forgot to mention to him that a torch is mandatory!) And the story gets better - this lad's hash name is Spastic Mounty. How very apt.
After a gadzillion steps up the mountain, the Rambo split took the FRBs left on the trail (the Wimp split went right on the ridge). A few open checks kept the pack together until the one just before the shiggy which we were warned about. Comes Up The Rear nailed it right (a hard right into the dense bush), and then it was a long descent through some great trails and streams, all the way to the check at bottom of the hill where the Wilson Trail intersects the catch-water.
This time I got it right. Along the catch-water and then up MORE steps. Bloody hell. I cursed the hares liberally under my breath but honestly, after 10 days on a scuba-diving liveaboard doing no running at all, I was actually quite happy to be on the trails again. But the never-ending steps can still be cursed. They are tough to conquer on a humid HK summer night.
Finally the trail led me to the top of the hill and then to the noodle shop at Sha Tin Pass - oh, it sure brought back memories of the very painful Trailwalker I did last year - and down through the old village and Buddhist Temple. From there it was a relatively straight forward run downhill on home to Inflato and Yummy Mummy's amazing pad.
A good time was had by all indulging in home-cooked food, followed by delicious apple cheesecake to celebrate SST's birthday. Last I counted, there were only four candles on the cake which seems just about right.
Happy birthday, Sticky Sex Toy!
And a big thank you to the hares - SST, Yummy Mummy, Inflato and Plod
Down Downs by Any Dick Will Do:
Hares - all four of them: SST, Yummy Mummy, Inflato, Plod
G-Spot (religious advisor at a lesser hash) - thank you for no rain!
Plod - spent the whole afternoon drinking Inflato's private Asahi beer stash
Richard & Chun - not quite FRBs as they are scared of running in the dark. Hansel & Gretal? Indeed!
Mr Wong - running extraordinaire, can do a half marathon in 1:20, but cannot hash for nuts
Wanchai Wanker - doesn't know the purchase price of his Sun Hung Kai shares; all he knows is that he made a profit of $400k
Gobi Lo & Golden Balls - Golden Balls has seen Gobi Lo's "inserts".
Septic Tank - the T8 hash that did not happen ruined his plans so he did a 30-minute run barefoot in the storm instead
Telecum - doesn't know what the Buddhist sign (swastika) is
Telecum - spent £22,000 on his nose job but still can't breathe right
Parade of the best dressed - Toilet Spray and Septic Tank
Comes Up the Rear & Ivana Nucock - A Russian man tried to rob a hair salon but was overpowered by the karate black belt-holder hairdresser, who eventually tied him up naked, force-fed him Viagra, and used him as a sex slave to "teach him a lesson". He even got a new pair of jeans. Lesson learnt!
Comes Up the Rear & Octopussy - CUTR is now a FRB to impress his girl, October
Thermal Dick & Tight Lips - work in the same office but they work alternate weeks
Jannene - virgin hasher. Welcome to the LSW!
Down Downs by G-Spot:
Yummy Mummy and Inflato - thank you for a brilliant "B"
Ivana Nucock, Golden Balls, Chatroom & Septic Tank - there are boring people and there are boring people. These folks take it to a new level - they unicycle.
Inflato - not tall enough for the LSW hash but he sure has the "tallest" penthouse
Golden Balls - didn't do the run, went straight to the pub and then straight to "B"
Septic Tank, Thermal Dick & Spastic Mounty - ran off the cliff
Frank the Plank & Septic Tank - smelled so bad after the run, the residents of the building would rather breathe through a wet Labrador dog
Wanchai Wanker - debated whether to take the Wimps or Rambos at the split
Golden Balls - not impressed with Mr Wong's half marathon PB. Seriously? Golden Balls?!
Down Downs from the floor:
Yummy Mummy - many adjectives can be used to describe her but now she has a new one - "hardcore"
Thermal Dick - uncharacteristically slow run for him
Yummy Mummy - suffers from delusion of grandeur; she said she is "Hopeless!"
SST - not knowing what an open check really is
Plod - for having the "hardest" time of his life this afternoon while setting the run with the two female hares, SST and Yummy Mummy
Yummy Mummy - having a drink and then leaving Plod to foot the bill
The song was sung by the hares, Frank the Plank and the visitors.