Hare - Hopeless
A LSW run with a difference gathered in TST. We had already warned by our hare, Hopeless, that if the post run arrangements were out of your comfort zone then don't bother coming. Despite the warning, a large pack of about 30 runners assembled in TST next to the Star Ferry and Harbour City.
With a few choice words our hare set us off down the harbour front with encouraging words "the first mark is about 2km down there".
As I was a late comer I didn't know what the main pack was doing and accompanied by Indie set out running a large number of false trails. The run itself was relatively short and straight forward. True to form we ran the full length of the harbour front and over the top of the Central tunnel approach around Hung Hom station flattening a large number of Honkies on their way home from work. We passed round the back of Kowloon Cricket Club crossing Austin Road past Jordan station on into Kowloon Park and on home down Canton Road. Front runners arriving back in less than 40 minutes and all returned in less than an hour.
The hare had not reckoned on so many runners ran out of beer several times and was seen repeatedly dashing in and out of 711 buying up all the cold beer and breaking the LSW hash taboo on buying tall boy beers at the same time.
Another LSW tradition was broken when the hash circle was formed there and then (instead of after dinner) and the indomitable bark of the Indie laugh was heard bring the hash to attention
On to the down downs.
Hare – Pack leaving with precision German timing to celebrate the Octoberfest theme
Hash Cash, Big Bitch, Cyclops, Cotton Bud and Rocky - Returnees
Hare – the Octoberfest run
Shitler – Last year's Octoberfest hare
LSW@nker – depressing circle master with tales of the property market problems in China
Poledancer & LSW@nker – Leading the circle master down too many false trails
Ashole – Racing on the hash
Welcomed back to the hash, hashers warned not to follow her though
Virgin Mary – Hiding in the corner trying to make sure no one sees her new hair cut
Come into My Tunnel – The German, next year's Octoberfest hare
Chatroom Pedophile – non-runner, getting lost on the harbour front, how hard can it be?
Inflatadate and Yummy Mummy – more non runners, went shopping in Harbour City, more diamonds for YM
Backdraft – wearing lederhosen and performing a German dance
Dr Evil – setting himself on fire
Castrato aka Hash beer – misunderstanding the hare's instruction about no run fee and buying the whole hash free beer - On On!
Gobilo – Trail walker runner, in tears on practice run as she passes the pain barrier. Go Gobilo Go!
Castrato and Hash Cash – Old and New hash cash
Castrato – another hash cash selling up in HK and moving back to England's green and pleasant land Primrose Hill in lovely Norf London
Anniversaries - Castrato 175 runs last week, Toilet Spray 50 runs
Macau Drunk – forgetting to give his mate Castrato his 175 run anniversary down down the previous week
Macau Drunk, Hopless, Bobbledick, Big Bitch, Hash Cash too name a few – catching the Star Ferry to the run
Bobbledick – 750 runs still ahead of Hopeless
Bobbledick and Hash Cash – longest standing LSW hashers
Stick Sex Toy and Come Into My Tunnel – Lost property
The hash then went On On On to the Octoberfest celebrations. With Backdraft first to make his intentions clear by turning up with a full jug of beer and then proceeding to chunder over the balcony onto the temporary immigration tent below. You can't take the hash anywhere!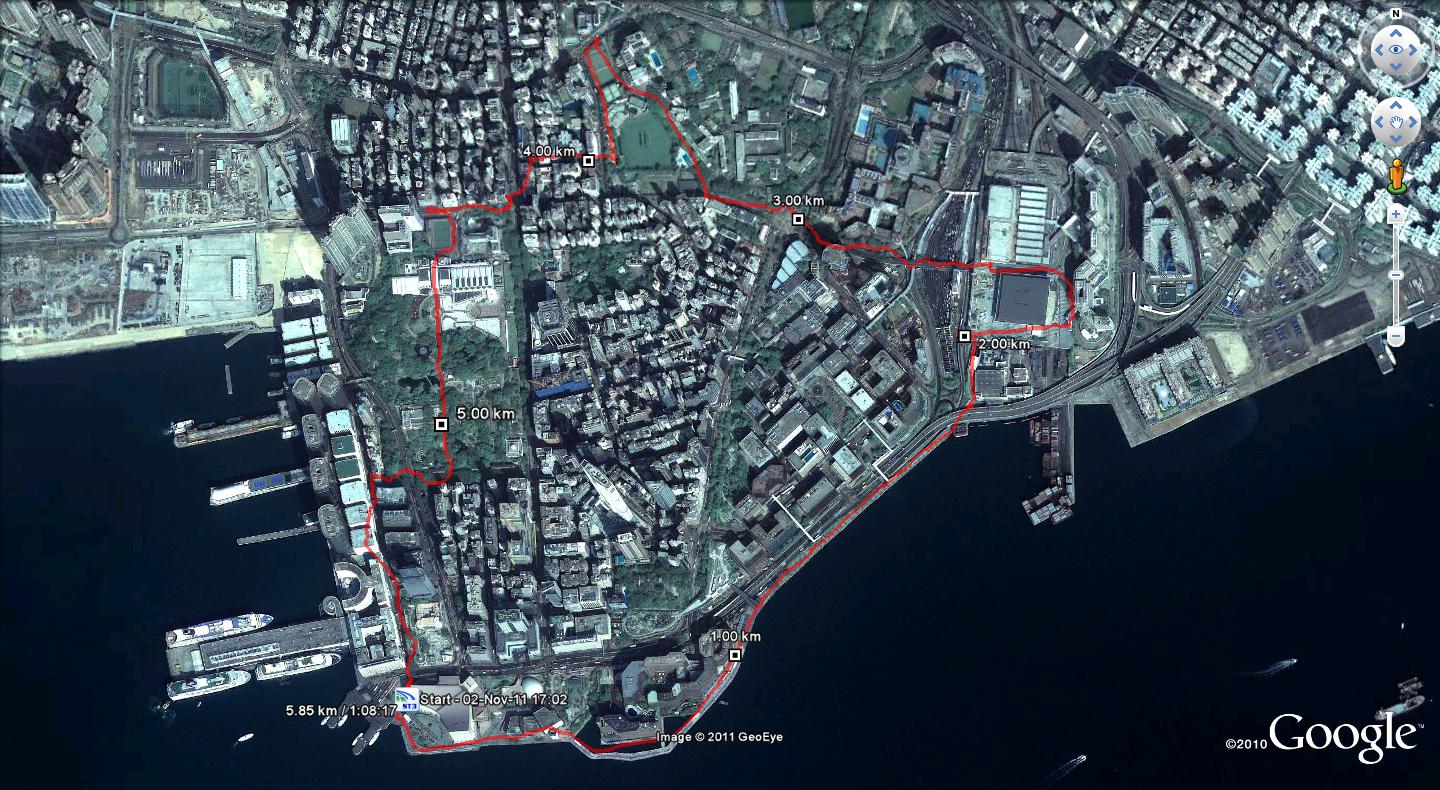 It was to be a short, flat, city run - no markings for the first 1.34kms until the first overpass bridge check due to extensive touroid activity.
At the check, Cheesy Flying Fox went up while we ran to the Colliseum in Hung Hom. From this check, the trail was found round the back of the Colliseum and over Hung Hom station. Past the Poly and on to the check on Chatham Road South.
Cheesy got this one right by going along Austin Road then right along Jordan Path, to Jordan Road and the MTR. Cheesy missed the check going into Kowloon Park and that was the last we saw of him as he headed off to the West Kowloon Reclaimation.
Through the park coming out at the mosque then Haipong Rd, Hankow Rd. Salisbury Rd. and on home back to the clock tower.
5.85kms and 28 minutes later, and it was beer time, short circle and on on to the Oktoberfest where pork knuckles and bratwurst awaited the carnivores and that ole Bavarian favourite - mushroom lasagne - for the vegetablists.