There are always 2 types of hash runs that can always be depended to be talked about! One is a Typhoon run and one is a Bob Le Dick run!
Who will ever forget the Sweaty Snail Gobbler typhoon run a few years ....actually I must correct myself!!! Who could ever remember the Sweaty SG typhoon run .....more like it!! as only 5 sturdy hashers turned up!!...and by now those 5 being hardcore hashers would have Alzheimers......
And Bob Le Duck's runs? Tattooed for eternity in the minds of LSW hashers...in particular Nurse Fu@@er (accompanied by his nurse Dr Evil!) ..rumour has it that NF is still the same colour of beetroot red and constantly dehydrated since he took 3 hrs 51 mins to complete Le Duck's run that at that time ended in Hang Hau....
But LSW hashers have a curious taste for the bizarre.....seeing it as 'exotic' instead, ...and having set a 5-star-applauded run last time, there were 20 steadfast hashers who did turn up for this T3/Bubbleduck's hash...
On the side, and to increase the LSW profits, Castrato was taking bets that no more than 12 would turn up with the typhoon 3 signal up/ slashing rain threatening/ Hang Hau etc etc.....!! Even Lost In Space rushed in at the last minute....and by the end of the run again lived up to his hash name....!!
Moving back... at A as all gathered, Bob Le Dick was nowhere to be seen but the able lieutenent Hopeless gave instructions/warnings and the knowledge that B would be written in /on concrete if any were to get LOST or for the latecomers!! Fortunately as the run started, he passed the message to the troops that B was at Cnutshy's Haven for his time here...the University!
Well! not 2 mins into the run and Neptune let forth his anger as cats and dogs were pouring down...The wind was so strong that I felt like something out of a Mary Poppins movie as I started to go backwards.....Wanchai W@nker started broadcasting doom and gloom straight away threatening to return to A as the markings would now be wiped out!
The irony.... although the markings did take a bashing WW was one of the 3 who did manage to find the wimps trail that led to B...
And as it finally turned out, there ended up being 10 different run versions by the end of this 'hash'.....but i digress!
So off in the rain, heading up the road to the old HH village...across the rd and up the long steps to a 3 way intersection.....onr blob of flour there and then ...none!! Hashers everwhere criss-crossing....a determined Hopeless says it must be up those steps! ...after 5 mins flour was found and the cry was heard of On On....but it turns out that sneaky Bubbles had put the trail through a scrub section to get to that mark....but hey, it was found!
Happy hashers happily skipped up those steps and up and up! But no flour...more searching! ...down steps to where the flour had been seen then traversed across the 'up' trail onto narrow trail following a drain! Ah! All well again....!!
But no! A check in a tiered garden area had the team spread out very thinly for about 15 mins.....From 20 we had peeled down to a group of 9!
And then another casualty..Tightlips...decided that stratching her legs on the road to B was a much better alternative!
And then we were 8! The elusive flour was eventually found at the bottom of that concrete path, about 200 metres down, the hare swore that chalk marks had been placed along that section...! Further down then up steps...more steps! FFFM was showing signs of 'deserting' the thinning troops as she insisted that we were not on the right trail even though there was fresh flour! 'But there are no Hopeless markings, and he knows exactly where we are going and I can't see any signs of his lovely big pink chalk...so we must be off trail!!!....'
With seeds of doubt sown, the group of 8 went off trail, and down a rd believing that white paint and soggy dirty snotty tissue were markings...and onto Clearwater Bay Rd!! No markings there ...At this stage 8 became 3 as FFFM, Castrato, Winnebago, SST and Michelle all trundled up the road towards the Uni of Cnutshy....
The 3 Musketters of Ninja Winja, WW and moi(Indy), retreated back to the trail, and found a cunning check that Bubbles had put under a bench away from Mr T3!.....a downwards trail was also espied ...flour found and we were happy hashers again..! However, that trail too finally ended up at CWB RD opposite the Caltex Station...and then another T3/B run version was seen...Hopeless had been here!! If only FFFm had stayed on trail 'a little bit longer'...!
But the Hopeless arrow led onto CWB Rd ...Still the 3 Musketeers were having nothing to do with road markings!....
Steps were retraced and trail found down a slippery trail.....screams from WW...'I will kill Bob Le Dick!' as he slipped and slid!! then along more paths apparently called the Hawaii trail, although I saw no surfboards or coconut palms....
It was then familiar territory along pipelines,....another check led us up a very shiggy rocky hill/mountain? where the Rambo/Wimps split was found....At this stage it was deemed too late to take the Rambos route so it was all down down down on shiggy rocky trail to the fence line that we have slid down before....onto a service rd...then CWB rd!
On On to the University of Cuntshy and home we were after 8 kms in slightly more than 2 hrs!
But we were not the last!....15 mins after our arrival the team led by Tightlips appeared....apparently she had hooked up with Cheesy Flying Fox, Come In My Tunnel, Lost In Space and Toilet Spray who sprang out of bushes around HH village.. and they had run up to Clearwater Bay rd and then in the direction of CWB....... !!
And they also were not the last....Shortly after, Chatroom P appeared with newbie Ben in tow, and virgin Nick.....And their story? Arriving late they followed trail for about 1 km, to the area where the pack started thinning out.....they decided to go back to HH MTR and onto B! But now the problem was that they only knew that the B was at the University....written at A by Hopeless! But which University? Mong Kok? Was there one around Hang Hau....
So finally their learning curve was increased as they were informed that yes! A Uni did exist at CWB...in fact it was called the University of Cnutshy! But instead of running there or following a minibus they got in one to get to B......
Many versions of the T3/Bubbles hash run....Inflato did another version and after being back in after 51 mins 'all by himself' said to Bubbleduck, 'So what did you do with the reat of tha pack Bob?'
At that stage, Bob Le Dick was probably wondering that himself??
And then it was On On for 12 of us to the Uni Restaurant where a plentiful supply of beer awaited ...
Down Down's by Indy
Bob Le Dick - A run for everyone..
Bubbleduck - too much flour/chalk
Bubbles - Too much beer at B!
Bobbledick - Typhoon run from A to B
Ninja W - wearing his T8 shirt
Wimps Trail finishers - Wanchai W, Ninja, Indy
Wimps Trail/CWB shortcutters - Winnebago/SST...all others having disappeared!
RAMBOS - 0 .....another historical moment for LSW! ....noone quite made it over Razor Hill!
The CWB road runners - led by Tightlips....Cheesy Flying Fox, Lost In Space, Toilet Spray, Come In mY Tunnel
Hopeless (lookalike Ninja)- marking trail onto CWB Rd too early
FFFM - pining for Hopeless markings and not wanting to go on without them....
Bob Le Dick - Setting the Cnutshy run that apparently he should have set for LSW farewell! The baton 'passed' from the youngest to the eldest!
Wanchai W@anker - cursing Bubbles on the run as he slipped and slid quite ungracefully...
Wirgin LSW - Gary...and what an initiation LSW that was!
Newbie Ben - with Gary and Chatroom - from A ..ran 1 km on trail, 1 km back to A, then bus to B!
Newbie Ben and Gary - not having heard of the University of Cnutshy...
And finally to Cnutshy....Oh to be on his hallowed ground!
Anniversaries - Wanchai W@nker...101 runs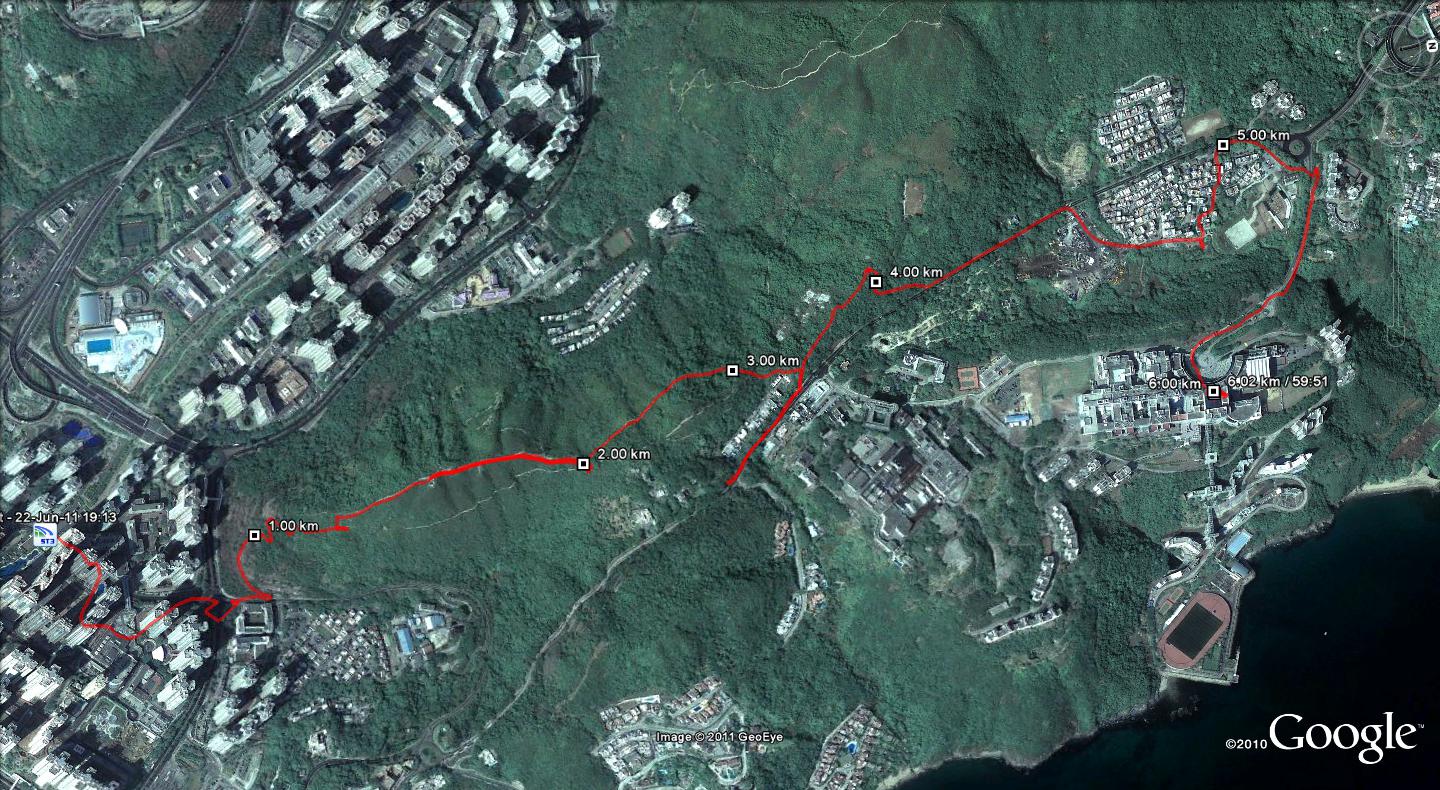 On the map below, the yellow line is where the wimps went from Hang Hau to the HKUST.
Some runners did the red route in completely the opposite direction.....