There was no running away from it. No ifs, no buts, no excuses. I had no option but to go for Catch of the Day's run as I was fated to do the write-up - AGAIN. After first experiencing her run last year at Causeway Bay, "another one of her Action Asia Specials" as quoted by Thermal Dick, I was almost convinced that she actually enjoys torturing us poor hashers. After her Tung Chung run, I was dead sure that she has an evil streak in her.
Well, the turn-out at "A" sure showed how popular she is. Only four ladies turned up; the rest were men who like a bit of S&M (maybe except for Inflate-a-Date who likes just about everything on the side including inflatable sheep - please see below DDs for explanation).
True to Catch of the Day's style, the run start was a hot mess with no markings for 500m and then suddenly we have a cluster of them pointing to the toilets (?!). Knutshy and Cheesy Flying Fox took the opportunity to have a quickie, confident that their superior athletic ability will enable them to catch up with the pack later.
Ten minutes later we headed up those dreaded steps that cut through the concrete walls behind Yiu Tong Estate. It was a wee bit disconcerting to see the entire pack in a single file, trudging up the steps in 110% humidity and 35°C stifling heat. Freewheel did well to make it up four tiers of steps before taking a breather, together with HP Salsa who was trying to look as if he was enjoying the view.
Now, there is really nothing else to write about at this stage because the trail took us vertically up for the next 4km. I am not kidding. Just look at Hopeless' elevation chart.
What was interesting during this stretch of the "run" was the way the hashers were swearing. Macau Drunk, who hardly ever whinge, was whinging. Buttfan was silent for once. Plod actually said "Diu lei lo mo" to F3M - not very gentlemanly, really. F3M had to retort, of course, and then Mei Not Come started his annoying "Are you?" every 5 seconds which grated everyone's already frazzled nerves.
Thankfully I managed to escape from all the angst and together with Come Into My Tunnel we conquered the last stretch of the climb, going past Any Fanny Will Do, probably the most cheerful person on the run so far. The last time I followed closely behind the German was on Bobbledick's run and I sprained my ankle badly then, so I took extra care going up the shiggy. I should have known that on COTD's runs, the uphills are always the easy bit…
On to Mount Parker Road and after a short stretch uphill, the trial took us left into the shiggy. Here the trail took us vertically down for the next 3km.
What was interesting during this stretch of the "run" was that everything was interesting. It soon dawned on me that we were going down General Rock, a route I once did on the KOTH Hong Kong full marathon which was one of the most humbling experiences I had in my life. Going up General Rock was hard enough but going down - well, that is suicide, plain and simple.
Exposed tree stumps change from best friends to dreaded enemies within seconds; one little trip and down the hill you go. Both Come Into My Tunnel and I took a few tumbles but nothing quite like Crash Test Dummy whom I heard lived up to his name. Admittedly at a few points of the downhill I actually feared for my life. It was a good thing it was a clear night in Hong Kong so the views were truly spectacular and helped distract me from the god-awful-straight-down descent. That said, I'm not sure if the breathtaking views helped Come Into My Tunnel as he mumbled something about the views making for a romantic first date and wished he had a girl with him and said something about me wishing I had a guy with me…. Right. Moving on… …
Down to the contour path where we met the Wimps trail and where we could finally put in a nice run. Onto the catchwater and after a bit of a mix-up with the markings we found our way to Chai Wan Road. At the end of the slope I saw Anal Invitation, who was actually walking on the downhill. I know I'm not in top shape but walking downhill on a hash is a total wimp-out, so with a little push we finished the run back to "A".
Now, before I finish this write-up, here's a note to all Hares: Please, please, please ensure that there is Schweppes Grapefruit in the bin. Just like you ensure there is beer for those alcoholics, please make sure you have Grapefruit drink for the grapefruitholics! Ok, end of rant.
Another tough run by Catch of the Day, but at least BOF wasn't stuck on trail for 3 hours. I can't say the same for Indy though, who had to take a taxi back after being harassed by porcupines, snakes and ant-eaters.
Alternative write-up: "Shau Kei Wan - Mt Parker - General Rock - Home"
Downs Downs by Indy:
Gobi Lo & Inflate-a-Date - knowing that it was run #1787 because they read the website
Catch of the Day (Hare) - setting another "memorable" run
Catch of the Day (Hare) & Come into my Tunnel (previous co-hare) - who set the better run?
Macau Drunk - for once being a whinger and swearing about the f***ing trail, "not my style of hill"
Freewheel and HP Salsa - going nowhere, torches back and forth in the same spot
Toilet Spray - finding the right arrow even though it was 3 metres away from the trail and pointing at the wrong direction
Anal Invitation - leaving Toilet Spray for dead
Gobi Lo & Come into my Tunnel - running together, looking fresh as daisies until Gobi Lo said that was a f***ing horrible hill
Gobi Lo & Come into my Tunnel - did not scare the porcupine away on the trail so it scared Indy instead
F3M - for saying the porcupine is like Indy, just as prickly, but it should be the other way round
Inflate-a-Date - Down Down given to Inflato (lookalike for F3M) because just one prick and he is dead (I actually found this DD incredibly funny)
Catch of the Day (Hare) - for not warning Indy about snake on trail
Plod - member of "Friends of Sai Kung" but still didn't give a shit about wild buffalos blocking the road when Indy called
Plod - ex-policeman but all police did was try to run over buffalos with scooter
DDs by Knutshy:
Indy - DDs given earlier is a summary of her life
Hopeless, Bobbledick, Macau Drunk, Chris, Wanchai Wanker - for taking escalators on a hash run
Gobi Lo - for needing a drink after a hard run, yet only taking a tiny bit of beer
Crash Test Dummy - living up to his name, somersaulting down General Rock
Inflate-a-Date - for bitching about the downhill, "a HTFU hill"
Catch of the Day (Hare) - wasting Knutshy's 30 mins going around the MTR station
Crash test dummy - beer bitch
Indy - IOU note to Hash Cash, "I owe hash cash $60"
Plod - the most vicious Hash Cash ever
Toilet Spray - giving 4 sheets of paper to Knutshy for DDs list
DDs back to Indy:
Knutshy - for doing TNF Beijing 100km in 11 hours 40 mins, 15th overall, well done!
Catch of the Day & Crash Test Dummy - for backing out of TNF Philippines 100km!
Randy Van Fokker - met his wife on the LSW hash, rare but true.
Bobbledick - for winning Action Asia last weekend in his age category
Macau Drunk - did last week's write-up because all Catch of the Day wrote was "Mount Butler - Quarry Gap - Home"
Macau Drunk - thinking Ash-hole is married?!
Catch of the Day - domesticated at last, at Fanling!
Knutshy - now lives a lot closer to COTD
Bobbledick and Come into my Tunnel - having a wash together in the toilet
DDs from the Circle: Macau Drunk - a Shakespeare on the hash; announced to Plod "Tis I" when Plod asked who it was behind him
Come into my Tunnel - being German, so to blame for Blue Girl ("German beer-brewing techniques")
Knutshy - virgin shoes! Shoes might have gone through TNF 100km but they are new to the hash. Down down from the newtons - eeks.
Yummy Mummy - went into "International Sex Store" and bought Inflate-a-Date an inflatable sheep
Ash-hole & Catch of the Day - played the guessing game, Where is COTD from? First try: Korea, then Thailand, and finally Mongolia (?!) (Wanchai Wanker - "Just bring him home, Catch of the Day!!" - HA!)
Plod - donning a pink dress to the Babes hash
Knutshy - turned 21 on 7 May, instead of getting wasted on alcohol, got "wasted on mileage" as he could not afford alcohol
The song was sung by the hare, the youngest hasher, the oldest hasher, and next week's hare.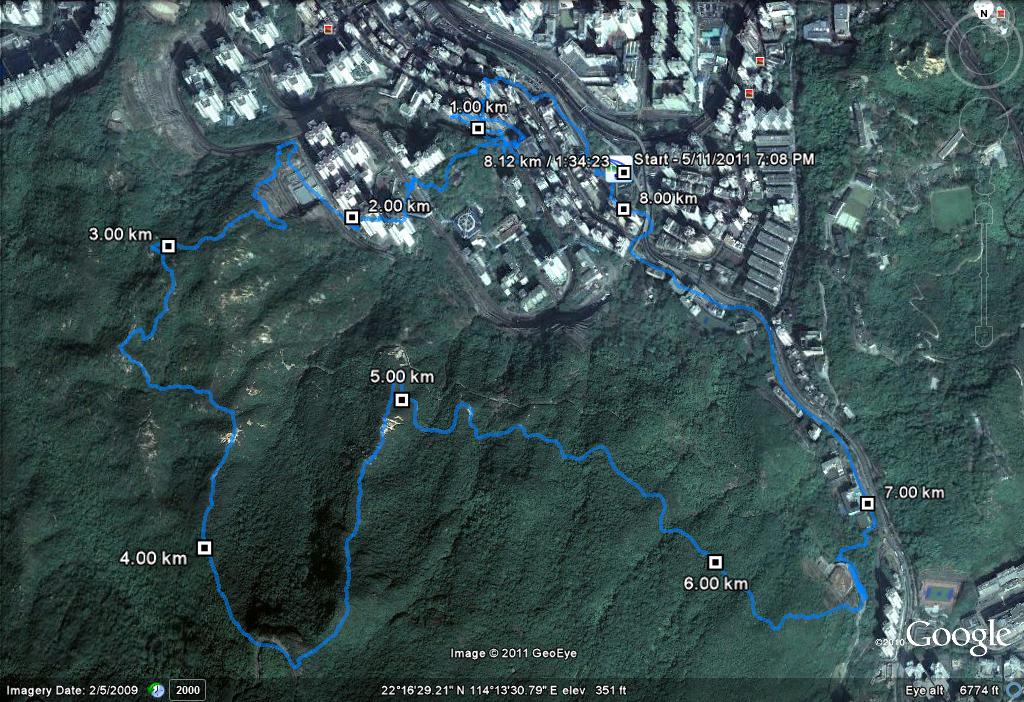 Plod - blue - Wimps, 6.8km, 80 minutes.
F3M - yellow - SR, 7.47km, 120 minutes.
Hopeless - red - SR then "fcuk that, let's have a run not vertical descent through more shiggy", 10.02km, 103 minutes. Cut right down Mount Parker Road once cresting the uphill section.