Hares - Inflate-a-Date & Yummy Mummy
Knowing that I will be much later than usual, and it's a A to B run, I contact Indyanus for the hare's phone no. and notification of my late appearance. She was kind to pass the no. to me, and surprisingly she has arrived A, 15minutes earlier than the start time!
By the time I call the hare when I make myself on the way, I am told that it is better to go to B directly, as they've already left A, and it would be difficult for me to run with a bag full of stuff on my back. As people say, it is wise to listen to the hare's advice, so I arrive at the fancy, well decorated, spacious B in Diamond Hill close to 8pm.
To carry though the Hash spirit & pay respect to the hare, despite the lost of a precious hour and distraction by the environment in B, I decide still go for the run by follow the trail backward.
So my plan is to run as far as I can, catch the last hash in the trail, then turn back to complete the run. Set off from 52 floor to the ground, (first time to set off on such location in hash), turn left then found the arrow after 30m run, clear direction instruction until reach a big complex called Tsz Lok Estate. After few minutes confusion and checking, I use the hash sense have gathered, choose the steps up, cross over a sky bridge then found the arrow again happily. Then it leads me to the entrance of a mountain; not long after I run on the typical hash trail, some flesh lights break through the dark beyond me. Full of delight in my heart, I walk faster on the upward steps; greet the 1st group of hashes formed by Gobi Lo Ho & Ivana Nucock. The level of strength is recharged after the warm little chat. As the time goes by, I think I better check with hashes of their position in the team so I can adjust my run. So I start from the next hash I meet--- Cnutshy if he knows anyone behind him when we meet, he raises his voice and says of course yes! A typical reaction of a young man who's ego is being challenged. Then meet with Malcolm, who thinks I am the supper woman that can carry a man more than double of my own weight down to the mountain; Winabago warms and sweet as always; 3FM tells me what's in front of me softly; and a lady the hash name not known tries to safe the battery in her torch for emergency claims she is the last hash in the trail. After evaluate the situation, I decide to go a bit further to reach the top of the hill then turn back. On my way back, Catch of the Day & Macau Drunk catch me, and back to B as final group together.
A lot of Down downs are leaded by Indy.
Hares - for the run not have enough steps; announcing late comer should consider the start time at 6:30pm.
Indy - receive 3 calls to claim being late & get hare's phone no., while she arrives at 6:45pm! Absolutely unusual for her.
Cnutshy, Toilet Spray - 2 of the 3 calls to Indy for being late, but Cnutshy is 3 MTR stops from A, and TS is 2 stops from A. Does distant matters to time?
3FM, Indy - competition on the sense of humour. Does the style of laugh count?
TS - being so late and running backward.
Inflate-a-date Buttfuk, Dr. Evil - Dr. Evil as his name evilly step on markings even when IADB yelled to him. Then they drink in Box hash style, IADB brothering with the evil??
3FM - being lonely on the trail without follower.
Gunpowder Plod - provide instruction on something I forgot.
Hares - warn hashes it's tough
Cnutshy, IN - think it's a soft hash
Indy - Warned by the hare avoid R.
Malcolm - claims himself a good runner, then use injury as excuse for being slow and soft today.
Thermal Dick - claims he is injury too, but runs very fast today.
Dr. Evil, Free wheel - developed their own quote: Can a real runner get by here.
Hares - set the run up & down on the hill.
3FM, Winabago - pass Indy during the run.
Dr. Evil, Cnutshy - loose the front runner seats
Gobi Lo Ho - become front runner
Cnutshy - emotionally depress by Thermal Dick in front of him.
Thermal Dick - bit Cnutshy, even twice in age of him. Does age matters?
Lost in Space - being funny sometimes. What is the percentage of 'sometimes' in his whole life time?
Catch of the Day, Macau Drunk - run extra 2km.
GP - not cross the marking, mislead following hashes
MD, COTD - run through the misleading path not crossed out.
Mel - goes down twice; also need a name.
Yummy Mommy - excellent food, warm hospitality
COTD, Indy - share shower together.
Non runner without a name - wish to be a pilot after visit each level of the apartment.
Strap on Sally - returnee with leg injury; also let the young Italian man bent over.
Winabago & Mel - show up together.
Non-runner - Motomouth, Virgin Marry
Girl brought by the Non Runner Without A Name & NRWAN - first time hash with hash relationship style.
Virgin Marry - bring the couple to the hash.
Indy, Strap on Sally&TS - celebrate Australia team in R7.
IADB - The NZ team won in R7.
COTD - got a lot of attention during R7.
Cnutshy - discovers a private balcony in the apartment that's not been used.
GLH - comments on Gui Lao's noises. Therefore 90% of the hashes in the circle raise their voice.
Cnutshy, DE - walk from 32 to 52 floors by mistaken the floor no..
Cnutshy - get his lost book back; 'enjoy' the R7 so much that get sick of it on the 1st day already.
3FM - saw a lot of interesting dresses during the R7.
DE - new shoes even the tack is still on the shoe.
Hare - airline transaction business.
Mile stone for runners - Cnutshy 25 runs, Virgin Marry show up 50 times on cat walk style, PS 150 runs.
Special notes: desserts are Apple Crumble & Apple cheese cake - without Mr./Mrs. Parking appearance.
The highest point on the trail, Tsz Wan Shan (Temple Hill) topped out at 1620'
The great thing about Pearl River beer is that it actually tastes like the Pearl River! Flato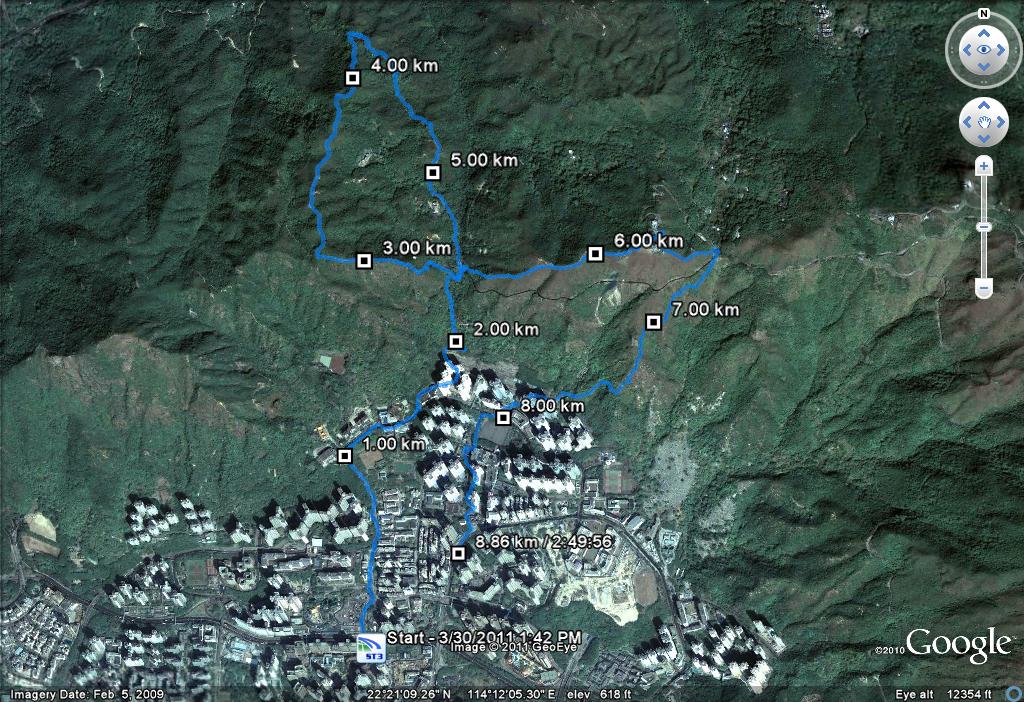 The Wimps
Up 1,770 feet, down 1,717 feet!