Sai Kung
We were welcomed to the hash by the hare standing atop "Plod's Pagodo" sporting a gleeful smile. The pack comprised the locally residing LSW hashers and one or two others from the backwaters of Hong Kong such as North Point and Lamma. One or two local runners also appeared from somewhere.
The briefing was brief suggesting that preparations by PP had gone exactly according to plan and that we would have a perfect evening of running, drinking and camaraderie. Even the run length at 13km was said to be perfect due to the advent of the cooler weather recently. The one thing that worried me was that the Rambos loop was said to be simply some extra shiggy. Was this intended just for fun? Is not a Rambo loop meant to give those fitter runners that little extra distance? More, much more, of that later on.
The trail headed out behind Antony's catch and straight into a couple of tricky checks. This seemed to be done intentionally to get those of us wearing lycra shorts covered in grass seeds so making the rest of the run an itchy experience. Anyway we emerged from the long grass into Sha Kok Mei and followed concrete gently uphill past the sitting out areas and basketball court up to Nam Shan. Nam Shan Lane brought us out on the waterworks road where the front-runners had already solved the check by the time your scribe arrived. Down the WSD road back towards Sai Kung – something wrong here just 30 minutes from the off! At this point there was only one alternative, which was to head up towards the McLehose trail. For us locals, it was quite predictable: probably the Mau Ping trail and probably back down thru Pak Kong village.
And so it came to pass. And it was while descending this lovely stone village path that we came across that split. Knowing that we were descending a familiar trail towards the Pak Kong catchwater my instinct told me that a Rambo loop to the right would be a ludicrous loop to nowhere. As a local I battled with my conscience- do I or don't I - and finally I made the foolish decision to take the Rambos just to put my mind at rest as to where this path could possibly go. How stupid I was. We descended nearly to the catchwater within sight of the lights of some village buildings and then, yes it was all the way back up a narrow trail, across a ridge and back down again to the same stone village path we had left some 10 minutes before. The back down comprised very steep sections of firm soil covered with some perfect loose grit. The hare had not provided any ropes, leaving the descent somewhat treacherous and the Rambo loop to be one of the most stupid and nonsensical of all my 20 years of hashing in Hong Kong.
So once down to the catchwater, it was left thru Pak Kong Village to the main road, right at the fire station and up the road towards Tui Min Hoi. This was where the hare must have double-checked his GPS to ensure that he got his 13kms correct. It was also where Hopeless and one or two other whingers decided they had had enough shit on their shorts and meandered home. The closeness of home resulted in a natural regrouping here before trail was found into the Lions Park. Once out at the top of the nature trail and briefly into the country park it was obvious the trail would head back in the direction of Tui Min Hoi. However, at this point your scribe got it wrong and led a couple of other runners on a slightly longer loop out past the marine police base, along the shore of the typhoon shelter where the real trail joined and thru the market to the finish. It was this forestry loop that gave the run and PP a perfect score of 13kms.
DOWN DOWNS after pizzas in the park by Indy….
The Hare - Great trails, not enough mountains, great slippery shiggy slope…
The Hare Piss Perfect - Customized runs….. a trail for everyone! 3 trails… superwimps, wimps, rambos… for 16 runners - actually there were more DIY trails as Hopeless made up his own shorter ending and FFFM also on a different path to find home…
Hopeless - Refused to go back into shaggy trail in final section leading away from Home…. No way, On Home!! Then the expected dummy spit at the hare for the stupid loop! A comment was made that he could be renamed 'Old Faithful!'….. er..!
FFFM - Also did own trail to find home, also no final loop into shiggy, but a different path via a village where a dozen teeth-gnashing dogs were awaiting……..
The Hare - Last week's trash not written by today's hare, (but Mr Happy Slippers instead!) as PP had no one to 'babysit' and refused to pay a maid, calling it 'slave labour! I am beyond that!'… so would not fulfil his scribe duty!
The Hare - but could find time recently to write an article about hashing and get it published into the local Saikung press 'I Explore'!
Gunpowder Plop - would we ever forget his effort to get his name published in the press through a local Uni student re hashing! 'Where he deliberately allowed the comment that Hopeless exposed himself to many hashers!'.... (to wind him up he said!) but his plot was foiled as it never made the press!!!
The 'Shiggy Brown Butt Club' - all those who went down the shiggy slope on their arses and came home with skidmarks on their shorts…. Macau Drunk/Hopeless/Indy
Macau Drunk - crawling down the shiggy slope like a newbie hasher….
Hanna Montana - Gets to showers and standing there starkers states 'I lost my shoe'… had one slipper only… lost on trail to shower? Safely found… and made to drink out of!!
Chatroom - In the showers, tries to get someone to stop smoking… orange hair, muscles, tats, sub-Subprime Loan Recovery Agent….. Good choice Chats!!
Non Runners - Boff… been off doing Stages 1 and 2 of MacLehose instead
Boff - worried about MacLehose completion…. thinks he can only do 2 stages at a time…. spread over how long???
Bobbledick - food report from last week… How did the dogs like all that food leftover from the pier On On?
Sticky Sex Toy - Wimp trail tonight but doing Macklehose in 2 ½ weeks time! Claims she is tapering already??…. slightly early??
GP's nose - As the hare calls him, the 'Frank Spencer of the HK Hashing community'… on his pushbike and using his face to break his fall!! Last weekend eyeing up a chick who was in front of him and over the handlebars he went!
GP - Even tonight finds trail on through a shiggy path trail calls out 'Come on you Old Women!!!' and then falls off path onto his face again…..
Sticky Sex Toy - Parking finesse….. amused all the hashers for 15 mins as she attempted many times to line her car up in a parking spot on the street!!
Sticky Sex Toy - Refused to drink as driving, but as was said! 'No worries! By the time you get your car out of the parking spot, the alcohol would have well gone….. '
Macau Drunk - getting lost to start of run trying to follow arrows….
Chatroom - followed arrows to run start on his motor bike… through flower beds, taxi rank, bus queue…. doing an Evil Kinevil…
Bobbledick - Nice sailing suntan….. been off few a few days of pleasure…
Sticky Sex Toy - after car parking episode, missed out on pizza choices… okay who had SSS's share??? Hands up…..
Motormouth - (in absentia)… lives in central… appears late to run, toddles around the block… stays briefly at bins to catch up on the goss (or to spread some???) and then returns to central……
Rambos as set by the hare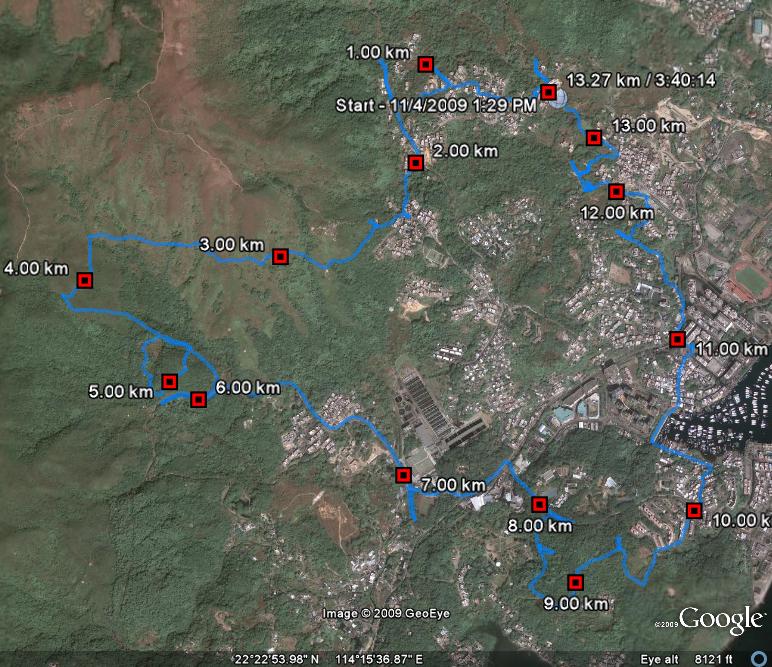 Super Wimps option with Hopeless Rambo shortcut after Fire Station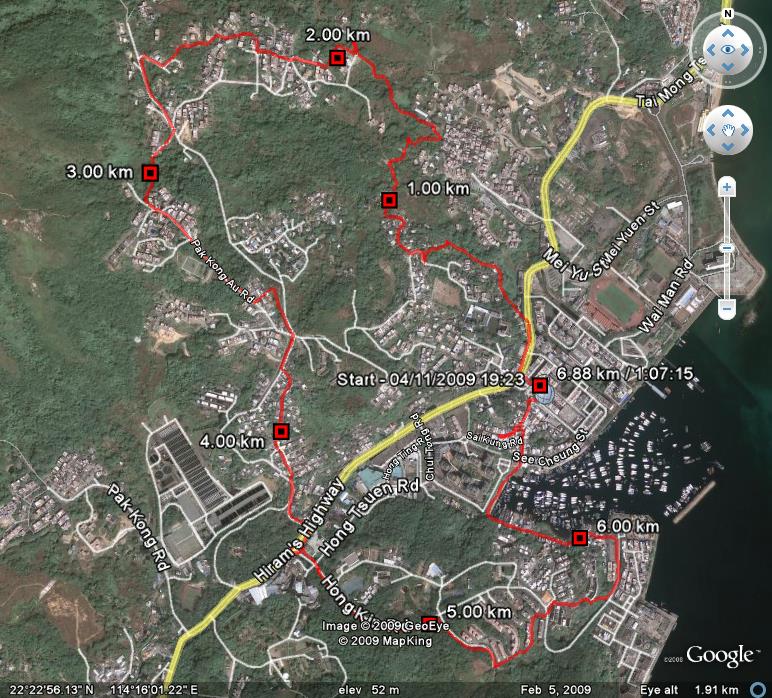 Rambos without the Lions Nature Education Centre