Wednesday 5th August
Hares: Park'n Shop, Parky, feat. Hopeless
The HK Cricket Club car park was sealed off - probably for future redevelopment into majong and karaoke parlours to attract new cricketing members.
Only joking. It was so the hash could use it as a changeroom uninterrupted by motorists doing their special HK reverse into perpendicular parking spaces thing.
After repeated assurances from the hares that B wasn't A and that it wasn't a trick where we'd finish at the start, we were off.
Straight up to a sort of check where everyone went up Black's Link.
Nobody bothered trying down Deepwater Bay Rd. - not even Hannah Montana - probably because he'd just run from Wanchai to the Cricket Club.
On to the check which took us left into Aberdeen Country Park below the pylon
A two way check at the bottom took us right along Lady Cleminti's Ride above Nam Fong Rd.
The next check took us right, over the catchwater and up to Middle Gap Rd.
There were the remnants of some instructions at a split going up Middle Gap Rd. with R right 180°... we took the W for whatever.
We just carried along until we got to Stubbie Doh.
Did I mention it was raining ?
A bit of checking until the remains of some flour were found going down Wanchai Gap Rd.
A trace of flour was also found continuing down Wanchai Gap Rd. across Bowen Rd.
That was the last of the flour for us.
Did I mention the rain ?
Plastic baggies were opened to reveal B was at Southorn Playground.
On in.
That blood-red strip between Wong Chuk Hang and Central on the map below was our run.
The 100-150mm precipitation fell mostly between 7 and 8pm.
That explains it then.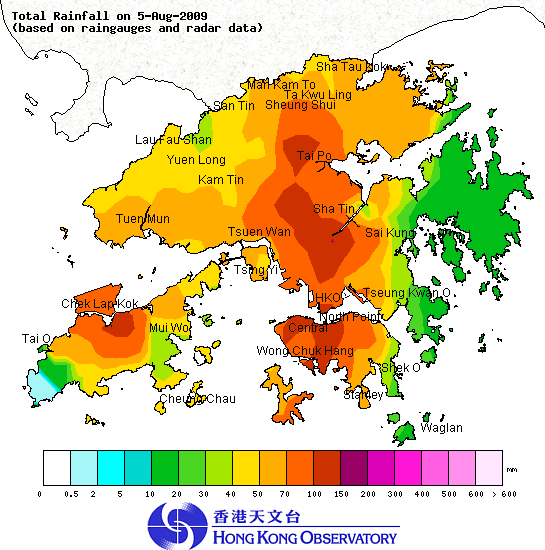 We missed the correct finish down Shue Fai Toi, and if you don't know your Southorn from your Wanchai then you finish like this: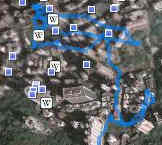 The Down Downs
Down Downs from Hopeless, aided by F3M:
Park 'n' Shop - telling Hopeless to "be nice" when giving out the DD's!
The hares, including the "live hare", Hopeless.
Rear-end Scrubber for non-runner and "bag lady"
Returnees : Ruggero, @nal Retreat & Loser.
New Runner - Nicky (best dressed lady on the hash).
Groper - stopped off for a modeling job on trail!
F3M - headed off to the wrong park, thinking Wanchai Park was the same as Southorn Stadium……
Buttfan - complaining no showers and Jacuzzi on a Parkeys run.
Boilers - had to buy a hash T-shirt as hadn't brought a change of clothes.
@nal Retreat - thought the DD glasses were "pint sized".
Blind Hashers - glasses wearers Priscilla and @nal Retreat, not best gear in monsoon conditions.
Lesbian Action - Park n Shop and Buttfan, in the stadium.
Parky - being a bossy cohare.
Gary Glitter - Hash Crash but grinned and bore it, no moaning.
The Namibia Marathoners - Loser & Nicky - swopped 50 degree heat for the deluge in HK, bit of a contrast.
Hanna Montana - failed to catch the Live Hare as he'd already run 5km to the start of the run.
525th run anniversary - Ruggero.
Lonely Twins - @nal Retreat missing Wanchai W@nker, and Gary Glitter missing Nutcut, who is coming for the 1700th run in September to be reunited with GG.
Nurse Fcuker - @nal Retreat's new "Dad" as his twin Wanchai W@nker is not in town.
Priscilla - hoping the huge rainfall meant a T8 was raised so he could stay out in Wanchai all night!
Junior Lawyer - @nal Retreat - won't be allowed into the office until all his metal parts are removed.
Nurse Fcuker - stepping in as joint hare with Hopeless for 1700th run.
Gary Glitter - self-confessed "Mr. Anorak" who's childhood Train and Plane spotting hobbies culminated in his dream job - elevator engineer!
Hash song sung by hares & 525 runs Ruggero.