Hare - Filthy Felch Monster
25 runners assembled way earlier than 7pm for fear of being late and banishment from the hash.
As the cool mist closed in around us we were off.
Up the golf course trail to a check on Deepwater Bay Road.
2nd time runner Greg went right and we went left down towards Nam Fung Rd.
A check at the Deepwater Bay Drive intersection took Hanna Montana further down Nam Fung.
We went up onto Lady Clementis Ride where Smallbone led us into a checkback.
Back up the steps all the way to Blacks Link.
Wimps right.
Rambos left along Black's Link to the HK Trail Stage 4 intersection and trail map (where you are standing directly above the Aberdeen tunnel - not that you'd know it).
The shiggy dropped down to the right to emerge above Mt. Nicholson Gap Flats.
Right at the flats to take the trail round Mt. Nicholson, coming out opposite the tennis courts on Wong Nai Chung Gap Rd.
This check kept everyone busy for a while until we headed up past the Cricket Club with more than a few optimistic souls expecting to find an on home there.
Up the Shell station steps and along Sir Cecil's Ride on the other side of the tennis courts and above the French International School. Indy (who did arrive late at 7:12pm) was still on Mt Nicholson, and would only have been 200m away across the valley as the crow flies; "You know I kept hearing the pack really close and then they all disappeared again".
Left down the step's off Sir Cecils, left along Tai Hang Rd., right down the steps onto Bluepool Rd. and down into Happy Valley to finish along Ventris Rd. at the park where Buzzard & 35 cents had their St. Georges day run in '98.
A good run.
The map of the reccie with both the Wimps and Rambos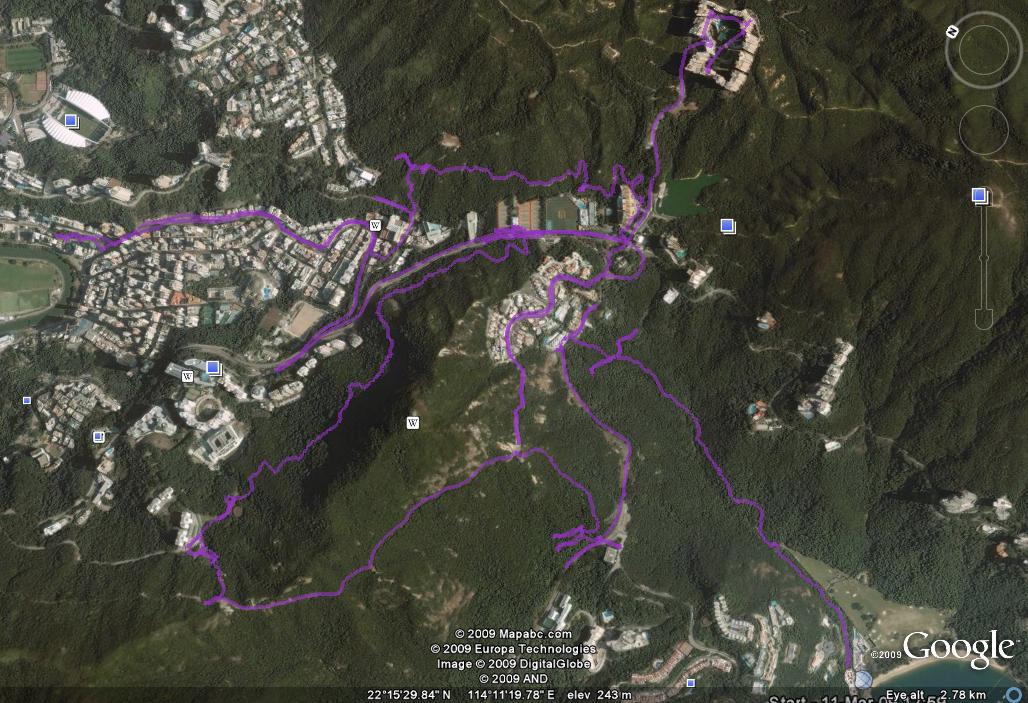 Off to shower at the nearby Wong Nai Chung sports hall then watch Indy getting guided to B by mobile phone.
On on to the Korean BBQ
(S)hite Beer©®TM at $30 for two, and Korean pancake Bindaetteok for 12 people; eaten by Parky.
DOWN DOWN's administered by Indy, and thanks to Amah Chatroom……
The Hare FFFM - The run…. great run ….and after all that running around the tennis courts…. felt like Wimbledon!
FFFM - the b/day girl….. tells us on good authority she is like Benjamin Button and age going backwards……. she is now officially 39!
Macau Drunk - Asked who is the guy who was in the movie about age going backwards and getting younger…… Answer…. Dorian Gray!
FFFM - There was a suspicion that it was going to actually be an A-A run, and only advertised as A-B to confuse the troops, but when bags were seen going into taxis….. knew otherwise…..
Returnee - Macau Drunk…. pleased to be back after 8 slothful weeks…… knees heh?
Virgin - Kelly the Aussie! Saw the run advertised in the paper, or was it The List…. DD to FFFM for her advertising……. (even tho' for the Bunny Hash!…..)
Old Sock - at the On On 2 weeks in a row!
Old Sock - sitting at the table, 'All By Himself', being resplendently looked after…….
Hanna Montana - another rarely seen hasher at the On On…… and all those anniversary run beers he has not had…. so… Here's 1 for 5 runs, 1 for 10 runs, another for 15 runs, another for 20 runs…. and finally for 25 runs which is his anniversary run tonight…..
Hanna Montana - had 5 Anniversary runs… like his post hash beers……. Says to Hash Cash 'I'll pay for my usual 5 beers…'
Kelly - virgin on the run but well looked after by the 'stand-in parents'…… the Parkies were there to guide her through her virginity….
Kelly - when the word 'gay' was mentioned at the table had never known it to mean 'Happy' …..
Parky - explaining to Kelly the Hash names, how he got his… from Parkinson, ParknShop from?… the shop? Macau Drunk…. cause he got pissed in Macau, Hopeless… cause his surname is… er…. Hope……
Gary 'Gay' Glitter's naming…… at this stage Kelly seemed to look like she had wandered into a Masonic Lodge…..
Bondi Barbie - explaining to Kelly how Bite &Suck got her name……. the old Camelpak story…. but who would believe that one????
FFFM - her litany of names…… began with 'Scratch My @rse', which went to 'Kiss My Willy' after the LSW China tour with Randy's son…….. and as she was in Perth and told yours truly she was going to go under her own choice of name…… 'Kiss My @rse'… in HK that night, and in her absence she got renamed……. Filthy Festering Felch Monster…. (courtesy of Macau Drunk!)…….. at this point Kelly's glazing-over eyes were really searching for the Exit!
FFFM - her other 'persona' that she has taken on….. the 'Purple Turtle'….. explanations caused quite a stir at this point…. look up Google for the real meaning!…….. and of course there was a thought about a renaming for her…….
Castrato - Son has to have Appendectomy, so as dutiful dad goes to hospital to have this procedure explained…. 2 hour video was in Chinese… but the English translation was…. 'Be on Time'
Lost In Space - As I started late when I was on trail, passed LIS and then could not see markings… waited for LIS… to which he replies…. 'Stick with me, Indy… you'll never get Lost'…..
Bite&Suck - not running the trail but turned up at A at 5.45????? A keen bag-lady……
Greg - FFFM's colleague…. as skinny as a rake but spies do tell that he eats all the biscuits at work….
Greg - suffers from VD….. (of the Verbal Diarrhea variety)……. will not get in lift at work if any of the partners are getting into it….. Worries he will open his mouth and put his foot in it! DD to all VD hashers…. Motormouth and Bite&Suck (on behalf of the b/f)…….
FFFM - at beginning of run being anal about starting at 7pm on the dot… so at 6.55 gathers the troops to set off! To which others were told that the clock at VRC is deliberately 5 mins early as the paddling girlies are always late……
Kelly - went to Macquarie Uni, Sydney in 2007….. yours truly went there in 1977……
All the Hash Bunnies………. for their inaugural PC hash (set by Willy Wonka)…..
Motormouth - been to Korea for the Southside Hash weekend, but not the Royal HK one… the Korean variety…….
Bubbleduck - When the dinner price announced at $80 says to your truly… see.. you can get a great dinner for less than $100
FFFM - for organising a great On On venue…..
Alex - A celebrity in our midst…… Been having dinner every month with Nancy Kissels's mother……. she of 'Five-Iron-Eliminate-Husband-Carpet' fame…….. as a part of his research for a documentary he is writing…….. we tried valiantly to get a name out of it…… but inspiration did not do it any justice……. Pending……
And then onto OCH and then onto Carnegies for free Champas Ladies' night to celebrate Benjamin Button's b/day…. Ouch!!!!