On an amazingly clear and warm night for February in HK... is this global warming ?... almost 20 runners turned out to Discovery Bay at a late-ish 7-15pm start, previously indicated by hares Gary Glitter and Butt Faan. Nearly everyone arrived on time, despite from overseas...except DB residents, Parky and Park'n Shop, who blamed traffic for being slightly late !!
Initially, the clear white chalk trail (occasionally and curiously marked "LSW"... as though numerous hash runs were held in DB !!) took the pack across DB Plaza where retiree cognoscenti DB residents, notably Lord Mayor Parky and associates, idle their time at the many alfresco tables and benches... reflecting on their vast wisdom and experience... and why no-one will give them a job ! But front runners Hopeless, FFM et al, were soon confused by a devious circuit around the back of the prestigious DB Residents' Club which had the desired effect of keeping the pack tight. Eventually, the route was found along Tai Pak beach front, to the far end of Tai Pak Bay, where further confusion occurred until an ON ON call corrected those who had taken a left turn to an early T on ascending steps through a pleasant wood. Such is the landscaped beauty of DB Resort... not simply a place to live... but a lifestyle for the fortunate few !!
Unfortunately, and irritatingly, some runners called "ON TRAIL" simply in recognition of an arrow or flour, misleading other runners to turn away from the correct trail, before they reached an "ON ON". Novices note... "CHALK" or "FLOUR" are more accurate calls and less likely to mislead others.
After a circuit through a quiet and smart urban road of semi-detached low rise residences... such is the quality of the DB lifestyle...most front runners were again caught out by an open check opposite a series of steps up a steep climb towards DB's famous pagoda lookout, others were convinced the trail continued out of town towards DB tunnel... but not so. Hopeless eventually led the front runners onto the correct trail, along the main road back towards the Plaza, only to be caught out once again by the open check at the junction to the resort's magnificent golf course... such is the DB lifestyle. Others, including backmarker Parky, were not to be fooled and quickly found the correct trail past the fire station, where the ON ON was found, but craftily mislead the pack to accelerate past La Vista Village towards Nim Shue Wan Bay, in the direction of Mui Wo. But local knowledge drove Parky uphill on the right turn to La Vista and onto the exclusive neighbourhood of La Serene, his former residence... such is (was) Parky's DB lifestyle. Following correctly calling ON ON, the pack were again turned back to follow and continue the trail up the steep concrete path to the fringes of the golf course, where Parky again found himself near the back ! It should be said that the desirable effects of all this early twisting and turning, kept the pack more or less together, for the first 4 or 5k... and that is the craftsmanship of the hares... well laid. From then on, the pack stretched and enjoyed some excellent shiggy trails, overlooking beautifully clear vistas of Disneyland, Peng Chau, Lamma and brightly lit Tsing Ma bridge, Ching Yi, including the distant skylines of Kowloon and HK island... such is the beauty of DB ! Eventually, the promised Wimps/Rambo split was found at a bubbling brook, where front runners took the agressive climb towards Mui Wo after crossing the stream. Other, lesser mortals (like Parky), proudly took the Wimps split through the downhill woods to emerge at the Trappist Monastery, where the Rambo route had returned to the main trail, having curled left following their steep climb from the stream. And so it was that after proudly leading the pack along the coastal path towards Nim Shue Wan Bay, Parky once again (five times that night) was overtaken. Cold beer and softies were joyfully consumed on the first floor podium above the Plaza, whilst runners continued to arrive up to 1hr 45 mins since the start. Once all had safely returned, the venue moved to a set of tables in the Plaza, where Wild Fire pizzas etc were greedily consumed... for a total cost of a very reasonable $100 per head. A good run, with downs awarded by the inimitable Indy.
On On
Parky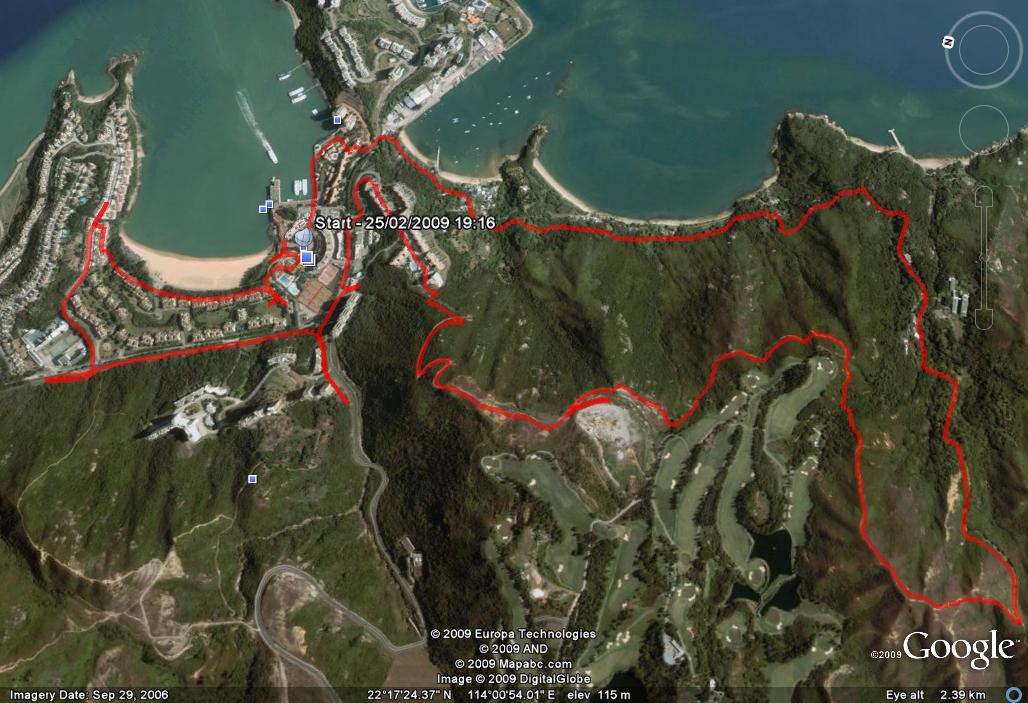 Down Down's
The Hares …..Gary Glitter/Buttfan - Good run for all, despite the humidity
Buttfan/GG - organizing free ferry vouchers for the return trip! It's not what you know……
Hopeless - refusal to do Down Down's even tho frequently 'en tour' these days……
Thermal Dick - new 'homebrand' shirts after it was noted that last week he was sporting a real dinki di Hash shirt…….
Castrato - at beginning of trail caused some of pack to 'be lost'/confused for 10 mins as he said an 'arrow with LSW' means the same as ON ON!... Hmm
Kish - trying to beat Lost In Space's' record of coming in many moons later!
Thermal Dick - insensitivity! When Kish does appear he calls out 'Did you do the Wimps then?'
Franz - Appearance at LSW 2 weeks in a row… but 30 mins late this time…. did his own version! Apparently he got lost in Mui Wo as was following up a report from his g/f that his bike had been stolen from a Bike shop……. To find out that no! It was in a different bike shop!
Gary Glitter/Buttfan - very pleasant alfresco dining in the DB plaza!
Franz/Bubbleduck - a sight for sore eyes to see the 2 of them howing into anything they could get to eat!.... with Franz even asking where the chicken bones were…….
Parkn'Shop - late for dins as showering, with Franz and B/Duck there all she got was a measly pizza slice….
Lord Mayor Parky/Lord Mayor Castrato - overheard talking in very serious tone about politics, comcerned about the current situation… but was it US politics? Or British? No…… it was that of their respective islands…. Discovery Bay and Lamma ..
Buttfan - can't decide whether to go to Friday Hash or Touch Rugby… Thermal Dick promised if she goes to Friday hash she will get 'touched up'!
Thermal Dick - as one of the originators of the Friday Hash was espousing the virtues of trails that were not meant to be too long for an end of a week run etc… that is until Hopeless started setting his runs! (ED… the irony! On that Hash last Friday it was the man himself… TD ..who set false trails off a check that went for at least a km before the 'T' was despairingly seen!)
Parkn'Shop/Parky - public arguing over who was going to pay the ON ON cost for the other, with Parkn'Shop fighting the loudest!
Son-In- Law Adrian - when they inherited a SIL, they did not realize they were going to inherit his bills….. who paid for his pizzas?
Adrian - Non Runner with broken foot…. done on the mountain at DB, whist he was 'training' for the LSW 30th Anniversary run, fell off a cliff and had to be helicoptered out!
John Doe - swapping stories on ferry about how to handle getting 'pissed', then not remembering a thing…… DENY! DENY! DENY!.. And NEVER apologise unless ….
KOTH Mountain Marathon Runners - Dr Evil (came 2nd in cat) and Kish
Bubbleduck - Spent an endless time telling Thermal Dick that he had to take a p*** on the run…… with the inference being otherwise he would have beaten him in, despite the 15 min gap!
Hopeless - the bearer of 80 reprinted LSW 30th Anniversary shirts to swap for any of the previous ones that 'ran' when boiled….
Winnebago - (lookalike Buttfan!)… could be renamed, 'Any Man'll Do'! Last week slinking away with Lost In Space! With his absence this week, it was Crash Test Dummy!
Brittany - non runner who was 'accidentally' in DB 'passing through'…
Motormouth - actually sat through the DD's with barely an interruption!
On On
Indy