RUN REPORT
Strapon's photo album
Thirty years of LSW and what a day to celebrate the 1661st Little Sai Wan Hash, as old and new hashers boarded the buses in Wanchai for the trip to Tai Lam Country Park.
This location seems to be a favorite for anniversary and family day runs, KH3 2000 recently and the last LSW visit being the 1512 run of Cyclops in 2006. Not surprising however as this is A1 hashing territory and rumored to be the new finish area of future Trail Walker events.
It's important here to mention the days brilliant sunshine, as it prompted the purchase of a new style spray on suntan lotion! The instructions were simple, close your eyes and spray, which I duly did! Great entertainment for all gathered, however things were a bit blurry from then on and a mere ten minutes later with eyes still streaming we were off.
The briefing promised three rambos splits and the kind of carnage that the Grim Reaper himself would have been proud of. Hopeless it seems will go to any lengths to ensure we get a magnificent trail, although one wonders if streams of dead butterflies, mangled snakes, abandoned puppies and scorched hillsides may have been taking it a bit far! Nevertheless it was a magnificent trail.
Any déjà vu from those previous runs was short lived however, not really surprising given the number of recce's done by Hopeless! Markings headed in an Easterly direction from the main barbecue area to the Tai Tong Nature trail as a series of early checks held the pack together until the first Rambos section. Climbing the scorched hillside I for once got the check right at the top, unfortunately after deciding I was not on trail, went back too early and got a double whammy!
A series of mild undulations followed until the downhill shiggy section where Chatroom P, Tom Turk and Crusader managed to blaze the trail downwards which saw pink ribbons turn to red, not that it made much difference to me as everything I saw was tinted red anyway. However it meant we had strayed mildly off the true pink ribbon trail, luckily only a minor deviation as we arrived directly at rambos two.
This part was something else, a long shiggy in the true sense of shaggy, trail and ensured that the rest of my body joined my eyes in their discomfort - absolutely fantastic! A wonderful forest section was our reward as we rejoined the wimps for a second time.
The final rambos loop was kinder for most, being an exquisite running trail down to the Lam Tsuen basin. However a cruel twist of fate saw my good self up on a hillside having 'blindly' run through a T and follow some pseudo markings going nowhere! This despite the hare calling me back repeatedly. Then on cue and obviously not reading the script, Priscilla nips in front to finish first! As I kept telling him (until about midnight I think), the hash is not a race and there is no need to be competitive! We both agreed however, it is important to finish first!
Well done to the hares for a fantastic run and a worthy celebration of LSWs 30 years of mixed sex hashing.
Your scribe...... Sweaty Snail Gobbler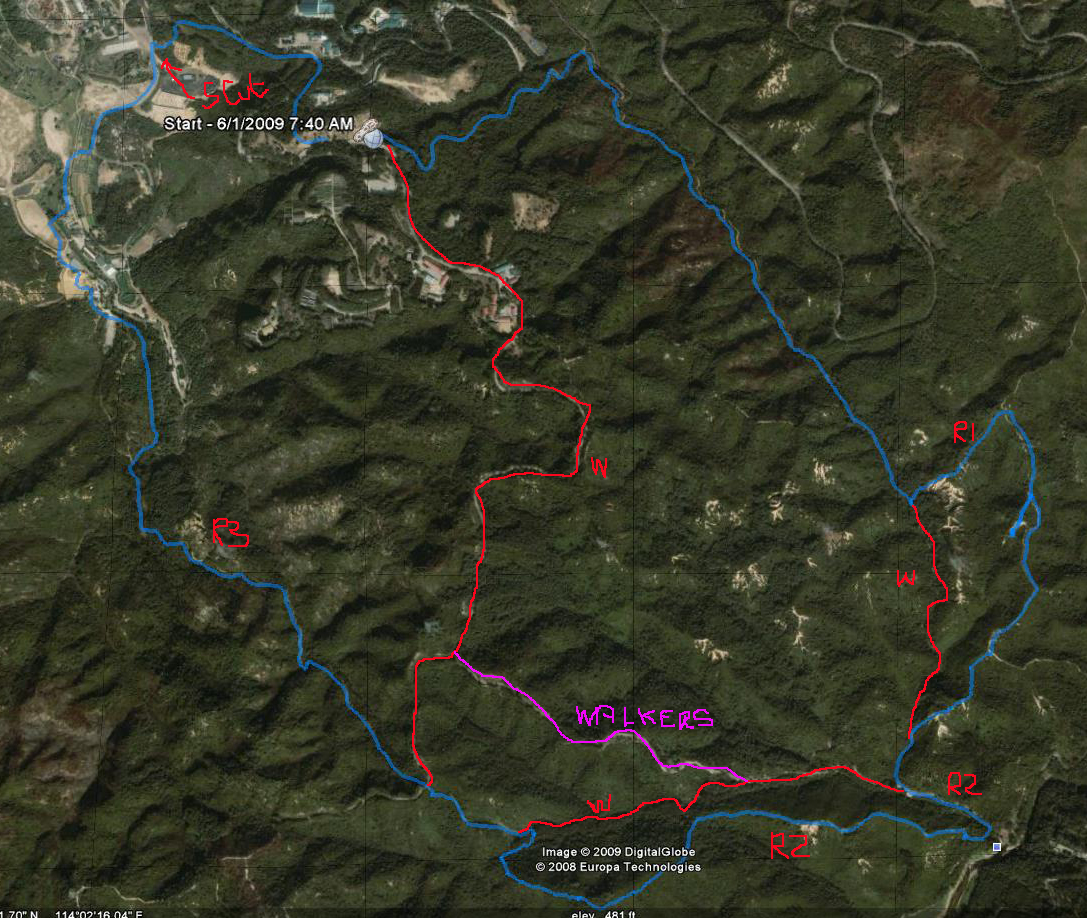 DOWN DOWN's delivered by Indy and Ted the Turdburglar
INDY
The Hares - Hopeless/Filthy Festering F*lch Monster…..Excellent run, excellent shirt, excellent run-site attended exceedingly well by 64 hashers and 21 horrors …..
Sweaty Snail Gobbler - paying $103 for new spray on suncream which was liberally sprayed all over his head like a bee-hive inspector's cap…..2 secs later he is slapping his face and rubbing eyes trying to remove the congealing blinding liquid….
Tom Turk - last week got married for the second time in 3 weeks…to the same bride!
Tom Turk - had stated on the bus going to the run that he would on early bus returning, to have romantic dinner with his new Bride…..after a couple of beers decided to stay for the late bus…….
Bravefart/Lesbian Buttslap - He had confided at the beginning of the run that he had not attended the previous Friday Night hash as has been told by 'she who must be obeyed after April 18th'…. that he could not do 3 hashes in a row……as he admitted …'there is no scientific theory for that!'
Buttfan - came to LSW hash celebration but no running the magnificent trails for her……awaiting the China Coast Marathon the next day…
Chatroom - again in deep discussion with Buttfan on bus…. as he stated he would not be doing the C C Marathon, she said it was cause he couldn't handle the competition…..(and there ain't none on the hash is there Sweaty and Piscilla?)
Sweaty/Hopeless - Sweaty ran through a T-check in his blinded state which he swore was not there…Hopeless was at that spot and called Sweaty back but he was in such a hurry, looking for the elusive pink ribbon, that he kept running for another 20 kms…like Forrest Gump really!
Sweaty/Piscilla - heavy competition on the hash after missed T-checks etc /colorblinded ness (see above!) that Piscilla claimed the honour of being first back…… by a mere suntan slick….
TED THE TURDBURGLAR
How things have changed, from the old days to the new…!!!!
Used to be nice route maps…..now internet GPS
Used to be simple names like Hopeless from Hope, Parkie from Parkinson, Quiche from Kishor, Boilers from Boiler, Hash Cash cause he was Hash Cash,….etc….now Filthy Festering F*lch Monster, Captain Pubic Hair…etc
Used to begin hash by explaining a couple of directional symbols…now Hash introduction with talks of nature trails and the animal life to be seen on the run…butterflies/snakes etc…
Used to be 1 Hash Horror……now 22
Used to be no showers- Harty used to lick the salt off Dianne (Jugs Bunny)…….Now run-site is located for showers on-site and hashers even rigging up bush shower in full view of pack…..
Used to send out hash news by using snail mail …..now by Internet and Macau Drunk
And then tributes to all the original LSW members…..
Hopeless - Services to the hash with over 500 runs but he forgot to put the run number on the shirt……would never have happened in the past.
Parkie - used to run the circle and holds the record for the longest ever Down Down's going for 2 hours. He was sustained by port and cheese during the epic. Also tried to kill himself at least twice on the hash. Once by throwing himself into a deep culvert in 1985 and once by getting totally dehydrated on Route Twisk run by Gucci and Biffa.
Britney - had been taken off the list but his son is on the list. Also remembered for pulling Mensa's pants down during a down-down many years ago. Mensa passed up the opportunity to return the favour.
Hard Pressed - Named after an incident with an ironing board. Used to be a damn conscientious runner….now more concerned about the temporary retaining wall along the trail.
Mensa 2 - in the past he stopped cricket balls with his face. Still has scabs on his face today.
Blackadder and June - both hashers of 1990 vintage
Cavewoman - was well known for ripping off t-shirt collars every time she got a new hash t-shirt
Motormouth - has talked everybody to death over the years, most notably the poor chap who got hit by lightning on the Free China Hash.
Park'NShop - still wearing her LSW 1985 shirt (and flashing tits as usual!)
Randy Von Fokker - in those days teamed up with his bride to be…..Ou 'est Natalie? First run circa 1999?
Quiche - was always the gullible one!
Sweaty Snail Gobbler - since then adopted another name…Captain Pubic Hair!
Ruggero - formerly Macau Drunk. Earned his name due to exemplary behaviour on a hash weekend in Macau.
Barbie - not mentioned but not forgotten
Harty - noted for taking his clothes off regularly at parties and licking the sweat off his wife.
Jugs Bunny - For letting Harty lick the sweat off.
Ray Coleman/Steroids - reknowned for running too fast ..in his very tight shorts! Legend in his own lunchbox.
Mike Brown/Vomit - had spectacular fall on the hash. Showing off his scabs.
Disgrace - Used to lick the stamps for the Snail Mail hash news for Mensa 2 and now she's married to him, and btw had her jumper on back to front!
Boilers - always a bit confused. Doing the trail backwards today.
Winner of the children's "Why is Indyanus called Indyanus" competition - Sholto - "because she talks out of her arse"
INDY
Oldest hashers in attendance at LSW 30th Anniversary run - Mike Brown and Motormouth
Cunter@rse Thompson - running the hash today, doing running wheelies off trail like a big kid….
Old Sock - put his shower up before the run so the water could heat nicely…the kids came along and used it like a punching bag …..He said he felt like using them as a Punching bag…… How did Xander (son of Castrato!) get his black eye ….???
Randy Von F*cker - running on trail … past one of the horrified horrors so much that a frightening squeal erupted…….
Visitors - Cunter*rse Thompson from Macau (and caught taxi from there to get to run-site), Only Comes Twice from Shekou, Roisin from the HK Ladies Hash, Caligula from many HK hashes, Crusader from Tokyo, Mike Brown..HK and London Hashes
Virgins - from Herbert Smith…..Grace and Vera Lynn
Amahs - Disgrace and Osaka…great job!
Hares - Hopeless/F3M ….Well done! Excellent LSW 30th Anniversary run……well organised and thoroughly enjoyed by all as 'Old' met 'New'
ON ON to the LSW 35th Anniversary Run….. May it be as successful as this one!
Indy
The runners
Britney
Bite & Suck
Butt Faan
Barbie
Blackadder
Brave Fart
Brazilian Buttslap
BJ
Cavewoman
Cath Muir
Crusader
Cumberass Thomson
Chatroom Paedophile
Castrato
Community Chest
Caligula
Disgrace
Disco Buttfuck
Flying Fairy
Filthy Felch Monster
Grace Ng
Gunpowder Plod
Golden Balls
Head Nurse
Hard Pressed
Hopeless
Harty
Indyanus
Jugs Bunny
John Wayne Bobbitt
James Barnett
Kandi Solabaretta
Knickers
Little Pair
Lost In Space
Lesbian Buttslap
MotorMouth
Mei Lin
MENSA 2
Macau Drunk
Nurse Fokker
Only Comes Twice
Old Sock
Osaka
Priscilla
Park'n'Shop
Parky
Quiche Lorraine
Rearend Scrubber
Randy Van Fokker
Richard Wood
Roisin Rainey
Shergar
Strapon Sally
Sweaty Snailgobbler
Swim Suit
Shitlipstick
Steriods
Sarah Wyatt
Spank Me
Tom Turk
Ted the Turdburgler
Vomit
Vera Lyn
Wanchai Wanker
aaron muir
ben cave
caitlyn hart
carmen muir
claire muir
clare forster
daniela wood
finley vernon
francesca wood
inez bolton
jack hart
juliana cave
lucia bolton
max carey
melamine girl
sholto bolton
sophie shannan
sophie whitton
sylvie boyle
toren treloar-graham
zander vernon