Write-up PDF Photos: day 1 day 2 day 3 miscellaneous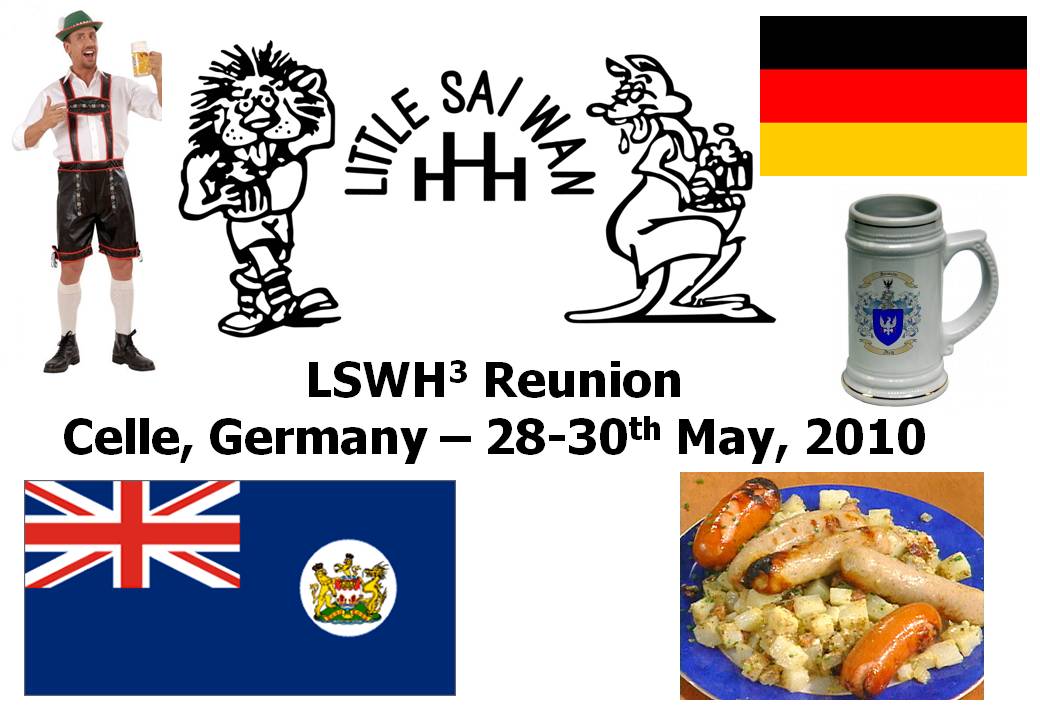 Dates
28th-30th May, 2010
Venue
Celle, Germany
Location
Celle is a very beautiful, old, bustling rural town set in picturesque heath land in the north of Germany.
Weekend Programme
Friday evening
7-8pm
Meet for happy hour at the Célò Restaurant, 5 Am Heiligen. This is a pleasant restaurant on the edge of the Alstadt. It has indoor and outdoor seating if the weather is dry/warm enough to sit outside. You will also receive a "Goody Bag" with T shirt and one or two useful tour items in it.
8pm
German buffet at the Célò - which will of course include sauerkraut and bratwurst. There will be vegetarian dishes and children should have no problem with the menu. The cost will be €20 (€10 for children) and you will need to pay for your own drinks. On on around one or two of the bars and night clubs in town.
Saturday morning
Free for lie in, or sight seeing around Celle. Lots to see in Celle including a Saturday morning farmers' market. There is a very good tourist information centre in the main town square. (www.region-celle.com)
Saturday afternoon
3pm
Meet at the tourist information centre for a run from Celle. This will be an A to B run finishing at a very pleasant traditional German restaurant situated in the forest on the outskirts of town. There will be a car available at the start of the run to transport bags/belongings to the on on. The run will pass through suburbs of Celle and scenic heath and wood lands. The on on will be a BBQ buffet with vegetarian dishes available. The cost of the meal is included in the overall price for the weekend, though you will need to pay for your own drinks. A bus will be provided at 2030 to take everyone back to the centre of town with the on on on being down town.
Sunday morning
Lie in, or for those who wish, I propose a trip to the Bergen-Belsen internment camp which is about 25 minutes from Celle. The recently re-vamped visitors centre that documents the camp's history is harrowing, though well worth a visit. The grounds are suitable for all ages though I would suggest the visitors' centre is only suitable for children over about 12 years of age. (www.bergenbelsen.de)
The best way to get there is to go by taxi. Taxis can seat 4/5 or 7/8 (maxi cabs). The taxi ride will cost about €30 or €40 for the 7/8 seater maxi cab. You will need to leave yourself about two hours to get around the centre and grounds. If you decide to make this visit let me know and I will arrange to pick you up on the way to the start of the run.
Sunday afternoon
2:30pm
Meet at the Schloss for a bus which will pick up those visiting Belsen and take everyone to a scenic nature park about 25 minutes from Celle. The run will be an A to A through farm land and pine forests. As with the Saturday run there will be a Rambos, wimps and super wimps trail. Following the bins we will get the bus to Hohne Garrison camp for a Ghurkha curry at the Officers Mess. There will be vegetarian choices within the curry menu and for children, or those who do not eat curry (!!) there will be the option to have pizza, chips, beans nuggets etc. Once again there will be indoor and outdoor seating. The cost of this meal and the drinks are included in the price for the weekend. As this on on is in the Officers Mess we are required to abide by their rules. Shorts are not allowed to be worn indoors therefore you will need to have a pair of "trackies" or something similar with you for after the run. Following the on on the bus will take everyone back to the centre of town departing from the Mess at 2030. Once again the on on on will be down town if we are not already banned from everywhere!
Cost
The costs for the weekend are:
Adults - €55 per head, Children - €35 per head
This covers the following:
Saturday on on BBQ
Sunday curry and all drinks
Unique collectible LSWH3 T shirt
Down down beer/drinks
Transport to/from runs on Saturday and Sunday
Bins will follow the runs as per normal and please pay the money for the weekend on Friday or Saturday if possible.
What you have to do
If you haven't already done so, please confirm whether you will be attending
If you could complete the details on the booking form it would be helpful for everyone to know everyone else's plans (email for form)
Check your name/hash name for the T shirt that will get printed shortly
Let me know if you have any specific dietary requirements or issues/queries with the menus
Do remind any other hashers that there are places available and it is not too late to book a place – as ever the more the merrier
For further information do not hesitate to email Pinky
---
General Information
Flights
Cheap international flights are available to/from Hannover, Bremen or Hamburg. Hannover is the most convenient airport to use as it is only 25 minutes from the airport to the centre of Celle by train (€7 adult single) and 30 minutes (€50) by taxi. Transfers to Hamburg and Bremen airports take longer. By shuttle bus and train it is 1.5 and 2 hours respectively (Deutsche Bahn). Alternatively, as with all international airports, car hire is readily available.
Overland
Ferries run twice daily from Harwich to the Hoek of Holland (StenaLine) and Hull to Rotterdam (P&O ferries). The drive from the ferry port to Celle usually takes about 5 hours. For those based in the south east travelling through the Channel tunnel and driving to Celle is realistic alternative. The drive from Calais to Celle takes about 6-7 hours (Eurotunnel)
Accommodation
There are lots of comfortable and reasonably priced hotels in and around Celle though I would suggest that everyone stays at the Inter City Hotel at about €80 per night for a double room including breakfast. The advantage of this is that it is near the centre of town and the chances are we would be able to negotiate a group booking discount.
Staying a while longer...
For those who wish to stay a while longer there are numerous attractions, day trips and excursions. I've noted a few below
Heide Park
Probably Germany's premier theme park featuring, amongst other attractions, "Colossus" - the world's largest wooden roller (really scary!) coaster. It is situated in Soltau about 50 minutes drive from Celle. There are regular buses to Heide Park from the centre of town. A day ticket and return bus trip package costs about €30. (www.heide-park.de)
Hannover
There's lots to do in this historic city including walking tours of the city centre sights, museums, royal gardens, tropical gardens, aquarium and a fabulous zoo. You could easily spend a day just browsing around the altstadt (old town) and shopping centres. (www.hannover.de)
Hamburg
A fabulous city to visit. The open top bus and harbour tours are well worth it if you are just visiting Hamburg for a short time. Shopping is second to none and the night life in St Pauli and the Reeperbahn will make Hong Kongers feel at home!! (english.hamburg.de)
Around Celle
There are lots of worthwhile excursions and days out that can be undertaken from Celle especially if you enjoy the outdoors. There are ample opportunities to play golf, go horse riding, cycling, canoeing and even walking across the tree tops on rope ladders. If you are interested in hearing more about these let me know or check out the Celle tourist information website.